Jigsaws Galore
Put together the beautiful jigsaws included, or make your own new puzzles from photos or screen captures in Jigsaws Galore! Play through countless puzzles in the ultimate Jigsaw puzzle game. Choose the size, style, quantity, and even the thickness of pieces. Customize the color schemes and sounds, and create your own handy trays to separate pieces from one another.
Beautiful gameplay
Tons of puzzles
The ultimate Jigsaw puzzle game!
Game System Requirements:
OS:

Windows XP/Vista/Win7/8

CPU:

600 Mhz

RAM:

128 MB

DirectX:

8.0

Hard Drive:

26 MB
Game Manager System Requirements:
Browser:

Internet Explorer 7 or later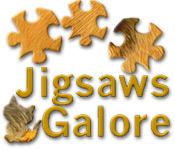 NEW299
The Big Fish Guarantee:
Quality tested and virus free.
No ads, no adware, no spyware.

Reviews at a Glance

Jigsaws Galore
0
out of
5 (
0
Reviews
Review
)
Customer Reviews
Awesome !!!
I love jigsaw and this is the best! You can modify number and shape of pieces, and you can even make great jigsaws with your own photos! I'm hooked
December 25, 2011
Just what I was looking for
I have just recently gotten interested in jigsaw puzzle genre... This game fills the bill on what I was looking for. I really like that there are so many options for personalizing the jigsaw experience to my tastes. I can change the shape & size of the pieces, making an easier or more difficult picture. I can change the background color, an option I REALLY like. There is plenty of room on the sides and below for the pieces... but they also give trays to sort the pieces, which I really liked. I can add or subtract how many trays I want to use, so they aren't cluttering up the board by always being there. It has a feature of being able to put a small picture of the one you are putting together in a corner... or anywhere on the board... for you to use as guidance. There is a 'ghost' picture on the mat for guidance... but this can be turned off, which I really like. Music...none... which in my opinion is a good thing... I can put on whatever type of music I like while I'm playing... This way...I'm not stuck with a soundtrack that repeats over and over again. The game comes with 200 pictures broken down in the following categories... Animals...37 Buildings...26 Miscellaneous...39 Outdoor...43 Scenic...44 However you can also download your own pictures and create puzzles from them. Cool! This feature makes this game endless! <I plan to take some of my favorite sceenshots from other games to turn into puzzles!> With all the options and features to this game... I will be happily puzzling away for a long time! I highly recommend this game! This is a perfect no fuss...no muss jigsaw experience with the added features of... *Great value of play <when you consider you can download your own pictures also> *Lots of options to personalize your puzzling experience *No annoying soundtrack
January 10, 2012
Jigsaws Galore
This is a game only for those who love to put jigsaw puzzles together. I DO! You not only get to put these together and they have some very nice pics but you can also use your own pics to make your own puzzles. You can make it as hard or easy as you want. It is just like putting a real one together on the table but no mess and a much smaller area is used. Best one out there to date.
November 19, 2011
Best quality I've seen in a jigsaw puzzle game!
This game wins the trophy for best jigsaw puzzle game in my book! I've played quite a few other similar games, and Jigsaws Galore's the best so far! Why is this one better? For its attention to details, its easy-to-use interface, and above all its large amount of customization options (there are options for everything, from gameplay to interface and graphics -- everything's customizable! Many of those options, I'd wished for in other jigsaw games, so I'm elated to finally find them here!) The game comes with 200 pre-made (but customizable) puzzles, and we can of course play with our own pictures. We can change the amount, shapes and size of the pieces, and whether we want them to rotate or not (which brings in more challenge). I love the fun unusually-shaped pieces one can choose to include in any puzzle (at the percentage of our choice, too). Not only that, but we can even create our own if we want to! The custom Trays are easy to use (you can even select to automatically fill a tray with all the remaining edges, or middle pieces, etc), the different auto-arrange/disarrange features work great (both for Trays and loose pieces), you can set the pieces "Snap-to" sensibility to your liking, the working area's background and Tray backgrounds can be set automatically to a constrasting or matching color (or you can manually select colors and texture if you prefer), etc... So many availabe features I couldn't possibly mention them all! In short, if you like jigsaw puzzles at all, this is the one to get! It has everything you could ever wish for and more!
January 11, 2012
Next to being "Live", best Jigsaw puzzle ever!!
Over the years, I have tried several PC jigsaw puzzle games, but I always return to Jigsaws Galore. It is as near to working on a jigsaw puzzle at your kitchen table or card table as you could get except that you can sit comfortably in your chair, you can eat your bowl of ice cream without worrying about drips or stickiness, and you are safe from accidents that scatter your puzzle pieces from here to Kingdom come. You can rotate your pieces, even select the size and shape of your pieces. I like to start my puzzles by putting the straight outside edges together first. There is a special tray for this purpose and it is easy to select your edges in groups and then drop them in trays. If you have a special picture you think would make a great puzzle, this program allows for that. These are just a few of the options available that make this game far and above any other jigsaw game I've ever seen. I hope you enjoy it as much as I do.
January 12, 2012
You really can't ask for much more in a jigsaw
Note - if you play the demo and it ends during a puzzle, you will lose that puzzle if you don't turn on autosave in the preferences! Because chances are, you'll buy the game and want to continue! ;) I wasn't sure I would like this when during installation a large disclaimer you must approve popped up. lol This is actually the best jigsaw puzzle game I've ever played. You can change EVERYTHING to suit you - and yet at the same time, it's not complicated to make a puzzle you're happy with or change an existing puzzle to fit your standards. Piece size, puzzle size, how many pieces, shapes of pieces with a slide bar to warp them how much you'd like, piece thickness, you name it - it's all there. And you get the satisfying click noise when you join pieces. :) I gave it a "good" on fun factor because, let's face it, it's still a jigsaw puzzle and that doesn't really get the excitement bursting all in all.
January 12, 2012
Quiet fun
I love puzzles of all kinds. This was more fun that I expected. There are lots of beautiful pictures to choose from, some challenging and some easy. One thing that confused me at first was that you can't rotate the pieces but you don't have to. They are in the correct position to begin with. I liked the little character pieces too - pieces shaped like dogs or t -shirts etc.
January 27, 2012
Best jigsaw game!
This is the best computer jigsaw game I've ever played, and I've tried many. It is the most like solving in real life, to me. I have been putting jigsaws together since I was a small child and enjoy them very much, but until now have been very disappointed in the computer versions. All around a great game.
January 18, 2012
super puzzle game
I found endless ways to change and make a puzzle interesting. If you get bored with regular puzzle shapes and ways to put together this is your game. These guys did a greart job when they put this together. I am well pleased. Thank you.
January 27, 2012
best jigsaw program so far!
this is the best jigsaw puzzle game i have played so far. love the features, plenty to choose from to create your own unique puzzles. Best feature for me is the piece frame button where u can push it and it sorts all the pieces around your work area and u can keep pushing it throughout the puzzle as you use up the pieces and it resorts for u.
January 15, 2012
The Apple logo is a trademark of Apple Computer, Inc.