The Golden Years: Way Out West
Use your business savvy to tame the Wild West in The Golden Years: Way Out West, a charming Strategy game! As you use your business savvy to squeeze every ounce of profit from your investments, you'll help an iron-willed woman and her young son overcome the sleazy maneuvers of a greedy ol' rip and save her guiltless husband from a life behind bars. Progress through challenging levels and save the day in The Golden Years: Way Out West!
Use your business savvy
Dive into excitement
Tame the Wild West!
Game System Requirements:
OS:

Windows XP/Vista/Win7/8

CPU:

800 Mhz

RAM:

512 MB

DirectX:

8.0

Hard Drive:

253 MB
Game Manager System Requirements:
Browser:

Internet Explorer 7 or later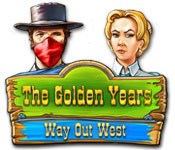 NEW299
The Big Fish Guarantee:
Quality tested and virus free.
No ads, no adware, no spyware.

Reviews at a Glance

The Golden Years: Way Out West
0
out of
5 (
0
Reviews
Review
)
Customer Reviews
The Golden Years: Way Out West
51
51
Fun Strategy/Building Game, But With a Caveat!
This is a fun and challenging strategy game, but it has some serious problems. It's nothing at all like the Westward series, and is more like Royal Envoy in terms of game play. You have to figure out how to meet the goals in each level, which of course starts out easy, and gets more challenging as levels progress. It's even more challenging if you want to beat the time to get the expert level. While I do like the graphics, sound, game play and challenge, what I do NOT like is that there's absolutely no help information anywhere on the types of buildings and what's required for them to be built and functioning. The only way to figure out how the buildings work is trial and error and deduce it on your own with zero help from the game. When you can't place a particular building somewhere, or if you place one and its not working, its almost impossible to figure out. I find this very frustrating. This should be included in help/instructions available from the main menu, or a pop-up window when you hover over a building with your mouse on what's required for the building to function. It's not intuitive, and it doesn't make sense. I already purchased this game, but had I known the frustration I would endure trying to figure out what should be explained by the game itself, I would not have purchased it. For that reason I can't recommend this game.
January 19, 2012
Liked it - but...
I like the idea of this game - it's similar to build-a-lot, which I love - but the ending is so abrupt that it seems like they just ended the story because it was the last level - no flow to the story ending. Also, many levels are so short that it doesn't even seem like it should be considered a level. The entire game is short and could easily be finished in a day. Also, the levels do not change, so replay isn't worth it. If you don't get expert on a level, just retry it and nothing at all changes, so reaching expert of every level isn't a challenge. Bummer This seems like a great idea and I hope for a second one, just longer, better replayability and more worth the money. "Fixing" up the train twice isn't anything special either. Fix the train, then it's done and then you start all over again by fixing it up all over again. There's not even choices to make the train your own, just click on any part of the train and it changes without any of your own choice. No fun there at all. I might recommend this, but have to pick yes or no. There's no maybe.
January 16, 2012
not what I thought:(
I was really excited thinking I was playing an edition to westward, I was bummed! but it is a good game. a lot of other people would like it. Just not what I was really wanting to play.
January 15, 2012
Sweet, sappy, and silly but fun.
There was nothing which stood out in this game, nothing which was really good or really bad. The back story was really stupid and the play was too fast to enjoy. However, it was fun to play. Not special, but average when you need an escape from work. Some of the puzzles were good, too.
August 7, 2013
Good Game
Was a good game, overall difficulty average - some levels really hard, others quite easy. Enjoyed it overall
February 18, 2012
Nothing like the Westward Games
I chose this one because I was tired of the same game again and again - Roads to Rome, Rescue Frenzy and the like, runnning back and forth from home base constantly and no automation or real purpose - and I had really enjoyed the other Westward games from previous years. Finding people places to live, giving them all jobs, building an infrastructure in a sort of rpg adventure - that's what I was looking for. This had the same style and look, but none of the charm. It was exactly like the games I was trying to get away from. Boring!
January 11, 2012
Too fast for me to know what's going on
Hello Everyone, I have ADD and I'm told I like things to be faster than normal but this was too fast and confusing for me. I couldn't figure out what I had to do to get the goals completed. The training wasn't enough for me to understand what I had to do to make my goals. Sure, some of it is strategy but one has to understand the basics to apply a strategy. I felt very rushed and even when I did an okay job it was such a whirl wind for me that I didn't learn exactly what I need to, to be prepared for the next level. There were occasions where I was clicking on everything and anything to try and meet a goal as I didn't understand how to get what was needed. I know at one level I needed a sheriff and there was a sheriff building but I didn't see how to hire or acquire a sheriff. I somehow got one but don't know how I did it. I played the 1 hour free trial and then deleted the game. Since BFG is so great about the free hour, I would encourage anyone wanting a new game to play to try this for sure but I knew before the end of that hour this wasn't the game for me. Also just so you understand my general game personality, I don't have use for storylines and I don't care about visual/sound quality. I click through the interruptions aka storylines and I don't see how an visually elaborate character is more entertaining than a stick figure. It's the game itself that's entertaining to me; The goals and rules. I'm not putting people who think these things are important down, I'm just trying to point out to you how unusual I am in this regard. As such, I just put a neutral down for both the Visual and the storyline. The challenge, for me, was very high and too stressful for me to enjoy the game so I put that as a neutral as well as I figured putting it low would imply a lack of challenge.
June 24, 2012
Lame
I thought this was going to be another in the Westward series and was really excited to try it. Nope, just another of the same old, same old.
January 20, 2012
for me is a poor game
tm games should be always something else for making gold on all levels, and diferent modes.
January 15, 2012
Feel Cheated!
I bought this game thinking it would be a good clean game. Besides the fact that it was badly developed and I was super frustrated at the beginning, I finally figured it out. And I enjoyed it!!! I'm going along got to level 34 and got PO'd. The first showing of any occult theme. It was only minor so I shrugged my shoulders and get to the next level and now the game get's into amulets and happiness and luck kind of thing. I don't get it! Why wait until almost the end to hide the occult stuff? Unless the developers are trying to scam us into getting the game and then finding this garbage? This is the second game I've bought from these developers that had occult stuff way into the game, instead of at the beginning so that you can pass on it. I've bought almost all of their earlier games. Build a lot and Farm Frenzy, etc. I'm beginning to think that I don't want to buy any more of their games until they straighten their act up. Oh, and one other thing. Some of the levels are stupidly redundant. You make two or three moves and the level is finished? Maybe they got rich and got hooked on dope and can't produce a quality game anymore??? If it quacks like a duck...
September 13, 2013
The Apple logo is a trademark of Apple Computer, Inc.