Haunted Past: Realm of Ghosts
You've inherited a home, only to discover restless spirits lurk, and only you can hear them. Years ago, a woman plummeted from an attic window to her doom, now she haunts her former home from another realm. Help her with her unfinished business and put her soul to rest in this incredible Hidden Object Puzzle Adventure game. Commune with the dead, and solve the mystery of Emily's demise. All is not as it seems in Haunted Past: Realm of Ghosts.
Appease the spirits
Communicate with Emily
Explore another realm
For a more in-depth experience, check out the Collector's Edition!
Game System Requirements:
OS:

Windows XP/Vista/Win7/8

CPU:

1.8 GHz

RAM:

1024 MB

DirectX:

8.1

Hard Drive:

621 MB
Game Manager System Requirements:
Browser:

Internet Explorer 7 or later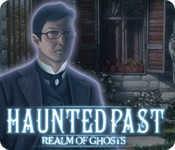 NEW299
The Big Fish Guarantee:
Quality tested and virus free.
No ads, no adware, no spyware.

Reviews at a Glance

Haunted Past: Realm of Ghosts
0
out of
5 (
0
Reviews
Review
)
Customer Reviews
Haunted Past: Realm of Ghosts
47
47
Highly recommend
Another I'd rate at 4.5, if I could. This game brings something new - in addition to finding various objects to use, they must be hidden as we travel back and forth through the spirit world, to be picked up again later. The emphasis is on finding and using objects within the areas. HO scenes come at a reasonable pace and are clear and fairly easy to solve. There are very few puzzles, and the ones included are quite simple. The story is good and reasonably engaging. Can't comment on the music, but the atmospheric sounds and voices were great - particularly the antagonist's voice. Movement is smooth. Playing in Casual mode, this was very much on the easy side. Total play time (including demo# was a bit over two hours. There is a journal but no map - but a map was probably unnecessary, as the actions were very well laid-out, without a lot of backtracking. One thing I particularly LOVED about the game was that when an area was cleared, it was labeled so at the top of the screen. I'll take that over a map any day. The only thing I'd change would be longer play #possibly the CE version would have been the better choice) - it's a little too short to get the full five stars, On the other hand, I'd rather the game be as cleanly put together as this one was without a ton of filler material to add unnecessary time. Bottom line: the game left me wanting more. I will certainly play any sequels that come out.
January 14, 2012
I was disappointed !
This game was a bit confusing in the story line. Jumping back and forth between "realms" was a bit of a turn off. Many of the close ups had no direction or hint what was needed. The hints charged quickly, but I seldom used them. Hidden Object scenes were clear but had many items that were anachronistic. I prefer games with a clear and challenging story line that lead you to naturally figure out what to do next. Overall....a big dud.
February 10, 2012
loved it
i got it and i dont regret it even if it has some negative reviews. i loved going from world to world to find items, it was different and entertaining. the story was really nice, not original but still nice. the graphics are bright , things are easy to see. didnt even need to use the hint button. not scarry at all but a nice game overall
June 27, 2012
Love This Game
I really enjoyed this game. Not too hard, moves along nicely, and the graphics were beautiful, gorgeous colour. Some may find it too easy, however having said that, I played in casual mode, so you always have the option of choosing the harder. Also liked the fact that you travel into another time to hide objects and return to the present to get them. Thought it was a neat change up from the usual.
April 22, 2012
Fun Game, But A Little Too Short
Overall, this was a fun game. The graphics are amazing and the art direction sets a good spooky atmosphere. The storyline itself isn't that original, but he idea of traveling between our world and the Ghost World is a fun twist. The level of challenge is good for an intermediate gamer such as myself, but I imagine advanced gamers would find it too easy. One thing that I really liked about the game was that it was all puzzle solving and hog, there were no mini-games that resulted purely on manual dexterity. My only real complaint with the game is that even as an intermediate gamer, I took less than three hours to complete the whole thing. For that reason alone, I would say wait until this is on special for $2.99 to get it, but for $2.99, it's definitely worth a whirl.
March 18, 2012
An Enjoyable Good Time
Played the whole game before submitting my review. The art and visual was very well done. Not a lot of actual hos but I thoroughly enjoyed jumping between the ghost realm and the actual "time". Deciphering the glyphs were not hard at all just a matter of remembering doing those as a kid. The object hiding between the two realms was also interesting and made a change of pace from other games. The hos were not difficult and the items were readily identifiable. I also like the "Area Cleared" announcements as it saves time from going back to places that you do not have to especially since there was no map to follow. The hint button filled quickly on the casual game and rarely had to use it. It was also helpful to be able to use it when I lost what I was supposed to be doing which happened a couple of times when I got off the computer and then went back to the game. It was not one of the more difficult games but I thoroughly enjoyed playing it. The music/sounds did get annoying once in a while but I did have the sound turned down to low. All in all, a game that was not difficult, was not boring, had a great story line and had some twists that kept it interesting,
February 12, 2012
A little different with good length
I wont repeat what others have said about this game, playing in expert mode I found it fairly challenging at times, working out what to do next, but the hint button is excellent, a different take on most hogs which was nice, took me around 4 1/2 to 5 hours to complete so well worth a punch, would love to see more like this
January 23, 2012
Well-Crafted Hidden Object Fun
There is a lot to like about this game. One example is the overall look of the mansion, which you get to see in both its current dilapidated and previously grand looks. The voice acting is infrequent but well-done, and I enjoyed the background music for the most part. It's always a good start when the game looks and sounds enjoyable. A couple other very nice touches that the veteran game player will appreciate: you are able to select various difficulty settings (not just the game itself, but the hint timer and difficulty of objects as well#, the backstory is collected through journal pages and is deeper and more well done than much of what is out there, and the idea of hiding things in the past to use them in the future is quite novel and very well done in the game. The game moves in a very linear way and tells you when nothing is no longer needed, which is a great way to not spend hours wandering around just for that one lost item. And therein lies the only disappointment for me. Granted, I didn't play the CE, so I can't speak to that, but the game is very short. The searches #even on the difficult level) are often enough but a breeze, there are not very many puzzles in either "world" to slow you down, and you always have a very good idea of what needs to be done next. In addition, not to be a stickler, but considering you can just plop a mirror down in any room to visit that "other side," it rendered the lengths you go to a bit bizarre. Of course, this territory (haunted mansion, speaking to the spirits) has been mined before as well. All of that said, this is a very fun game that looks great, plays in a very straightforward way, and tries to bring something new to the table. You could do far worse than this.
January 17, 2012
Awesome
After much debate I finally chose to purchase the game. What a deal I got for the money. This game was interesting, challenging, and addictive. So sorry it had to end. Great graphics, sound, music and the addition of traveling into the other realm. I'll not ruin it for those who haven't played the game. But i can say one draw back, graphics can be a little dark, but works fine if the lights are out in your room (Which is what I do anyway). If a game can let me visualize me actually being in the game then its worth a great deal for me. Please just try the demo, before you buy, if you are in doubt.
January 17, 2012
ho with a twist
This is the first game i've played with different worlds sort of speak, i love this game, if you love ho adventure, this ones great in my oppinion, i sure hope they make more like this. i cant wait till the next one comes out already and havn't even finished this one yet. The only one little , just little gripe is the music, not all the music but some of it other than that its a great game and wish it were longer but i wish most hidden object adventure games were long.
January 22, 2012
The Apple logo is a trademark of Apple Computer, Inc.