Sea Legends: Phantasmal Light Collector's Edition
After their yacht is sunk by an incredible storm, Jane and Mike are separated in Sea Legends: Phantasmal Light! Waking up on a mysterious island, Jane must now figure out what happened and find Mike before it's too late. Explore amazing Hidden Object scenes and solve tricky puzzles as you uncover a terrifying truth on the island. Escape from danger and be reunited with Mike in Sea Legends: Phantasmal Light!

This is a special Collector's Edition release full of exclusive extras you won't find in the standard version. As a bonus, Collector's Edition purchases count toward three stamps on your Monthly Game Club Punch Card!

The Collector's Edition includes:
Bonus gameplay
Integrated Strategy Guide
Concept art
Game System Requirements:
OS:

Windows XP/Vista/Win7/8

CPU:

1.6 GHz

RAM:

1024 MB

DirectX:

9.0

Hard Drive:

795 MB
Game Manager System Requirements:
Browser:

Internet Explorer 7 or later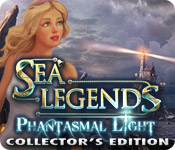 The Big Fish Guarantee:
Quality tested and virus free.
No ads, no adware, no spyware.

Reviews at a Glance

Sea Legends: Phantasmal Light Collector's Edition
0
out of
5 (
0
Reviews
Review
)
Customer Reviews
Sea Legends: Phantasmal Light Collector's Edition
59
59
Very motivational game
I played the demo and seems to be a great game. - great graphics - amazing soundtrack - very good storyline - really good Atmosphere - many places to go, and many things to do (you have to go, and return several times to complete tasks) Good level of challenging: - brand new mini games - not too difficult - a lot of interactive HOS - not too hard Game very well done, with concern about every single detail !
January 15, 2012
Hooked From The Get Go - Absolutely LOVED IT!
This review is for the whole game and playing in expert mode. *The story: Starts off with a very well-done cut scene which there are several "cut scenes" in this game along with voice overs about a couple (Jane & Mike) who get separated after their yacht was sunk by a storm. You take on the role of Jane to find Mike. *There are 6 chapters to this game plus a bonus chapter. *There are 2 play modes: Easy and Expert: Expert mode only has "sparkles" for the HOS. There is also text up at the top of the screen that will give you clues as to what to do sometimes. When you move you mouse/cursor along the screen a "magnify glass" will come up for areas of importance. A few of them not so obvious. I had to really move my mouse around to locate some of them. A "hand" to pick up something. Also lots of back/forth for the inventory items as sometimes you have to go back several scenes. Sometimes they are used right away and sometimes for later in the game. *There's also a strategy guide integrated into the game which is very well done however should be "bookmarked" as it doesn't follow you along as you play the game. It goes back to the beginning however since I had to refer to it a couple of times I found that if you "chapter select" you can get to what you need much quicker than sifting through 42 pages. *There is also a journal which tells you what tasks need to be completed. Also has some "story" in it and also helpful on some of the puzzles however no map. *HOS (hidden object scenes): I found this game to have quite a few of them and most of them you do A LOT of interacting as it's not just "finding items by a list." I used very few hints for this however sometimes had to think a bit. The hint which is a "light house" that will shine a bright yellow light. *Hint/skip: Charge up within about a minute. The hint can also be used outside of HOS and will tell you if there is "anything to do at this time or not" and direct you if there is something to do. Puzzles: This had quite a few of them which ranged from pretty easy to made you think, were a little tricky. As for the length of the game: The main game took me exactly 4 hours and the bonus while not necessary, I thoroughly enjoyed it and took me 1 1/2 hours. You may or may not finish it sooner than I did. My overall impression of this game: The story I found very intriguing as I was hooked right from the get go and held my interest to the very end as I did not stop playing this until I got to the end. I did find this a bit creepy (in a good way) and the music well done. The graphics I found to be water-perfect done as they seemed to really fit the story. I had absolutely no problems with graphics here. While this game had quite a few HOS to it, I found this to be more "adventure." As I mentioned A LOT of back/forth and what I really enjoyed about this game: It's not just cut and dried find an object/ use an object, you have to pay attention. In my opinion this game really makes you think as I did get stuck a couple of times and even had to use the strategy guide. So overall I give this 5 stars and a huge kudos to the developers here and I definitely feel I got my money worth as it sure seemed longer than 5 1/2 hours total. I definitely recommend that you at least play the demo and decide for yourself. Thanks Big Fish for a great game here. : )
January 15, 2012
I love this game! :)
As for my opinion it is a great game with incredibly beautiful graphics solutions (especially like the sea and sky solutions in the first few locations - exciting!). The story line first seems to be a love story but then takes place entirely in an unpredictable way. Music and sound effects are perfectly suited to the atmosphere. I've already bought this CE and looking forward to have more free time to play it! Happy gaming to everybody! ;)
January 16, 2012
This game will get you hooked on HOG's.
I feel like the youtube "Ultimate Dog Tease" and I'm the dog! The game ended and I'm all "NOOOOOOOOOOOOOO..." So, I BOUGHT IT! Yep, what is it about the Collection Editions that make them so superior that I can't wait for them to be released in the simpler story? Yes, this got me hook, line and sinker - get it? It's the story of a ship wrecked couple and the gal is trying to find the guy and gets hints here and there of the mysterious evil on the island. I like this game, the graphics are cool - a little dark to where I had to squirm around in my chair for better lighting in some of the scenes but that's probably cause I need a bigger screen...yep, that's what I'm going with - I need a bigger screen to capture all the awesomeness of this game ; ) The puzzles aren't nearly as complicated as the directions for the puzzles and some of the item names in the HOG scenes left me scratching my head and really guessing - like what a British person might call something vs. what we call it in the States - HINT - it's a file people, a FILE...okay, that's a big hint that will have you shaking your head and agreeing with me if your in the states. The music is like most of the other games. In my opinion you really need to have the music turned on and up to get the real atmosphere that the game makers what you to experience...you know, kind of keeping you on the edge. The hour went by fast, and I sincerely enjoyed the game. I mark myself as an intermediate player because I don't play the expert level on any of the games - this is my relaxing time not my stressing time...so, there you have it and I hope it helps you in deciding to play.
January 15, 2012
Sea Legends: Phantasmal Light CE
This game had everything I could want except not being able to play all of the mini-games/puzzles at the end. This is one factor that I'd like to see in all CE games. The videos, storyline, graphics, artistry, puzzles and adventure were all superb in this game. I thoroughly enjoyed playing this game! A quick synopsis, stranded on an island, fighting a malevolent force, and having to save your boyfriend made the opening storyline intriguing enough for me to purchase the game, along with the fantastic hand drawn objects, scenery, interactive objects, and PUZZLES. I can't wait for the sequel!
January 15, 2012
I WISH ALL GAMES WERE THIS GOOD!
I played the Beta test version of this game and it was fantastic! This is my favorite kind of game, it has everything I like: 1) H.O. scenes with a few objects that require an "extra step" to find them [such as finding an axe and then finding wood to chop up with the axe to make "wood chips"] 2) Navigating through scenes that require you to pick-up objects to be used somewhere in the game. Playing these objects in specific places to perform certain tasks that allow more scenes to be opened up. 3) Unique mini-games to change-up the pace and keep the game interesting. 4) Spectacular graphics and even the background music and sounds are good. 5)There were two levels of difficulty to choose from. I chose the easier one and it had lots of sparkles to help you out and the hint button recharged quickly. 6) The lighting was perfect. It was easy to see all of the scenes and pick out objects that need collecting. From glancing through the integrated strategy guide, the collector's edition seemed to have a lenthly bonus part that would not be included in the standard edition. I plan on buying the collectors edition today.
January 15, 2012
I liked it
The way I decided to demo a game is to look at the screen shots first. These were crisp and intriguing. Next I'll read the reviews, if any. If I'm still a little indecisive I'll watch the video, but that's usually a very last resort. This game I decided to play after checking the screen shots. I'm so very tired of the overly dark, demonic, haunted, evil, nightmare, gonna-get-you! games that this was a welcome diversion. The music/ambience sounds were just fine, the storyline was (for me) gripping and made me want to keep playing beyond the demo. Depedning on how gripping the game is decides if I buy the CE or the SE. It's going to be the SE for me, but just barely. It's really a good game. The HOS are a bit junky, and some items are a wee bit difficult to find, but not overly so. I checked out the SG just because I could and found it to be useful and accurate. No problem understanding it or finding my place in it. The journal entries were a little simplistic, but gave hints, and reminders as to what needed to be completed. I don't mind going back and forth between scenes, and this game had plenty of that. Thankful for very good graphics which makes it all ok. I just played the demo, and I play slow on purpose enjoying different nuances of the game, so I can't give a good time frame for the game. You'll enjoy it on some level no matter how fast or slow you play it. Happy gaming, gamers.
January 16, 2012
Great new game.
I played the demo and got so involved that my time ran out and I never noticed an hour had passed. I will put this game on my list to buy. I liked the art work, and it had some interesting puzzles. The hidden objects were not as easy to spot as some other games I have played, however I they were findable with out being frustrating. I liked the way the story was evolving and the fantasy aspect of the artwork also. I played on expert, to allow a bigger surprise factor in what to do next. I look forward to playing the entire game.
January 16, 2012
Great game
After reading so many negative reviews on the game I still played the Demo, I always like to see for myself, well I actually like it and bought the CE. I truly and honestly enjoyed the game. The graphics are not the greatest but good enough for me, the story line is actually very interesting, I felt that I needed to keep on going on the story to find out what came next, it have plenty of HOS as is expected for a and adventure HOG. The music and sound effects are nice, the makers put a lot of effort on the details and I like that.
January 16, 2012
Review for New Developer
The storyline is very interesting. The graphics on my computer were grainy. I play many of these type of games so I don't think it is my computer. The storyline is different which makes this a little different from games by other developers. The storyline is its biggest asset. There are many HOG scenes for those who like HOGS, this is their game. Puzzles are not too difficult and relate well to the storyline. A game which is very average for this type of games. To me, not worth the CE price. I noticed that it is not a very long game was well.
January 15, 2012
The Apple logo is a trademark of Apple Computer, Inc.