Hello Venice
Help Adda and Ciro solve a mystery and restore a garden to its former beauty in Hello Venice, an amazing Match 3 game! After the venerable Sacrobosco Grimani dies, his entire garden wilts away and loses its luster. Now, its up to his grandchildren to bring the garden back to life and preserve Sacroboscos memory. Make it through challenging Match 3 levels and quick Time Management scenes to save the day in Hello Venice!
Preserve Sacrobosco's memory
Help Adda and Ciro
Restore a beautiful garden!
Game System Requirements:
OS:

Windows XP/Vista/8

CPU:

800 Mhz

RAM:

256 MB

DirectX:

8.0

Hard Drive:

37 MB
Game Manager System Requirements:
Browser:

Internet Explorer 7 or later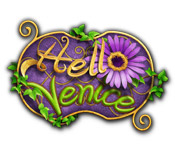 NEW299
The Big Fish Guarantee:
Quality tested and virus free.
No ads, no adware, no spyware.

Reviews at a Glance

Hello Venice
0
out of
5 (
0
Reviews
Review
)
Customer Reviews
SORELY DISAPPOINTED
I have to say that I'm sorely disappointed with this game as it does NOT come close to the fun as did the 2 Match3 games of Elements and Elements2: *there were no swap power-ups *you could NOT toggle between timed and untimed (don't know if you can with the 2 above-mentioned games as I never had to switch to the untimed mode as I did with this game) *the depths of the tiles went on and on and on and it didn't seem to matter how long a chain you made (even had a couple of 16 length ones), you STILL had to clear more tiles to open up the water channel and RARELY did it COMPLETELY blow away the tiles that actually needed to be cleared without having to use the "shovel" power-up so often This game just became boring very quickly for me after having to switch to the untimed mode of play and endless tile digging.
September 9, 2012
Hello Venice? More like Goodbye Venice...
Yet another game that had potential, yet fell drastically short! Hello Venice is the type of matching game where you need to match shaped along a particular path in order to finish the level. I really enjoy these kind of games as it gives purpose to the match-3 dynamic, other than just clearing the boxes. And, I was excited to see that the game had another element to work towards on the game board...matching next to plants to make them bloom! But, this is where the game's biggest short-coming lies. The player is allowed to do this, but you better make sure you do so before your game board moves on to the next scrolling section, or you are out of luck! You cannot go back and make the plants grow which makes you feel like a huge failure! Add to that, the mediocre graphics and limited choices for garden upgrades and you are left with a game that quickly makes you want to say Bye Bye! Come on developers! Are you even playing your games to see how you feel when you fail to do the one innovative thing you put on the game levels? It's time you start doing so!
August 22, 2012
A Game that I Really Wanted to Like
As the title says, I really wanted to like this game, and in theory, I should have enjoyed it, I just... didn't. I generally enjoy match-3 games where you are playing with some sort of purpose, such as building a zoo (Simplz:Zoo) or a garden (Flower Paradise). The gameplay is similar to that of 4-Elements in which you clear a path for flowing water. This isn't my favorite style of M3 play, but it is not a deal-breaker by any means. There were just some things I found very frustrating about Hello Venice, such as: -There are blocks occasionally arranged in single columns that you simply cannot break without a power-up or being very lucky. Yes, you can match blocks elsewhere to charge the power-ups more quickly, but the game restricts the amount of game board to which you have access, and sometimes it's quite difficult to make enough matches to get the power-ups to charge in a reasonable amount of time. To add to the frustration, the same block often needs to be broken two or three times, so you have to go through this cycle of recharging the power-ups over and over again. -OK, I admit it, I am particular with my "garden design," and I expect the gardens I design in a game to match or at least have some sort of theme. Yet it seems the developers didn't give much thought to that. I started with an overall design that looked pretty nice, but then when I had to add more flowers, I realized that every option clashed horribly with what I had already purchased. This might seem like a trivial complaint, but for me, a huge part of the fun in these games is building and customizing something aesthetically pleasing. It takes some of the fun away when I can't do this. -I started off on timed mode, but then realized after level 20 or so that I couldn't change to untimed mode without starting over completely. This is another seemingly minor complaint, but one that I found frustrating. -There are translation issues and the English in many places contains grammatical and spelling errors. A small thing, yes, but it can't be that hard for a developer to hire a proofreader, can it? Overall, I should have loved this game, but yet there were some things in the way that really drained the fun out of it for me. However, some of my grievances may be pretty unique to me, so I would still urge you to give it a try to see if you enjoy it.
July 7, 2012
click and SLIDE !!!
Whew !! Once I learned this is a click & slide I was hooked !! I like the fun of time management plus rebuilding the garden REALLY makes you work at it !! MANY many congrats to SEPPIA for a fun,amusing,difficult and (can be ) challenging game !! I'm only up to 12/67 and notice it is getting just a bit harder.... I wonder what the higher levels will bring ??? HD
March 17, 2012
Love this game!
This is a cute game. It's the type of Match 3 that is click and drag but I like that. And it's fun to get as many tiles as you can in a line. The colors are vivid and it includes a time management side game that lets you earn more cash to buy objects for your garden. I highly recommend this game!
March 2, 2012
very very cute game very relaxing
I thought it was a nice change of pace as I am more into adventure-hog games.But dressing up a garden was cute fun and relaxing Reminded me a BIT of vila banana which I have played over and over again
February 15, 2012
addictive game
just love the concept. challenging. complex at times. Really enjoyed this game.
February 8, 2012
So Much Fun!
This is by far the best Match 3 game I've played! Great graphics, music and challenging without being frustrating. Each board has a different power-up and strategy to it so it keeps things interesting. Can't wait to play more "Cradle" games, "Cradle of Japan" would be awesome!
January 30, 2012
Hello Venice - GREAT!!!!!
LOVED this game!!!! Couldn't stop playing it!!! Very addicting!!!
January 28, 2012
Love, love, love this game!
I am staying up way too late with this game. I finish a level and think "just one more" which turns into 4 or 5. It's relaxing and challenging at the same time and the graphics are gorgeous. It's also not one of those beautiful too short games. I've been playing for days and still have some way to go and I am not sick of it in the least!
January 21, 2012