Brink of Consciousness: Dorian Gray Syndrome
Help Sam Wilde rescue his love Anna in Brink of Consciousness: Dorian Gray Syndrome, an incredible Hidden Object Puzzle Adventure game! Sams every move is being tracked so he has to be extra careful. Putting his journalistic talents to the test, Sam must find the maniac who has kidnapped Anna, and stop him before its too late. Explore gorgeous locations and solve tricky puzzles in Brink of Consciousness: Dorian Gray Syndrome!
Begin your discrete investigation
Stop an evil maniac
For a more in depth experience, check out the Collector's Edition
Game System Requirements:
OS:

Windows XP/Vista/Win7/8

CPU:

1.4 GHz

RAM:

512 MB

DirectX:

9.0

Hard Drive:

469 MB
Game Manager System Requirements:
Browser:

Internet Explorer 7 or later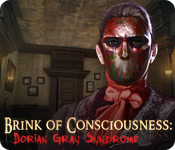 NEW299
The Big Fish Guarantee:
Quality tested and virus free.
No ads, no adware, no spyware.

Reviews at a Glance

Brink of Consciousness: Dorian Gray Syndrome
0
out of
5 (
0
Reviews
Review
)
Customer Reviews
Brink of Consciousness: Dorian Gray Syndrome
205
205
CONSTANTLY BACK AND FORTH
I started out really enjoying this game. I love the story line and the interaction the nemesis has with me. The graphics are gorgeous, the music and atmosphere nearly perfect but..... constant back and forth requirements left me annoyed. It's a shame, because this is an intelligent game except for that. At one point in the game, towards the end, I had completed everything that I could and looked on the map for an indication of where I should go...to find nothing. The map was blank. OOOKKKKK did that mean I was finished? Left me scratching my head and ended up (once again) having to run back through ALL of the previous screens to find the next step. The hint button is USELESS as it just says "there is nothing to do here." Well, I know that, duh.....or I wouldn't be asking. oh well.... I wish game makers would keep games moving forward not backward. If you play this game, be prepared to spend A LOT of time going back, then forward, then back and back some more. Good luck.
May 3, 2013
Middle of the road
I think I bought this as part of a special or using my "free game" option. The story was okay and it was middle of the road difficult but I didn't enjoy the graphic colors (too muted and brown) and like others I didn't enjoy the over-long voiceovers. Would not spend the money for the collectors edition but if you don't mind alot of going back and forth (I prefer interactive game maps) it's worthwhile.
January 17, 2013
not for me
This game is boring. Have to keep going all over the place to find clues. The screen is to dark to find items and the music is putting me to sleep. To much talking also. Not my cup of tea.
August 7, 2012
Beginner Game; Also, More Puzzles Than HO
I was honestly surprised by the high rating this game has. The visuals, sound, etc. are all fantastic, no question, but the actual gameplay can be summed up in three words: unnecessarily time consuming. (1) Voiceovers you can't click past. I, like many, prefer to read them and even if you have the voice option muted you can't do. Also, whenever the villain appears for cut scenes there's no 'skip' option. (2) Puzzles which are very simple but take ~100 steps. I'm, sadly, not exaggerating as in the case of one it took me over 200 clicks before I skipped and I knew what to do as soon as I saw the puzzle. (3) A ton of going back and forth. You will routinely have to move locations that are 8-12 clicks apart as often times the object you received goes to a puzzle 10 locations apart and then the object you get from that puzzle goes to something back in the room you started! Additionally, the map is next to useless as it gives no real indicator of where the next step might be. For all of this the game is very, very simple and easy to play. I only played the demo which, according to BFG's blog walkthrough, goes through to the beginning of Chapter 3 out of a total 7 chapters. In effect, a third of the game. It took me about 40 minutes despite the slow downs caused by the things I've already mentioned. That's a total of 2 hours gameplay, most of it spent in listening to voiceovers or moving between locations. If you're newer to puzzle-heavy 'hidden object' games (and this has twice the number of puzzles as it does HO) then this might be a fun game to get started with. For anyone experienced in the genre this game isn't likely to be very challenging.
November 3, 2012
Disappointing to me.......
I almost always buy my games after reading a lot of the Reviews, which is why I bought this one. I did't have much fun during the game. It seems as all yr doing is running around like a chicken with it's head chopped off. All you got from Hints were stupid sayings over and over and no help at all. I didn't feel the story or the voice over pulled any kind of story together. I finally just hurried thru it to get it out of the way so I could start another game. This is really my very first time being disappointed in a game.
March 18, 2013
Gruesome
The story is quite gruesome. Kinda makes me sick.
March 10, 2013
Hmmmm
A LOT of backtracking!! This game is very repetitive, as far as game play. The radio puzzle was cool, but that doesn't make a good game overall. No wonder the dude searching for things is always coughing, because of the backtracking LOL.
April 25, 2013
Going back and forth!
Great idea, nice visual and sound, BUT way too much going back and forth. When you're quite far ahead in the game, you find an object that you have to go back to one of the first rooms with, and that just keeps happening! I spent roughly 60 % game time going - quite far - between rooms because you didn't find the necessary item for room 3 before room 12 etc. That's really irritating!
February 12, 2012
Huge Letdown
Gorgeous art, fun to play... but an interactive map would have been helpful with all the backtracking. Worst of all, though, is the total letdown at the end. I can see including a special chapter in the Collector's Edition, but please give the Standard Edition a satisfying ending! No more games for me from this producer, despite the beautiful graphics.
May 5, 2013
Do not irritate your customers
It was OK up to a point. Grim, ugly settings - to go with the storyline. Puzze level OK, not much backtracking wichich is good) Until I got to the point that I had to use the double hook to connect two ends. I spent five minutes clicking the mouse and trying to hold it steady. It kept escaping. There was no way to think it thrugh, no way to skip. It was just an exercise of frustration, just to see how good our muscular cntrol is. I HATE when deelopers do that. They should by now understand taht not all gamers have precison muscle control. It was as if they were mocking me for not having exercised my wrists hard enough. Well, They can mock me as theywish. I wiill never buy any other game from Brink of Consciousness ever again. HAVE SOME RESPECT FOR YOUR CUSTOMERS!
April 11, 2013
The Apple logo is a trademark of Apple Computer, Inc.