Otherworld: Spring of Shadows Collector's Edition
Exclusive
Use a mystical locket to explore a magical world and save a young girl in Otherworld: Spring of Shadows! After buying a quaint house in the country side, you embark on an incredible adventure. With help from magical creatures, find and save Fiona before it's too late! Find the menacing shadow that took Fiona and return her to our world. Solve inventive puzzles and discover secrets in Otherworld: Spring of Shadows, a fun Hidden Object Puzzle Adventure game.

This is a special Collector's Edition release full of exclusive extras you won't find in the standard version. As a bonus, Collector's Edition purchases count toward three stamps on your Monthly Game Club Punch Card!

The Collector's Edition includes:

Bonus gameplay
Integrated Strategy Guide
Wonderful Wallpapers
Game System Requirements:
OS:

Windows XP/Windows Vista/Windows 7/8

CPU:

800 Mhz

RAM:

512 MB

DirectX:

8.1

Hard Drive:

579 MB
Game Manager System Requirements:
Browser:

Internet Explorer 7 or later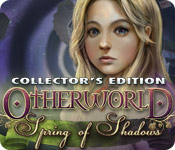 The Big Fish Guarantee:
Quality tested and virus free.
No ads, no adware, no spyware.

Reviews at a Glance

Otherworld: Spring of Shadows Collector's Edition
0
out of
5 (
0
Reviews
Review
)
Customer Reviews
Otherworld: Spring of Shadows Collector's Edition
151
151
Let Down!
Proper disappointed in this game because i was expecting it to be as magical as Moonfell Wood but it's not in the same league I'm afraid...it looks like most of the other reviews don't share this feeling with me but hey!, i need to be honest!...really couldn't wait for it to end and the frustration at trying to cut the glass with the glass cutter!! omg! wanted to throw my laptop out the window! 10 mins of exiting and entering the scene to finally finish the glass cutting. Sorry, wouldn't recommend this game if you want a slow paced, stress free game.
February 13, 2012
Disappointing for such a potentially great game
I have just finished the demo so it is only based on that. The good things. The storyline is extremely unusual and very interesting. The HOS's are also well done especially the pool one which was brilliant. The puzzles were challenging but not impossible. Hint button worked very well as they all seem to do now almost making the SG defunct. My problem was the graphics which were very grainy all the way through apart from the pond HOS which was so real it was if you were looking into a real fish laden lake. If they succeeded in having great graphics for that then why were the story graphics so bad. There are so many great games out there with wonderful graphics which I would buy before this one. If you don't mind grainy graphics it would be a great buy.
February 7, 2012
It fell flat on it's face
Granted this was a nice game but had I known then what I know now this one would not have been a buy for me. The game started out with alot of promise and it looked simply gorgeous that is until I got to the first fairy fawn creature and she looked awful but I thought well maybe that is just the way she is suppose to look so I continued to play having high hopes only to have them blow up in my face. There was one puzzle after another and another and another hardly any search scenes and the ones it did have were to find 20 light bulbs,15 spiders, or either find pairs and so on. The longer I played the worse it got the graphics are super grainy and not detailed at all and the game just got to the point that it was just too tedious and felt more like work than fun and that isn't what I look for in a game I have enough work to do I don't need a game for that I like to have fun with a game and this one's fun hit a dead end for me after about the tenth puzzle and the voice over was terrible I don't know if this voice actor was faking an english accent or not but whatever it was it wasn't good and it grated on my nerves. Needless to say the game just fell flat on it's face for me and I deleted it before even finishing it. Granted it was nice just not CE nice.
January 22, 2012
I was not impressed..
It is rare that I don't much enjoy a game that I picked and especially one with such a high rating from other reviewers.. but this game was just nothing special, in my eyes. All in all, I thought it was just too easy. I also was not impressed with the graphics. I mean, they were good, don't get me wrong.. but it felt kind of dark, and not in a good way. The graphics just did not seem to pop and the music, well I can't say much for that either. The cut-scenes were good, as was the story line. Also, being a collectors edition.. I always look forward to the extra chapter of game play.. but to me, it was too short and seemd to be lacking. So all in all, I was not impressed. I should of saved my money or bought something else. But on a good note, it was about 7 hours of game play.. not bad, considering.
January 29, 2012
too sweet
please note: i only played the demo. the graphics are good, the voice-over not bad. but waaay too many juvenile themes... there will be no pulse-pounding scare tactics here... although the 'goblin' was a bit creepy. if looking for jewels and going blind looking for black flower buds and 15 spiders and little fairies appeals, then this is the one for you. nice for a preteen girl but not me. maybe SE with a discount would persuade me to buy it.
January 23, 2012
Darkity Dark Dark DARK!
Why are so many of Big Fish's games so DARK? It doesn't count, in a hidden object game, if you hide things by making the scene so dark they cannot be seen! Honestly! I only played the trial of this game, and refuse to buy it because there were several scenes that hurt my eyes, even playing in a dark room with the screen brightness turned all the way up. Can we please have more games that involve colorful and well-lit scenery, please? And preferably without "macabre", "curse", "haunted", "evil", "nightmare", "death", and most especially, "dark" in the title! I don't particularly care for either melodrama or pulp fiction...and I am sick of hurting my eyes! If the game were better lit, I might consider buying it -- it has a fairly interesting premise, pretty easy interface and engaging game-play (although there were occasional mini-puzzles that made no sense to me -- I think there's a different code of "logic" used in many of these games, which eludes me entirely). Sure, the characters are 2D cut-outs, the writing is pretty trite, and the villain is utterly overblown (rubber-stamp composite appearance from modern horror, with a part written for an old-fashioned melodrama, sans handlebar mustache), but that's pretty much expected with most games, alas.
May 19, 2013
Odd Man Out
Although I found the graphics to be somewhat better than average. When I started, I thought the game had great promise, but I was wrong. I uninstalled it within the first 15 min. of the trial Why? I was frustrated with the "magnifying" glass. There were so many places it hovered over, After exploring each one, I was disappointed to find that most of what was beneath served no purpose, just "white noise" that meant nothing to the overall game play. (Or maybe they are there just to increase game play time.) Something else I found was that, in many cases, after I clicked on those magnifying glasses that were relevant, there was a lag of 4-5 seconds before it opened. First time it happened, I kept clicking, thinking it wasn't hard enough, and that just made it worse. (And it isn't my PC that's causing it.) I was expecting so much more, but the little glitches took away from what appeared to be a high calibre game. With so many "4++ reviews, it would be unfair to the developers if I didn't recommend this game to others who have a little more patience - so: I recommend this game.
August 7, 2014
Scary :s
I must say, the info on the game is sort of misleading. I had expected a simple search to discover a girl who had run off to some sort of mythical area, but then suddenly I'm bombarded with the view of a scary creature who shatters a mirror Fiona has been hiding in and crawls out only to scare the living daylights out of you. Or, in my case, have me hugging any cat I can find and turning all the lights on. I scare easily, and though the sound quality is great, it definitely gave me a fright when the Thing popped out. The colours are astonishingly beautiful, and the backgrounds are creative if nothing else. I did appreciate the style in which the creeps are drawn, but I just wish they were less creepy. I suppose that's my fault for not turning the game off the moment I heard the line 'I was not alone in my new house'. All in all, if you like a scary game, I do recommend it to you. If you're ok with it but would like to be sure just in case it's not your thing, I'd play it during the day-hours and keep something warm and cuddly around. If you aren't one of those hard-core scare-your-pants-off gamers, then do not play this game. Seriously. I mean it. Don't try it and act all cool 'cos you'll be afraid to go to the washroom at night.
August 22, 2012
Charming little game
Well i played this game its ok for young Ladys/Girls. but for me a man i think ill past on it. the graphics are pretty if you like this sort off game your in this magical world filled with bright colours to save a pretty young girl. if your a very young girl you love this game.hope that helped you abit.know please download it for 1 hour if you like it buy it if knot keep your coupan for something you like better.
January 23, 2012
Kind of boring
This was not my favorite. I don't like it when the same scenes suddenly change to have new hotspots after a recent revelation. I don't know why, I just don't. The story line was boring, the main voice..completely irritating, and it just wasn't adventurous enough.
February 5, 2012
The Apple logo is a trademark of Apple Computer, Inc.