Great Little War Game
Take command of your army and battle the foe on land, sea, and air in Great Little War Game! Make wise decisions as you go and take full advantage of higher terrain, natural choke points, ambush spots, and defensive walls. Get it right and the bad guys will crumble before your Strategy skills. Try out multiple modes and defeat your enemies in Great Little War Game!
Multiple game modes
Amazing 3D terrain
Battle your enemies!
Game System Requirements:
OS:

Windows XP/Windows Vista/Windows 7/8

CPU:

2.0 GHz

RAM:

1280 MB

DirectX:

9.0

Hard Drive:

102 MB
Game Manager System Requirements:
Browser:

Internet Explorer 7 or later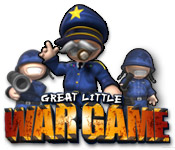 NEW299
The Big Fish Guarantee:
Quality tested and virus free.
No ads, no adware, no spyware.

Reviews at a Glance

Great Little War Game
0
out of
5 (
0
Reviews
Review
)
Customer Reviews
Great Little War Game
21
21
A Great Little War Game!!!
This actually is a very good strategy game. I agree that an in-depth tutorial would have been extremely helpful. The yellow question marks at the beginning of the levels aren't enough to give you a good feel for the game. After initial frustration, I read Daisy_Mays comments in the forum. Only then did I get a good grasp for gameplay. RECOMMENDATION: BEFORE PLAYING, GO TO THE FORUM AND READ DAISY_MAY'S COMMENTS UNDER GENERAL REVIEWS AND HOW TO BEAT THE SECOND LEVEL. You'll be glad you did and might start enjoying this little gem.
July 30, 2012
Challenging and Interesting. Replayability = 5/5
Firstly, I agree that a tutorial was needed on this game. However, you can figure it out with enough trial and error. I still gave the game 5 stars because it was so darn hard! I honestly don't remember the last time I played a game so challenging. Maybe Professor Fizzwizzle - though this is nothing like that. (I'm not counting those games that are hard because you have click fast, or use an actual magnifying glass find the teeny tiny shred of paper in the jumble) My brain was really working overtime on this game. Love it! I wasn't keeping track of my playing time, but I'm on level 20 now and it's been at least 20 hours. There were a couple levels that I spent 2 hours on! And me and my kids have a lot of fun playing the player v. player version. Other posters have written some very thorough and informative reviews explaining the mechanics of the game, so I won't repeat them. But here are some tricks I picked up along the way: If you forget what a person/truck/ship etc does or is good at, go to your 'store' to remind yourself what their strengths and weaknesses. A sniper can't shoot you if you're standing in the spot right beside him. Some of the vehicles are like this too. Use click & hold often to gauge the enemy's range of fire. Save your game often. This is the best "undo" you have if you make a serious mistake.
August 8, 2012
The Great Little War Game That Could!
Unfortunately, there are several exceedingly negative reviews of this game. How sad the low assessments mostly complained of a confusing game where step by step instructions are not included. Occasionally in life, you don?t receive a written guide ? you are required to solve your dilemma through trial and error. For example, Christopher Columbus and his ilk were without specific maps and directions prior to sailing toward the new world. Fortunately, they had both confidence and the tenacity to find the answers that would disclose the unknown and get them to their desired destination. ?Great Little War Game? provides superb graphics and just enough information to get you started. The rest is entirely up to you. Many years ago there was a game called ?Myst? where the player finds and discovers clues. Following in the same vein, GLWG provides just enough information to keep you moving along. You are required to figure out how to best position your units for an optimal result and solve the problem. Given, this is not an easy process. Happily, you can undo your troop placement as many times as you wish prior to committing your units to action. Should you get it wrong, try again. If you enjoy a solid mental challenge, GLWG is an undiscovered gem that delivers the goods. Stick with this and many hours of superb game-play await you. Peace.
September 3, 2013
awesome game
This game needs a better score. There is no tutorial, so you kind of have to figure it out for yourself. There are lots of levels and different skill levels, but even the basic skill level can be challenging on some levels. There is also a two player mode that is awesome. I have been playing for 6 days and im not even half way through. After reading the other reviews, I would recomend doing the trial first and make sure you can figure it out before you buy it.
August 3, 2012
We need Great Little War Game 2.
Like everyone says, takes a while to learn strenghts and weaknesses of each troop. Example, if you can get right next to a sniper and fire he dosen't fire back, loses 75%. Get another troop there and wammo, no more sniper and with zero losses. Thats why I would buy up a War Game 2 immediately. All new screens and my previous knowledge would really be a blast.
January 11, 2013
Fu-u-u-un, and cute to boot
Although a tutorial would've helped, I found the controls intuitive and soon understood how to judge my own and enemies' movement and firing ranges. I really enjoyed playing the first campaign and the tongue-in-cheek storyline that carries it along. I hope the games successor (GBWG) will be carried here at BFG as well.
October 10, 2012
I LOVE IT !!!!!!!!!!!!!!
Played the demo and loved it. its not hard at all Ive been waiting for bigfish to make a war game like this so i bought this game thanks big fish.. make more please
August 5, 2012
best strategy game ever! for serious players!
It really gets you thinking and sharpens your skills. Yes it would have been nice to have tutorial but after a while you get the drift easily. don't miss it if you like pure strategy games! When is the second one coming out????
March 8, 2014
Decide for yourself
I read the other reviews and had to try this game. First off, well there are some aspects of the game that take a bit of trial and error and a manual would indeed be nice, the majority of the gameplay is by no means difficult to figure out. There are in-game hints that give you enough information at the start to get going in the game. To call this game trash is certainly far from realistic. If you dropped me into the cockpit of a plane and I couldn't figure out how to fly it, I wouldn't call the aircraft 'trash.' That doesn't really seem like a constructive comment at all. To the credit of the previous reviewers, there are some confusing points that can really mess a person up during a game for which a simple manual really would be helpful. Like: Why can I sometimes shoot up/down a hill when other times I can not? What does the damage depend on? Sometimes I do 75% and sometimes I do 19% and I can't tell the difference between the two scenarios. As for what the game actually *is*: This game is a nice little turn-based strategy game that features pretty simple (most of the time) moving and shooting tactics. There are a variety of units, each with their own strengths and weaknesses, that you purchase and move about on the map. Other than that, it's pretty straight-forward resource management and kill or be killed. I will likely buy the game to see how it pans out. It is pretty difficult and time consuming and I have plenty of other things demanding my time, but it is worthy of a credit. Try it out and decide for yourself. Don't be swayed by reviews from people who can't understand the game.
July 30, 2012
I liked this game
After reading all of the bad reviews I was reluctant to try this game. I am glad that I did. I will admit that this game desperately needs a tutorial. Reading the comments in the forums before you play is essential. I thought the game was great fun, relaxed yet challenging. Adorable graphics and sound. There is a lot of trial and error, but I enjoyed figuring out how to beat the levels. This is a really cute and enjoyable game. You just need to stick with it until you have the basics figured out. After that it is a great game. Give it a try!
August 19, 2012