Shadow Wolf Mysteries: Bane of the Family
Return to the De la Fer estate to help the count unravel the curse that has been passed down through his family in Shadow Wolf Mysteries: Bane of the Family! Tackle this challenging Hidden Object Puzzle Adventure game and track down an all new werewolf that is wreaking havoc on the town. Can you break the curse and save the family? Take on Shadow Wolf Mysteries: Bane of the Family and find out today!
Find a new werewolf
Break an ancient curse
For a more in depth experience, check out the Collector's Edition
Game System Requirements:
OS:

Windows XP/Vista/Win7/8

CPU:

1.4 GHz

RAM:

1024 MB

DirectX:

9.0

Hard Drive:

558 MB
Game Manager System Requirements:
Browser:

Internet Explorer 7 or later
Alcohol Reference
Blood
Mild Violence
Use of Tobacco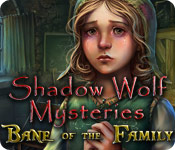 NEW299
The Big Fish Guarantee:
Quality tested and virus free.
No ads, no adware, no spyware.

Reviews at a Glance

Shadow Wolf Mysteries: Bane of the Family
0
out of
5 (
0
Reviews
Review
)
Customer Reviews
Shadow Wolf Mysteries: Bane of the Family
61
61
Good puzzles but frustrating HOS
I had a some fun time, but really nothing special.. The good: Graphics are nice, I must say that locations were beautifully designed Voice overs are excellent as well as the sound in the background and music it self Story is nicely put together, you must find the way to break the curse and save one little girl form it There is a detailed journal Puzzles are fun, mainly easy but comparing to HOS I enjoyed playing them The bad: HOS are interactive but besides that everything else was bad, too dark scenes, blurry, some objects are just impossible to find Hint button recharges very slowly even in regular mode..so it?s frustrating especially if you are not able to find several objects in HOS No map
March 7, 2013
If you want a quick game, here it is.
I was so disappointed with this game! The graphics were great, but the challenge was minimal. There were a couple of puzzles that stumped me, but I flew through the rest of them. I thought it would be like the first Shadow Wolf game, but it wasn't nearly as challenging. I have to say I'm sorry I got it.
January 28, 2012
Good story, Poor gameplay
The most attractive thing about this series is the storyline. The Puzzles are easy, and hidden object scenes are plentiful (one after the other) and they all look alike which is why I got bored with this game and didn't enjoy it as much.
April 2, 2012
OK Game but Please Update the Music in Your Games, ERS
ERS games are usually quite good and this one is no exception. My only gripe is that every single game that they release has the same music over and over again. Time to update the score...please!?!?!?
February 3, 2012
Not enough directions
I did not understand the directions to the most of the puzzles. Skip time was very long. The hint button only helped you in the area that needed attention. If you were stuck you had to go to all areas before you could fiqure out what needed to be done next. Oh well! All in all it was ok.
January 31, 2012
Nice HO but More Suited to Beginners
Don't get me wrong, this follow up to the original is still a nice game, with beautiful graphics sounds and voiceovers as is usual with ERS. However I thought there were very few puzzles which were too easy, and too many HO scenes, the balance was not right. Although the storyline is nice and the game is fun to play, it is just too easy even on the hard level that I played. I would have liked to have seen more and harder puzzles by ERS like they had in Sinister Obsession.
January 31, 2013
Easy And Not Very Lengthy - A Guy's review
*review based on completing the full game in expert mode* This is the second installment in the Shadow Wolf Mysteries series and plays much similar to the first one. This time you need to help to find a cure for a sick little girl. To me the story in itself felt uninspired and thin. The characters you meet aren't interesting and there is little to no explanation why characters help you or work against you. Except for one that is, who you quickly understand has a real motive to work against you. All characters are voiced and the voice-over talent is varied. To sum it up in the easiest way I'll just call it mediocre. Don't get me wrong, the story isn't annoyingly bad in any way, but it just fails to excite. Graphics are good, but as with most games most of it is played in rather dark and grey locations. They do break it up with some lighter locations too though. Everything is hand drawn, and is done so well. More could have been done with the animated parts, but I was happy to see that at least lip-syncing was well done. The game music is quite nice most of the time, but has some annoying moments. Sound effects are much better than its predecessor, but still leaves a lot to be desired. Game play has a typical mix of adventure elements, puzzles and HO scenes, with most of the focus on the HO scenes. If HO's is your main source of entertainment this game has a lot of promise. They are also all hand drawn and most of them are brighter than what is usual in similar games I've played so far. That is a big plus. There is on occasion the darker and grayer ones too, but as long as we at least get a variation I'm usually happy. Speaking of variation, or in this case lack of it, all the HO's where very similar to each other and you have to do them all twice. They are all clutter scenes with some of them being very cluttered. They all have some mild interactive elements but, what seems to be typical to this developer, some of them are just nonsense. You can tell they are trying to come up with some creative twists, but when it doesn't make sense it fails. Also typical to this developer is minor flaws and translation issues. In this game they are very minor though, and offers very little frustration. All the puzzles seemed very easy. It was a good mix of different types, but none that offered much of a challenge. A couple seemed original though, at least to me. You have a pop-up "help" function to explain your goals and what you need to do. I don't mind easy puzzles, but they should have put in some more challenging ones too to make it more varied and interesting. The adventure elements are typical ones. I tend to prefer the adventuring in these types of games, and it has a fair share to scratch my adventure itch. Adventuring usually means a lot of moving back and forth through locations, and even though there is some back and forth here too, they have limited it to sections, so you never have to move long distances. I still wish there was a map even though it never felt really necessary. This game is not as clunky as some other of this developers games, but it still have a few light issues. Sometimes you have to be very exact to where you interact with certain objects and such. The game has smooth transitions. You have three difficulty levels to choose from: Regular: -Quick recharge of hint/skip -Sparkles on active zones and object Expert: -Slow hint/skip -No sparkles except on HO scenes Hard: -Very slow hint/skip -No sparkles except on HO scenes -Black bar tips are disabled I played it in expert mode and still found it very easy. If you want any sort of challenge do not play it in regular mode. The game never caught my attention and my main goal just ended in wanting to get to the end of it. It will still probably be perfectly OK for beginners and newcomers to the genre. It would suit the HO fans the most, but for the ones who are looking for a challenge, it offers very little. It also felt quite short, so I would be looking for this one at a discount price. For the guys: I didn't notice any gender bias and the story is equally interesting/uninteresting to both. Try before you buy. TJ
December 4, 2012
Far too easy & a disappointment
This is a very easy game to play, mostly hidden object scenes many of which seem to be just piles of items. There are also the usual mini puzzles, sliders, turn the rings, picture puzzles etc. most are very simple to solve. The graphics are pretty average, definitely not the best I have seen from this producer & I found them rather blurred in places. The voiceovers are good but the dialogue is not clickable so if you are a fast reader it is a little tedious. The music is fine & is the usual score associated with these games. There are three modes of play, in regular the hint is a 60 second recharge & there are sparkles & glints, in expert 2-1/2 minute hint & sparkles & in Hard a 5 minute recharge not glints but still sparkles for the H0s. I found lots of areas to visit but you don?t need a map as there is not a lot of backtracking. All in all a competent H0 but I would have been happier had I paid sale price. I was disappointed as this was a decided step down in quality from the first in this series.
March 13, 2012
No Sense to the Ending
This game started out fun, but by the end I was just playing to get it over with. In fact, I got so sick of it, I nearly quit before the end. Unfortunately, the ending seemed to have nothing to do with everything I thought I was trying to do in order to save the little girl. It was too long and had too many HOS and puzzles. The HOS were dark junk piles with many objects very difficult to see. Mind you, I like HOS, but there were way too many, and way too many repeat HOS. Some of the instructions for puzzles were as enigmatic as the puzzles. The skip and hint buttons took too long to refill. The music was monotonous. There's too much wandering around with no map. There was very little continuity between chapters. Maybe if there had been more continuity between chapters, the game wouldn't have seemed so long. But at least you definitely get your money's worth, or in my case, game credit's worth.
June 3, 2013
Poorly Orchestrated HO Adventure
I tried the CE version when it first came out, and I just got through a half-hour of SE gameplay. I view the game now as I did originally. It is a poorly orchestrated HO game with an abnormally long Skip time when doing Puzzles. So much so that it takes away from the overall enjoyment of the game. The music is extremely repetitive which does absolutely nothing for the overall production values for this game. It is silly, nonsensical and, in my opinion, a very tiresome game that never ever gets off of the ground. BFG will have to give this one away if it is going to be amongst the treasured games in my Game Manager.
January 27, 2012
The Apple logo is a trademark of Apple Computer, Inc.