Haunted Manor: Queen of Death
Exclusive
Dive into Haunted Manor: Queen of Death and save your sister before it's too late! Find a powerful amulet to stop an ancient evil in this amazing Hidden Object Puzzle Adventure game. After receiving a mysterious letter, you return home to find that your family has been murdered. The only survivor is your sister, Stella, who now needs you to save her! Concoct a powerful elixir to save Stella and then confront the Queen of Death!
Save your sister
Concoct a powerful elixir
For a more in depth experience, check out the Collector's Edition
Game System Requirements:
OS:

10.5

CPU:

800 Mhz (INTEL ONLY)

RAM:

256 MB

Hard Drive:

548 MB
Game Manager System Requirements:
Browser:

Safari 4.0 or later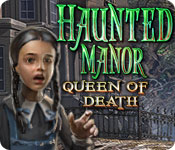 NEW299
The Big Fish Guarantee:
Quality tested and virus free.
No ads, no adware, no spyware.

Reviews at a Glance

Haunted Manor: Queen of Death
0
out of
5 (
0
Reviews
Review
)
Customer Reviews
Haunted Manor: Queen of Death
143
143
Kind of a Snoozer
At first I thought this game was going to be good & creepy - the graphics are good, the music is GREAT, good atmosphere and storyline, BUT you don't go anywhere! I was just running back and forth, back and forth in the same 3 general locations. And in the end when I was just ready to be done with it, they hit you with like 10 consecutive hidden picture scenes. Really called it in. I got to a point where it wasn't even fun anymore, seeing the same rooms over and over, I just needed to finish it to get my money's worth. So glad it's over.
January 18, 2013
For HOS lovers
Overall a good game, but certainly not top-notch. I preferred the first edition of Haunted Manor. The graphics were ok, there are no voice-overs, the puzzled were not too difficult to play. Some HOS were a bit too dark for my liking. I would have given the game a 4-star, if it were not for the ending of the game. Playing 12 HOS in a row just to obtain the evil symbols in order to finish the game, I find not only boring but also not creative. If you are a HOS freak, buy it, if you prefer a mix of adventure and HOS then I wouldn't recommend to purchase it.
February 19, 2012
In A Word, Dull
BASED ON COMPLETED GAME Off we go to rescue our twin sister again, who of course lives in the spooky family mansion. Our parents have been killed, murdered, or have they? The opening cutscenes for this game are a bit long-winded, but it is a good introduction to the STORY, which only unfolds as we progress through the game. Although it involves the twin sisters from the original Haunted Manor game, it is not a sequel. The VISUALS are clear and light, but difficult to describe. The GRAPHICS seem as though they?ve been painted in OIL, with a thick brush. There is a definite TEXTURE to them, and they are quite interesting. But they are far TOO MONOCHROMATIC for my taste, I never knew there were so many different shades of brown and grey! Oh, and NO WIDESCREEN option, so the images were noticeably stretched. The BAD GUY is REALLY well done. The MUSIC, as with the first game, is DISTINCTIVE. Choir-like VOICES, REQUIEM-style tracks. Very WELL DONE, but it overshadowed any AMBIENT sound there may have been. The game is MOSTLY ADVENTURE with a lot of HOS, in the form of INTERACTIVE LISTS. Items are generally clearly visible and the scenes are not too cluttered. Each scene is visited TWICE. In the final moments of the game, they are all revisited again, in a kind of TOUR OF THE GAME, to wrap everything up. Normally I quite like this, but there are 12 HOS to visit, one after the other, and it IS the third time. PUZZLES are FEW and generally NOT TOO DIFFICULT, but some are DECEPTIVELY SIMPLE, and I, at least, had to skip. SKIP is QUICK. HINT is Very. Very. Slow. It is DIRECTIONAL outside HOS, except near the end of the game, where it reverts to ?look elsewhere? comments. The ADVENTURE component ANNOYED me. I was forever TOING & FROING, NO MAP, and often at a loss as to what to do next. There was just so much ground to cover, it was impossible to keep track of where everything was, so too much time was spent looking for the ?lock that needed that key?. Playing this game dragged a bit. I needed to get help too often, and the monotony of colour didn?t help. Not a favourite, not even an also-ran, but it is okay, I guess.
June 25, 2013
I have played better!
A little too much over and over for me. Then it did't explain about the amulet so I finally figured out that was why it was flashing and not just a special effect. Too tedious going back and forth with limited passages. Probably will not play again unless I am having HO withdrawl symptoms.
September 30, 2012
Ok Game but gets a bit Zzzzzzzzzzzzzzzzz
I found finishing this game to be a task. Where other games have been hard to put down, this one I ended after a short time each night simply because I was bored of the constant moving about back and forth to the same areas. It had no "flow" in my opinion. The scenes took an age to load on my computer. Just Ok.
February 16, 2012
Bummer
Love the game, it was a challange, a little dark when trying to find things. Game going great, and then I get to the 3rd chapter and I HAVE TO START OVER, it will NOT let me get the corkscrew after I got the scorpion tail. Real disappointed in this. But the game overal was a challange and fun.
December 27, 2011
An easy way to pass 30 minutes
The game was ok. What I liked most about it was the interactive puzzles. However, the game wasn't very challenging.
January 16, 2012
haunted manor: queen of death
bought this game after reading good reviews but was disappointed -graphics were okay, story okay, instructions for puzzles not very clear and a lot of going backwards and forwards - got a bit of fed up halfway through the game.
January 17, 2012
Backtracking Galore
If you hate backtracking, avoid this game. The last segement is entirely based on backtracking to every HOS that you've played throughout the game, and this game is chock full of them! The basic story is okay. It's good for a player who likes a little morbid fancy but doesn't want anything to gorey. I prefer a little more horror in dark HOG games, but this one finds a happy medium between too much and too little. The puzzles are very simple--too simple for an experienced player. For those who like more variety in gameplay, you may find this title wanting. There are puzzles, and then there's HOS. The latter is really abundant, and the former could stand to appear more in between the frequent HOS. Overall, this game is good for a beginner or someone who wants a tame horror game. If you're thinking of buying it, I recommend waiting until it's on sale. I did, and I'm really glad that I didn't pay full price for this.
April 29, 2013
Could be better
This game is good, not the best though. -Storyline was not the best. I found it odd and depressing to have a child saving souls of her family and witnessing her family's death (mother, father, nanny, and somewhat evil sister all died right in front of her). -Graphics are good, but weren't excellent. They werent as "sharp" as other games. No speaking, you have to read the dialogue which is one thing I didn't like. It made it boring. -HOS were easy; not cluttered. Puzzles were also very easy, hardly challenging. -No map; you had to keep going back and forth which became annoying after awhile. -Hint button refills very slowly. I had to use it to know where to go next. It doesnt use your hint when you use to go from one area to another, but hint is used and has to refill when you are in the same room a task needs to be done. One thing I did notice was most of the time the hint would direct you using arrows, but other times instead of arrows, at the top of screen it tells you that you need to go somewhere else, but wont tell where. -Skip button fills up pretty quickly, although you dont need the skip because the puzzles were very easy. I recommend this game to those who like easy HOS and easy puzzles. If you want more of a challenge, go for something else.
April 11, 2013