Big City Adventure: London Story
Fitzpatrick McGovern is long gone, but his mysterious lost legacy is still out there! Find it in Big City Adventure: London Story! Follow the tantalizing trail of clues he left behind and visit some of the best known locations around London in this incredible Hidden Object Puzzle Adventure game. Meet an eccentric cast of characters that can help you in your quest, but only if you can help them first. Track down the legacy in Big City Adventure: London Story!
Explore London
Meet eccentric characters
Find the McGovern legacy!
Game System Requirements:
OS:

Windows XP/Vista/Win7/8

CPU:

600 Mhz

RAM:

256 MB

DirectX:

7.0

Hard Drive:

126 MB
Game Manager System Requirements:
Browser:

Internet Explorer 7 or later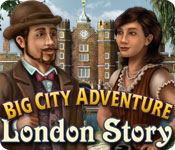 NEW299
The Big Fish Guarantee:
Quality tested and virus free.
No ads, no adware, no spyware.

Reviews at a Glance

Big City Adventure: London Story
0
out of
5 (
0
Reviews
Review
)
Customer Reviews
Big City Adventure: London Story
110
110
This was diffent
I did like the game except that like one other viewer said it is not your regular find the objects and you have to do a lot to just to find the place to play the find games and as usual my time run out. Would I buy this maybe?
February 1, 2012
Big City Adventure: London Story
I had this game just sitting on my computer for a long time. I didn't delete it and I am glad that I didn't. It is a bit tricky to play, but it provides you with a guide to follow. With that I got through the game. I had wished that it didn't end, as I became accustomed to this style of game. It is quite different than the other big city adventures. It is worth the effort to try to learn how to play.
January 28, 2014
Very enjoyable game
This hidden object game was very enjoyable to play. You're basically working off of a map with lots of locations. You can use the map to see where there are objectives, and you can also use the map to travel. I played the game in relaxed mode, so sparkles helped to locate various useful objects in the locations. You're trying to help locate some hidden Egyptian treasures for the museum, and to do this you run all over London talking to various people and exploring famous buildings. When you finish a hidden object scene you always get an object that will be needed in some other place. You should also look for a coin in every hidden object scene, as these help to increase the hints you can use. There are a few mini games to play, none of them too difficult. This game is best for those who like to use their detective skills to help them decide where to go and what to do next. If you get really stuck there is a built-in walkthrough button that will list all the objectives and give you hints about how to achieve them. There may be two or three steps you need to follow, and you could click on all of the steps and get all the hints, or else just click on the next step and get one hint. There is also a journal that gives you a few tips about how to solve some puzzles. There's not a whole lot of variety in the game, so if you're looking for great excitement, this isn't the game for you. But it is very well-designed and the story is a good one. I enjoyed playing the game and recommend it.
October 9, 2013
With Just a Few Tweaks, Will Be One of the Best Series Ever
Basically, non-dark, non-creepy, super fun adventure game with HOGs. The only two things I didn't like about it were: 1) You can't skip the dialogue and you can't replay it. Since I play with the sound off, I didn't even realize that people were talking sometimes until halfway through the speech. Second, you can't skip some of the mini-games, so if you really hate the "flip over all the button" type games...tough. Otherwise, is appended with an excellent walkthrough so you will NEVER be lost. Seriously though, lots of fun, lots of London!
September 23, 2013
Nice siteseeing
I really enjoyed playing this game. There's a lot of HOGs (which my wife likes), and there's also some adventure stuff in it, what I like. You cannot compare this game with the classic one: That game is 100% HOG as far as I played the demo. The scenery is very nice. This is one of the reasons I like this game. Music is also nice. Not to dark or creepy, just fit for the game. The story line is not very deep, but good enough to keep you going. The game in not very difficult, but it took me long enough. Some of the puzzles do come back a number of times and are IMO too easy. Overall I felt happy about buying this one!
April 21, 2012
Back to London whith another Big City Adventure.........
Pretty good game this one there more a storie to this then the last one. but i thing the team behind the big city Adventures are getting gready they could of put the two parts of London to gether made it into one part.it realy the same game with diffrent graphics and you have to think a bit more in this game.ive bought this one as well,if big city adventures read this wish i dont think they will try a diffrent country or even out of space that would be good. this time lets try the moon says mum and dad to there son and doughter that sound fantatic they say back, we are all going on a space Adventure...lets hope they get lost lol.
February 13, 2012
Jolly Good Adventuring
I've played the Big City games, and for the most part enjoyed them, but the series was losing its steam for me. That changed with this game, which may not be the most complicated thing you've ever played, but is truly enjoyable. Unlike previous Big City games, this one is more of a hidden object/adventure affair, which was a refreshing change. The best part of these games is getting to explore the city in question, and you hit most of the big landmarks of London as you might expect. This dovetails with a simple but fun adventure as you search for a long-lost artifact. Fans of adventure gaming such as myself will recognize the all-too familiar "help everyone you meet" mantra, and performing those tasks gets you the items you need to find the next step on your journey and unlock new locations. I was pleasantly surprised at the voice acting in the game, which is quite good. The background music is lacking, however. It's not that it's bad, it's just the same tune throughout and you tire of it quickly. Graphically, it's not up to snuff with some of the more "realistic" looking games, but I think it suits the tone and surroundings quite well. In addition, I liked the extra touches, like a bit of animation in each hidden object scene. As to the puzzles, they are largely familiar but well done. Some are more difficult than others, but nothing will stump you completely. Skipping them is allowed, and the only detriment it brings you is adding time to your game clock. Hints are collected by finding coins in each scene, but the HO scenes were the easiest thing in the game. Other than the repetitive crossword puzzle to unlock each new scroll, I liked the variety. I really appreciate when story and game come together to make a unique and enjoyable experience. I don't know that it will have much replay value (no trophies to unlock or anything of the kind), but it's a heck of a lot of fun. Kudos to the developers for stepping outside of their comfort zone and doing a great job.
February 7, 2012
Fun with a little bit of history.
I enjoyed playing this game. When you enter a new scene it gives you a bit of history about that area. It's a fun family game.
February 5, 2012
great!!!!!
This game is amazing and its graphics are amazing the game can be quite challenging for both adults and children beacause its fun and adventurous but if you get frustrated you can use the hints which dont take to long to load i went on the casual mode which was relaxed and fun. The hints were good and show you were the item was. But if you go on the story it can be boring because it takes a while to get to the actual game!!!!!!!!!!!
February 5, 2012
a different big city games
I used to buy all the big city games, but stopped as they were so boring and repetitous. I tried this one, and liked the changes.At last, a game you have no trouble getting stuck. I found the walkthrough and the hint button very helpful, plus the map. The only downside is knowing what to do.But if you don't mind help, this game is fun!!!
February 4, 2012