Time Mysteries: The Ancient Spectres
Exclusive
Take on Time Mysteries: The Ancient Spectres, a challenging Hidden Object Puzzle Adventure game! Stop the evil witch Viviana and save Esther's family! With her heritage on the line, it's up to Esther to discover the history of the ancient Ambroses and explore time itself. Go on an incredible adventure and change events in the past to solve an incredible mystery in Time Mysteries: The Ancient Spectres!
Save Esther's family
Explore time itself
For a more in depth experience, check out the Collector's Edition
Game System Requirements:
OS:

10.4

CPU:

800 Mhz (INTEL ONLY)

RAM:

256 MB

Hard Drive:

308 MB
Game Manager System Requirements:
Browser:

Safari 4.0 or later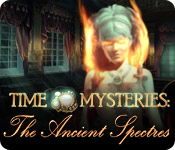 NEW299
The Big Fish Guarantee:
Quality tested and virus free.
No ads, no adware, no spyware.

Reviews at a Glance

Time Mysteries: The Ancient Spectres
0
out of
5 (
0
Reviews
Review
)
Customer Reviews
Time Mysteries: The Ancient Spectres
106
106
TO BE CONTINUED!
Nothings worse than getting into a good game and then not be able to finish it because it is "to be continued." It was a great game, but that ruined it for me. I wish that if a game was going to be one in a series it would say that up front. Or it should at least end the story at hand and start the next game as a new adventure as already seen in many great HOG games. I still would recommend this game to anyone who knows that up front.
December 5, 2011
maybe a 3.5 out of 5. Two things were very good about this game
What makes this game different is two things; an interactive transporter map and a ?click on 3 or more? mini game which you can toggle back and forth during a hidden object scene. You don?t get the map until about 30 mins into the game and very annoyingly at the end of the game it is taken from you, so there was needless back and forth. As well as the transporter aspect there is also a time element, change something in time, and travel to the same scene at a different time and that will have changed. I really enjoyed that aspect. The map also gave you an exclamation mark in areas that you could do something in, which was good. I also liked the progressively hard mini game which you can choose instead of doing the hidden object scenes, and can even toggle back and forth during the scene if you change your mind. I did not like the repeating of the hidden object scenes, all were at least repeated twice and some more than 4. If it was just repeated twice I?d get it ? you can do the hidden object scene one time and the mini game the other. There seemed to be more time and thought into the ?click 3 game? (I wouldn?t call it a match 3 as you didn?t have to drag an item to make a chain of 3 or more). But that is where my enjoyment ended, and I did mostly enjoy this game until near the end when I lost the map then I had no patience. THE NOT SO GOOD - You repeat one puzzle a few times, another puzzle twice, and apart from a standard pipe puzzle at the end, and a couple of others there weren?t any puzzles. This was an inventory game a lot of ?pick up and use in other scenes?. Continuing on from the previous game in the series, there is a cliffhanger, here a literal ?to be continued.? I hate these, especially when the plot wasn?t that gripping to begin with ? I was bored with it. the repeating of the hidden object scenes slowly grew more annoying. Some tweaks, this game could have been a good game, it was so close. For those that like a change from hidden object scenes and like those ?match 3? minigames, or if it?s a DD it?s worth a look. It?s a standard length ? it took me about 5 hrs. About C+ rating - quite a good rating for me. (I am now doing 'out of 5' star rating and not the 'like' etc rating)
March 6, 2012
Not one of my favorites
An award should be given for being the most junkpile-ish....IMHO, but the Hint refills quickly. However, the H0s were not dark, but brightly colored. HOG lovers will like this game as there are a lot of them. The puzzles are all doable. There is a lot of hand-holding. I liked the Time Device concept. It makes getting around very easy, but actually offers no challenge to the game what-so-ever. The story is inconsequential. My current fav is Nostradamus: The Last Prophecy.
December 6, 2011
not for me
I had trouble figuring it out. The hint button is good and fast, graphics are good and so is the music. But the game leaves a lot to desire for me. The HOS can be difficult finding the items and there is just not enough in this game to but it.
February 10, 2013
Great until the ending
Overall, while in the midst of the game, it was a very enjoyable and playable game that kept my interest. The difficulty of the HOS's was quite inconsistent, with some being truly difficult and some being ridiculously easy. In any case, with both the HOS's and the gameplay, the hint system was helpful enough that I only had to consult the walkthrough once. But right when you get to the climax, when you think you've almost accomplished your goal, you get a screen with the words: "To be Continued." I hate it when a game does this. In fact, I have yet to find the sequel to a game that ends that way. So I left the game greatly disappointed. Hence I only gave it 3 stars.
February 22, 2012
Spectrally disappointing.
This game is loaded with difficult HOS's, a feature that should ravish all fans of the genre, including those who, like me, are not crazy about them -I often say I wouldn't be certain to spot an elephant in a well-lit corridor... LOL. That's not quite true. The reason it might appeal to less seasoned HO hunters is that the Hint System doesn't need recharging; it's permanent, hence overgenerous. A judicious idea because every HOS is a monster clutter filled to the brim with junk items, lots of which are tiny and eye-straining. Now, if you want to skip them, a super exciting minigame awaits you as a substitute: "blocks of balls busting" (or whatever it's called). The puzzzles are few and far between and hardly impressive. The accent is placed on hunting useful objects -something that suits my adventurous tastes a lot more- scattered through different eras which you travel to and fro by means of a time device. I rather liked that feature; makes a nice change to the usual routine. The rest is okay with decent graphics, a fairly atmospheric music and even a couple of funny things like the scene where a fire is burning; click on it and hear the voice-over say... "FIRE !" Not everything in this game is highly logical though, and the amount of entertainment you will derive from it largely depends on your taste for and skills at finding small HOs. Easier are the puzzles and I would have been a happier camper had they been a wee bit more challenging. I must confess I bought it on impulse after playing the demo, believing the game would become more and more exciting as I would go along. Well, that was a disappointment, I'm sorry to say. The Ancient Spectres is a true rainy day game which I should have kept for that occasion instead or never purchased in the first place. But since it is not bad, 3 stars seem a fair rating to me. However, I suggest you try the demo first and see for yourself.
December 13, 2011
Glitchy
I agree with others: the time machine device was cool. However, the sounds was glitchy. Some of the movies had sound, most did not. I assume there was supposed to be sound (it felt like there should be). Too many hidden object games, and not enough puzzles.
December 11, 2011
When does it become too much?
The game has a lot going to it. Great visuals, an intriguing story, and a helpful transporting map. Also the chance to skip HOS (for those who do not enjoy them that much) to play toggle instead. And yet... It was an ambitious idea, going back and forth not only in space, but in time, to pick up objects in the past that might have been destroyed in the present. But it fell prey to the problem that games with too much backtracking have. You end up with a lot of stuff in inventory, and a vague memory of where they might be. Or just no idea at all. You end up looking at the map, and the map tells you where to go. At the end, it is the map that decides, telling you where you might pick up an object, that you have no idea what to do with at the tme, or bringing you to a place to put an item thaqt you had forgotten you had. My impression is that I was more of an spectator than I player. I did not make the decisions, did not reach any logical conclusion, just went along to see how it ended. And the toggle option has one problem. It may take even longer than finding the objects, If you are madeof sterner stuff, you might enjoy this game a lot more than I did. I know I did not.
August 11, 2013
Recommend as a Daily Deal
VERSION Standard Edition full game DEVELOPER Artifex Mundi GENRE Hidden Object Arthurian fantasy STORYLINE You play as Esther Ambrose, a direct descendant of Merlin, the good wizard, and Viviana, the evil witch. You've just learned that you've inherited a dilapidated mansion, and you must imprison Viviana and save Merlin. To aid you, you have a time machine with which you can travel to five different periods in the mansion's history. One warning: at least in the SE, the ending is extremely abrupt and you're left with a cryptic "to be continued" at a quite crucial point in the game. I was not at all happy. GAMEPLAY The time machine functions as an interactive map, telling you where active areas are and allowing you to travel there instantly. There are a lot of HO scenes, and each one repeats several times. The hint system functions both within the HO scenes and outside them. In the HO scenes, you can see a silhouette of each item by mousing over its name in the list, or click on "hint" if you really can't find it. You can also skip a HO scene entirely by switching over to a "click three or more balls" game, a nice feature when you're playing the same scene for the fourth time! The journal holds your notes and lists your objectives. TECHNICAL For me, if I switched to the "three or more balls" game in lieu of the last item on the HO list, the game quit on me. When I restarted, I had to play the entire HO scene again with a different list. GRAPHICS Overall, the graphics are decent, albeit a bit dark in some places, even with my monitor at its brightest. Many of the objects in the HO scenes are partially hidden behind other objects, making them difficult to find. The HO scenes are the typical "junk pile" type. I did find several instances where an item on the list could have been several items in the scene. For example, I was asked to find a "bow." In the scene, there were two tied bows and a crossbow. I find that a bit sloppy. Outside of the HO scenes, there were items I only discovered because they were sparkling, or because I happened to mouse over them and my cursor changed. CUTSCENES Short and informative, the cutscenes did not interfere with gameplay. Even the cutscene indicating that you were traveling through time was short enough so as not to be irritating. MUSIC Initially, I found the music to be quite beautiful, but it did become repetitive and annoying after a while, and I turned the volume down to 25% as I prefer some music over just silence. A bit more variation in the music would have been nice. SOUND Appropriate and not at all annoying. Sometimes, developers choose sounds to indicate you've correctly completed an action, and those sounds get to be irritating. That wasn't the case here, thankfully. VOICEOVER Esther does comment on certain items that are not interactive, and her comments are repetitive, but other than that, the voiceovers were informative and not intrusive. SUMMARY I have mixed feelings about this game. On the one hand, Artifex Mundi is a developer that has improved by leaps and bounds in all areas of game creation, so I'm willing to give them a break until I see what the sequel brings. And I love Arthurian fantasy. On the other hand, this game had a lot of issues, at least for me. I'd recommend it as a Daily Deal, but not at full price.
November 5, 2012
Back and forth and back and forth
I wasn't crazy about this game. You not only went back and forth and back and forth through rooms, but through time as well and the objectives weren't very clear.
May 26, 2012
The Apple logo is a trademark of Apple Computer, Inc.
The Windows logo is a trademark of Microsoft, Inc.