Mystery Case Files: Prime Suspects ™
The Queen's Hope Diamond has been stolen! It's up to you to search for clues throughout 22 levels, find the offending culprit, and recover the stolen gem in Mystery Case Files: Prime Suspects™. Expand your investigations through the game's 29 unique locations by finding items that will unlock subsequent levels. Thousands of clues are cleverly hidden within the beautiful illustrations, creating a new game experience each time you step into this masterpiece of visual indulgences!
22 ever-changing levels.
29 unique locations to explore.
Constantly-transforming items and clues.
Like Prime Suspects? Try all of the MCF games!!
Game System Requirements:
OS:

10.4, 10.5 (recommended)

CPU:

1.83GHz

RAM:

512 MB
Game Manager System Requirements:
Browser:

Safari 4.0 or later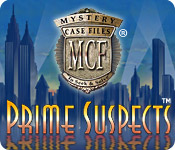 NEW299
The Big Fish Guarantee:
Quality tested and virus free.
No ads, no adware, no spyware.

Reviews at a Glance

Mystery Case Files: Prime Suspects ™
0
out of
5 (
0
Reviews
Review
)
Customer Reviews
Mystery Case Files: Prime Suspects ?
38
38
It's very much like the first one "Huntsville" with a few new mini games. The characters are just as cool as the last ones.
Great Game must try get hooked
February 8, 2013
Fun and brain teaser game!
Try not to reveal details that would spoil a game's plot or story for someone who hasn't played it yet.
January 8, 2012
back in time
I first played this game around 2007 and it was fun. I have since played innumerable hidden object games that have become darker and lost the flavour of simple hidden object games. I came back to this one, 2014, just for fun and I love the simplicity of it. Can you please present more games like this in the simplicity without the difficulty and hence frustration of the newer games.
January 27, 2014
Game has its ups and downs
Mystery Case Files: Prime Suspects comes before the Madame Fate game in the same series. They are similar in many respects, especially the humor. You have to solve a crime and find the missing diamond by checking out various suspects. I think the game designers listened very carefully when people reviewed this game and used the ideas to make improvements for the Madame Fate game. If I could have, I would have given this game 3 and a half stars rather than 4. But it's definitely higher than a 3. This game only has 4 hints, and you have less time to solve each level, which to me increases the pressure and makes it a little less enjoyable. For each suspect there are between 5-8 scenes in which to find hidden objects. Some are dark and require you to find a battery in one of the other scenes. You're basically looking at the same scenes several times, but I guess this is important, because as you progress in the game, there are more scenes and a shorter time. So if you remember where objects are, it's really helpful. This game has less variety than Madame Fate, but it's still fun to play. There are no morphing objects. You can't skip puzzles at the end of each level, but the puzzles are easy. In Madame Fate, you are rewarded if you find two objects in a row quickly. In this game, you have to click on one object, then wait until it's taken off your list before you can click on anything else. Some of the art work is kind of messy which makes objects hard to find. Some objects are very tiny, very dark, or on the very edge of the screen. At the end of the game there is a pretty difficult puzzle to solve. I went to this game's page on the Big Fish website and checked on the forum. There's an explanation for how to solve the puzzle on the forum. Basically I think this is a good game to buy in spite of the problems I discussed. It's not perfect, but it's still fun to play.
July 26, 2013
GOOD VALUE
Over 10 hours of game play. Follows the Huntsville format. For each of 20 suspects, search quite a few HOS followed by a puzzle. The search for each suspect is timed and you will usually have to find a battery so that you can use the flashlight to search the darkened scenes (1 to 4 per suspect). After searching for clues for each suspect, you are given a short summary of the suspect?s innocence or possible guilt ? but it flashes too fast. Another irritation is that you cannot just click on successive objects from the list ? you must wait a short time in between clicks. Good value for the money.
January 23, 2013
My second HOG and My second MCF
After I had played Huntsville, I went looking for a second HOG game and Prime Suspect held up very well. There are quirky characters, reasonable HOS and actually a loose story line. This is an early HOG, but I do recommend it as fun even today.
January 15, 2013
Come Down
My first Mystery Case Files was Dire Grove and this one is really lame in comparison. The hidden object scenes are too cluttered. The puzzles are good but I guess I need a story line that is more interesting than this simplistic "eliminate the suspect by first finding a bunch of stuff and doing a puzzle".
January 12, 2012
An older game that holds up well but has some annoying bits.
The MCF series seems to have peaked with Dire Grove and has gone steadily downhill since then, according to the general reviews of the later games. With that said, I wanted to go back in time and play the earlier games to see how they looked with the technology that was available at the time. Madame Fate and the Ravenhearst games were known for their junkpile HO scenes and Prime Suspects is no better, but it would be unfair for me to compare it to the later games since those ARE expected to get better with time and the advanced technology. What I didn't like here was the timed feature of Prime Suspects, as I find it too stressful to be fun and I play for relaxation and the ability to observe the entire landscape at my leisure. I tend to appreciate games more when I can just sit and gaze at the beauty and talent that went into each scene and I couldn't do that with this game. It was just hurry and try to find each item as quickly as I can and I hated that. In addition, I detested the flashlight aspect to finding hidden objects. I found it to be not challenging but absurd. I like to read the entire word list first and then scan the picture as a whole. That way, I come across the items in a more natural way and I find that to be much more fun than trying to find a single item within a small circle of light. The puzzle at the end of each suspect's investigation was repetitious so it became tedious quite quickly. And the hints were limited so you really had to plan when you thought you REALLY needed to use one! It just took too much of the fun away for me. In that respect, I'm spoiled by the newer games that have hints that refill after a time. I just knew that I'd never play this game again since I own so many others that I enjoy more and that I've replayed often. My review of Prime Suspects was based on the hour demo. Judging by some other reviews here, the demo is representative of how the remainder of the game plays out. I couldn't wait for the demo to be over so it's obviously a no buy for me, but I can't in good conscience give it a thumbs down for others to enjoy. Prime Suspects came early in the series and many people obviously are still playing it and love it. And for those who love the series as a whole and want the entire collection, by all means get this one too! MCF has been one of the more successful and innovative series in computer gaming and it's interesting to see how the games have progressed over the years. It's just not for me but I'll still recommend it for those who fancy it.
January 29, 2013
An OK Game
This game was pretty much like all the other MCF games. It was good once you got going Good Parts: No nonsese approach Almost exactly like Huntsville The puzzle minigame at the end Some were prime suspects some weren't OK Parts: Fairly good ammount of time to solve the cases Some objects were a little hard to find Bad Parts: The Flashlight and X-ray thing. I hated having to find a battery to use on the scenes. And even when you did, you had to drag the mouse along Some objects were way too hard to find Overall, I would reccomend this game, but play Huntsville first.
May 11, 2012
an old, yet beautiful game!
even from the second game of the mystery case files series, one could tell that this company would perform miracles. each episode was and is ahead of its time, leaving all others behind! loved the graphic art!
January 6, 2014
The Apple logo is a trademark of Apple Computer, Inc.
The Windows logo is a trademark of Microsoft, Inc.