Mystery Case Files: Prime Suspects ™
The Queen's Hope Diamond has been stolen! It's up to you to search for clues throughout 22 levels, find the offending culprit, and recover the stolen gem in Mystery Case Files: Prime Suspects™. Expand your investigations through the game's 29 unique locations by finding items that will unlock subsequent levels. Thousands of clues are cleverly hidden within the beautiful illustrations, creating a new game experience each time you step into this masterpiece of visual indulgences!
22 ever-changing levels.
29 unique locations to explore.
Constantly-transforming items and clues.
Like Prime Suspects? Try all of the MCF games!!
Game System Requirements:
OS:

10.4, 10.5 (recommended)

CPU:

1.83GHz

RAM:

512 MB
Game Manager System Requirements:
Browser:

Safari 4.0 or later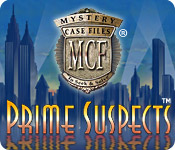 NEW299
The Big Fish Guarantee:
Quality tested and virus free.
No ads, no adware, no spyware.

Reviews at a Glance

Mystery Case Files: Prime Suspects ™
0
out of
5 (
0
Reviews
Review
)
Customer Reviews
Mystery Case Files: Prime Suspects ?
43
43
Come Down
My first Mystery Case Files was Dire Grove and this one is really lame in comparison. The hidden object scenes are too cluttered. The puzzles are good but I guess I need a story line that is more interesting than this simplistic "eliminate the suspect by first finding a bunch of stuff and doing a puzzle".
January 12, 2012
An older game that holds up well but has some annoying bits.
The MCF series seems to have peaked with Dire Grove and has gone steadily downhill since then, according to the general reviews of the later games. With that said, I wanted to go back in time and play the earlier games to see how they looked with the technology that was available at the time. Madame Fate and the Ravenhearst games were known for their junkpile HO scenes and Prime Suspects is no better, but it would be unfair for me to compare it to the later games since those ARE expected to get better with time and the advanced technology. What I didn't like here was the timed feature of Prime Suspects, as I find it too stressful to be fun and I play for relaxation and the ability to observe the entire landscape at my leisure. I tend to appreciate games more when I can just sit and gaze at the beauty and talent that went into each scene and I couldn't do that with this game. It was just hurry and try to find each item as quickly as I can and I hated that. In addition, I detested the flashlight aspect to finding hidden objects. I found it to be not challenging but absurd. I like to read the entire word list first and then scan the picture as a whole. That way, I come across the items in a more natural way and I find that to be much more fun than trying to find a single item within a small circle of light. The puzzle at the end of each suspect's investigation was repetitious so it became tedious quite quickly. And the hints were limited so you really had to plan when you thought you REALLY needed to use one! It just took too much of the fun away for me. In that respect, I'm spoiled by the newer games that have hints that refill after a time. I just knew that I'd never play this game again since I own so many others that I enjoy more and that I've replayed often. My review of Prime Suspects was based on the hour demo. Judging by some other reviews here, the demo is representative of how the remainder of the game plays out. I couldn't wait for the demo to be over so it's obviously a no buy for me, but I can't in good conscience give it a thumbs down for others to enjoy. Prime Suspects came early in the series and many people obviously are still playing it and love it. And for those who love the series as a whole and want the entire collection, by all means get this one too! MCF has been one of the more successful and innovative series in computer gaming and it's interesting to see how the games have progressed over the years. It's just not for me but I'll still recommend it for those who fancy it.
January 29, 2013
FIND OUT WHO STOLE THE HOPE DIAMOND
This is an oldie which I've had for years and decided to pull it out and give it another try. The graphics are very cluttered and grainy which made a lot of objects hard to see. Some are at the very top and corner of the screen which you can't see so you have to use the hints to guide you. But overall I managed to find most of them. There is only one piece of music which is fine and goes well with the game. The challenge is good and you are up against the clock to find all the items in the different locations and then either do a jigsaw puzzle, find matching pieces or find planets, etc. You need to do this before time runs out or you start that chapter again - yikes! And yes, I had to repeat a couple of them. The game took me about 4 hours or so to play. I hope MCF update this game - just like they did with Madame Fate - you just never know! There is a certain ambience about this game and you can't help but like it - horrible graphics and all. If you like a lot of HOS then you will like this game. Give it a trial run before you buy.
July 2, 2014
an old, yet beautiful game!
even from the second game of the mystery case files series, one could tell that this company would perform miracles. each episode was and is ahead of its time, leaving all others behind! loved the graphic art!
January 6, 2014
An OK Game
This game was pretty much like all the other MCF games. It was good once you got going Good Parts: No nonsese approach Almost exactly like Huntsville The puzzle minigame at the end Some were prime suspects some weren't OK Parts: Fairly good ammount of time to solve the cases Some objects were a little hard to find Bad Parts: The Flashlight and X-ray thing. I hated having to find a battery to use on the scenes. And even when you did, you had to drag the mouse along Some objects were way too hard to find Overall, I would reccomend this game, but play Huntsville first.
May 11, 2012
Brilliantly Dull
After playing the first MCF, I was skeptical about playing anymore of the series. I bought the whole series two months ago. I am consistent and want to play in order. This was slightly better than Huntsville. There was more variety in this game, but some items are hard to find. Finding items with a flashlight or sleuth tool makes the game more challenging. You can easily miss items and want to "pull your hair out" most of the time. I keep reading the games are better. I want to like MCF, but so far this receives a subpar rating.
September 10, 2013
It was a suspicious game
Well, Huntsville was boring but prime suspects was better than Huntsville. It is because prime suspects had hidden object scene plus we needed x-ray device to find some of the hidden object scenes. Also there were three types of puzzles at the crime computer after each suspect's location. It was overall a good and suspicious game.
May 12, 2013
Dull as dishwater.
I absolutely love Mystery Case files games.. I have them all so on the sale day I bought this old game thinking it must be good as I love all the others.. WRONG! It generally is just Hidden Object scenes with junk pile basic search.. some are flashlight in the dark (very annoying) and some are simple junk pile. The hidden objects can be challenging but it is the repetition I found tedious. You go back to the same scene at least 10 times and re-search.. after finding about 30-40 items you then get to do either a match two cards game or wordsearch or jumbled picture puzzle.. none are challenging and it gets very boring after a while. I think because it is an old game, "of its time" it was a great game but now with all the other choices and stories and challenges put into IHOG and HOG this one is really dated. GIVE IT A MISS and try all the other FANTASTIC MCF games.
December 4, 2011
Innocent Beginnings
BASED ON COMPLETED GAME FIRST IMPRESSIONS Well, you know, 2008 is a long time ago in the world of games, so it should not be a surprise to anybody that this is a simple HOG with awesomely awful graphics and no ?bells & whistles?. And, for me, blindingly boring gameplay. For what it is, though, it is still very clever. SIGHTS & SOUNDS The HOP scenes are some of the most junky and overstocked HOP scenes you?ll ever see. 100s of items without rhyme or reason, or any connection to the story. Distorted objects, some half hidden behind other things. And some very, very tiny items as well. But somehow, I managed to find all the items on the lists without hint most of the time. There is no animation or interaction, so the scenes look very flat and lifeless. The atmosphere is created by the background sounds. These are on a separate track, so you can adjust for your own preferences on music, sound effects and background noise. The music is like the visuals. There seems no connection between it and what?s going on. WHAT?S HAPPENING? Someone has stolen the Queen?s Hope diamond, and you are on the case. You must narrow down a list of 21 suspects by establishing where each of them was at the time of the crime. GAMEPLAY For the most part, this is standard HO gameplay of the time, with 22 levels involving 30 locations, each of which is visited 3 times over the course of the game. What makes this game unique is the packaging. Each level represents one suspect, and you receive some (very amusing) background data on the person before launching into a search of the areas relevant to them. So, first, the info. Then, at each level, a number of search locations on a map, with a number of objects needed to be found. Each new level includes more locations, and higher levels revisit earlier ones. There is a (very generous) time limit, you score points per level, and you have a limited number of hints per level (5). You only need to get most of the objects listed, usually 2-3 less than the total. At the end of the chapter, you complete a picture puzzle that tells you where the suspect was at the time of the heist. This is MCF, so it?s not skippable. As the levels progress, they become more and more complex, and you must do more than just find the HOs, or must find them using unique tools or in different ways (e.g. multiples of). Ultimately, though, it is all about the objects. COMBINED IMPACT I wasn?t around at the time this game was released, so I don?t know how it compared to others, but even today, many of the strictly HO games are less interesting in the way they present their levels and locations (I?m thinking of series like ?Big City Adventures?, where you just seem to go round and round the map and its 25 locations). I can?t handle the graphics, and am not a big fan of pure HOGs in any case, so I?ve played it, and will probably never play it again. It is an interesting artifact for my game collection, but I can?t recommend it for its fun value.
January 19, 2014
SERIOUSLY??
Why is this so highly rated?? It's just HO's! Simple, basic, back-to-back HO's!
March 6, 2013
The Apple logo is a trademark of Apple Computer, Inc.
The Windows logo is a trademark of Microsoft, Inc.