Grim Tales: The Legacy
After being invited to the Christening of your sisters son, you arrive to find a deserted estate in Grim Tales: The Legacy! After getting married to the love of her life, it seems like a happy ending is right around the corner for your sister. However, all is not well. The sounds of ravenous beasts echo through the halls of the once great estate and your sister is missing! Use your Hidden Object talents to track down her family and save them in Grim Tales: The Legacy!
Explore a deserted estate
Avoid dangerous beasts
For a more in depth experience, check out the Collector's Edition
Game System Requirements:
OS:

Windows XP/Vista/Win7/8

CPU:

2.5 GHz

RAM:

1024 MB

DirectX:

9.0

Hard Drive:

752 MB
Game Manager System Requirements:
Browser:

Internet Explorer 7 or later
Fantasy Violence
Mild Blood
Tobacco Reference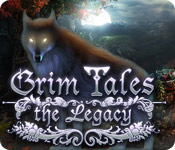 NEW299
The Big Fish Guarantee:
Quality tested and virus free.
No ads, no adware, no spyware.

Reviews at a Glance

Grim Tales: The Legacy
0
out of
5 (
0
Reviews
Review
)
Customer Reviews
Grim Tales: The Legacy
264
264
The map is the best feature
As much as I tried to, I just couldn't get into this game like most of the other reviewers. I even double checked to make sure I had read the right reviews. I did, so I didn't get it. The beginning didn't impress me. The game jumped right in w/o much intro, and there was a lot of running back and forth. However, the hint system was pretty good, and the map helped keep track of the tasks that needed to be done and then transported you to where you wanted to be. The HOS and mini-games were challenging, and for that reason, I recommend this game for the hard core gamers out there, but not for the casual gamers. I'm usually somewhere in the middle.
July 3, 2013
Not Thrilled
I gotta say, I'm not loving this game. I feel like I am forcing myself to finish it. The story is boring and familiar.
April 10, 2012
Not as good as expected
I bought this game because the high rating it received. But it turns out that this game doesn't suit me. It sure has many Pros such as detailed and accurate hint, the map, the 'memory' world, etc. But the animation is very weak. When characters talking, there is only static image shown. And sometimes you are finding items and solving puzzles without knowing its purpose. There are some repeated puzzles that make me feel boring, for example, one need to play the 'pushing blocks' game 4 times with different configuration.
November 2, 2014
Map is bad & gameplay slightly chaotic
My biggest gripe about this game is that the map is totally bad. Once you've accessed an area, it will keep showing objectives, even though the walkthrough (which I try to keep as last option) will instruct you to go somewhere else. Disturbing because you'll never know whether you've missed anything. The gameplay is fine for the most part but there were two distinct areas that were so illogical that they had me going on a wild goose chase looking for solutions because I thought they were technical glitches! Those two were: 1. name plate on the mantlepiece (tip: when you get to this step, just downgrade your difficulty level to Casual & wait for the name plate sparkle area, trust me); 2. fur coat in Bryan's memory (it's fine if it disappears, apparently the insinuation here is that you're now already wearing it - yes I know this goes against HOG player logic). The puzzles were quite challenging & if I were a puzzle lover (which I'm not) I prolly would've loved this, but I ended up skipping most of them. All in all, would've been an awesome game for me were it not for kinks with map and gameplay.
June 28, 2014
The demo was interesting but the story fell flat after that.
With the almost unanimous recommendations, I don't feel too bad about being the almost lone dissenter here. There were things I liked about this game, like the werewolf theme, the gorgeous artwork, and the helpful hint system. But the story seemed to just plod along and it wasn't always clear what was needed to be done where. There were lots of places to explore and I found myself going back and forth wondering what to do next. There was even a point in the game where it seemed you've done everything and you saw where you were supposed to go next, only to find that you're kept from going there and that's where the game lost me. What you had to do next was so nonsensical and because you had to backtrack so much, it just seemed that the devs did this to pad the game in order to lengthen it. Why didn't they just let you go where you needed to go the first time and lengthen the story there? I was so fed up by this time that I lost interest because I ended up relying on hints too much for my liking just to get through this portion of the game. This is poor story development, in my opinion, and what I liked about The Legacy isn't enough to cancel out the plot holes that disrupted the gameplay. There are many games that are equal in looks to The Legacy that I've purchased and prefer to play because of their smooth and forward progression in their storylines. I did finish playing this game but the enjoyment was lost long before then.
December 18, 2012
Begins well, then forgets where it's going
As others who gave it a low rating have said in more detail, the developers just kind of dump the storyline somewhere in the middle.The game becomes all about finding how many more weird and bizarre actions they can come up with rather than actually moving the plot forward. Who raises a crib to the ceiling in order to get a hand rake? Why is there a pen hidden in a wall and why must we use that one rather than the pen that is sitting in plain site on the desk? And why do we first have to get a pair of tongs in order to get a coal in order to burn up a stuffed bird and get the pair of tweezers out of it to get the pen out of the wall? Who sews a pair of tweezers inside a stuffed bird in the first place? Why do we wait literally hours to get a boomerang to throw at a crow when there are stones all over the ground? And really, who remembers about that crow? It was literally hours earlier. I've reached a point where I just can't be bothered anymore. Since I'm playing on streaming, I haven't invested anything in this particular game, so I can quit without feeling like I've wasted money. HOS scenes are average, although a few were too dark. Puzzles vary widely; some are extremely easy, others difficult, others just tedious. Instructions are next to useless; they usually just give the goal of the puzzle, with no details about how to achieve it.
June 24, 2013
Disappointed
I was lukewarm on this game, but not really disappointed until I reached a hidden object scene where I clicked for a while trying to find the last item, for the clue "Bug"-- and when I finally resorted to the hint, the object pointed out was a RING. Not a ring with a bug decoration, either. A ring shaped like a wolf's head. What the heck?? I had a lot of problems like that with this game. Instructions for puzzles were often very unclear. I ended up skipping several puzzles just because I was confused about what I was supposed to achieve or how I was supposed to do it. Once I saw the solution, I understood, and realized I could have happily played that part of the game if there were better instructions. Those problems are bad enough. I also had some more issues with it that might be more personal to my tastes, but still worth noting: It felt like this game had a lot of puzzles compared to the number of hidden object scenes. I'd really rather play HO scenes so I wasn't pleased with the game balance. Most of the hidden object scenes were also not very well illustrated, in my opinion. The locations are beautiful but the HO scenes aren't really up to par. I also really dislike it when the game requires me to go solve puzzles to earn objects when the things I need are available in plain sight. Why do I have to go solve a puzzle to get matches to burn away cobwebs when there are lit candles in that location right next to the cobwebs? One puzzle demands a pen, but the player can't take the pen that's in the very next room-- instead you have to go find a pen that's wedged into a stone wall (??) Similarly, a puzzle requires a wrench, and you come across a pile of wrenches in the garage, but you can't take any of those wrenches. I just feel these items shouldn't be visible in the locations... it throws me out of the game. And this last complaint is totally a matter of personal taste, but I don't like the pacing of this game. I had to carry items in my inventory for a long long time before it was possible to use them, and it took so long to find some items that I lost track of what they were needed for. I've never used Hints or Skips as much as I did with this game. I guess I prefer my casual games a little more casual. But on the other hand, I've played similar games-- from the Haunted Legends, Dark Parables and Edgar Allan Poe series-- and enjoyed them. I even liked the demo of Grim Tales: The Bride, but The Legacy really did not work for me.
March 31, 2013
Couldn't Wait Until Over
Like the other people who gave this game a low review, I was expecting some great game. I guess my expectations were too high though because I just couldn't wait until this game was over. Don't get me wrong, the graphics I thought were better than most. I liked what little voice overs they had; although I wish there was more of them. And even though I didn't particularly like the game, I thought it as a good length for a normal deluxe or regular version game. It wasn't too short to have you scratching your head to ask where the rest of the game went, but it also doesn't drag on that much unless you didn't like the game to begin with. The storyline was okay in my opinion. Although it was tough to follow at times, it served its purpose. However, the bad outweighs the good with this game. I hated that I had to click multiple times due to the game not recognizing where I'm clicking, because it does begin to wear the wrists down especially on a laptop. Like I said before, it could've used more voice overs because the ones they did have were good. The level of difficulty on this game was a little high for my taste. Maybe it's just me, but sometimes you never knew what to do with certain items. And through the end, which I think was the easiest part, was the time where I gave up on the game, especially the mini-games because they weren't fun at all, and just started to keep hitting the skip/hint button.
March 20, 2012
A major disappointment
Based on having previously played and enjoyed The Wishes, I bought The Bride and The Legacy -- both of which turned out to be largely exercises in boredom. You are blessed (or cursed) with a sister who has, roughly, the intelligence of a box of rocks. Seriously, "Luisa" couldn't find her way out of a paper bag without help. And you don't fare much better. If you play the game in not quite linear fashion, you find yourself leaving the characters in the most dire circumstances while you backtrack to do some silly little game. The entire story is a thin takeoff on the recent vampire craze, without much substance to it. Just ONCE I would like to see a game that showed normal people reacting in a normal, commonsense way, with a satisfying ending. This one halted rather abruptly and the bonus feature didn't even appear to relate to the previous story. Or maybe I've forgotten some of it already since it made little impression. On the plus side, the graphics are superb, the settings interesting and getting around is easier than you'd expect in such a large venue. Most of the reviewers here seem to have liked the game very much, so perhaps my expectations were too high, but this one just didn't do it for me.
December 24, 2013
way too sensitive!
I couldn't make it passed the picture because the game wouldn't acknowledge that it was in the right place. Glad I did the trial!
December 14, 2012
The Apple logo is a trademark of Apple Computer, Inc.