World Mosaics 5
Exclusive
After restoring the Atlantis World Museum you have been accepted into the Grand Pelasgian University to become an apprentice in Chronology in World Mosaics 5! Solve pictographic puzzles while learning about the origins of Mardi Gras, Oktoberfest, Chinese New Year, and other world holidays as you progress throughout your classes. Complete your courses and solve the puzzles to succeed in World Mosaics 5!
Complete your courses
Solve perplexing puzzles
Become a Chronologist!
Game System Requirements:
OS:

10.5

CPU:

1.0 GHz (INTEL ONLY)

RAM:

256 MB

Hard Drive:

34 MB
Game Manager System Requirements:
Browser:

Safari 4.0 or later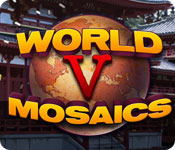 NEW299
The Big Fish Guarantee:
Quality tested and virus free.
No ads, no adware, no spyware.

Reviews at a Glance

World Mosaics 5
0
out of
5 (
0
Reviews
Review
)
Customer Reviews
If You Love Puzzles, Give This A Try
I was one of those people who passed on these nonogram-type (also know as "griddlers", "picross" "paint-by-numbers") puzzles for years, thinking that they were either boring or took too much thinking when all I wanted to do was to relax. Then BF offered one of them as their Daily Deal and I figured, "what the heck, I'll give this genre a try". I have to say, I've since gotten hooked on this type of puzzle. The theme of this game is Holidays and the game is broken into a series of them. There is text at the beginning of each series that gives you background information about each holiday, so you learn interesting historical facts about the day. You progress through the calendar as you complete each series of puzzles. This games start out with easy grids and provide a good tutorial, giving you a chance to learn how to play the game and how to use logic to figure out which blocks contain part of the image. Game play consists of trying to figure out which blocks are part of the puzzle's image and which aren't. You are given clues to which blocks are to be filled in, by the numbers on the top of the vertical columns and to the left of the horizontal columns. The games start off easy, with 10 by 10 grids. For example, if the number 10 is shown in the left column by a horizontal row, then you know that all 10 blocks in that row are to be filled in. If the numbers "2 7" are shown, then you know that there is a sequence of 2 filled-in blocks, and a sequence of 7 filled-in blocks in that particular row. There is always a blank space before and after each sequence (unless they start or end a row), so that's where you get your clues as to where other sequences begin and end, if they aren't obvious from the numbering sequence. The grids get progressively larger and larger as the game progresses, with the numbering sequences becoming trickier. Playing this type of game on the computer is much, much easier than playing it on a piece of paper because it's much easier to correct a mistake - no constant erasing of pencil marks - lol. This game allows for a number of mistakes on each grid. If you exceed the allowable amount, you have to replay the grid. There are also hints if you get stuck. You are give the option to mark both the filled-in blocks and the empty ones, or just the filled-in ones, depending on your preference. My only negative about this particular game is that I would have liked more of the harder grids, but that's just because I'm more experienced with the game play and I don't need the easy, tutorial levels anymore. If you are new to this genre, then the mix of easy and progressively harder grids should be perfect for you. I have become addicted to these games, so whenever a new World Mosaics or a new World Riddles game comes out, I'm there. For those interested, BF also carries Gemsweeper which is also a nonogram-style game.
December 26, 2011
ADDICTIVE GAME
I bought them all, I'm addicted to this game. Some excellent, such as 1st and 2nd, others less, such as 3rd and 4th, the level of difficulty was quite small. In 5th, the first four stages - 10x10 - are quite easy. No need hint. In the fifth phase starts 15x15, and the difficulty increases, although some are still easier. Even so, it's a game that distracts, and, in addition to have some fun, sometimes you have to think. When you start, it is impossible to stop! Only the music is pretty boring and repetitive!
February 6, 2012
Another World Mosaics
The thing about series of anything is that over time they seem to lose their originality and become the same story over and over. This is one of the very few exceptions. Once again World Mosaics has produced an original story to follow, and excellent graphics to accompany. In spite of the simplicity of the game it remains as engaging and entertaining as the first time I played it. It's like like the Sudoku of the computer game world. Simple, easy to pick up, and endlessly varied. Happy gaming!
December 30, 2011
made me think
World Mosaics V made me think I had to use my mind the most Xs I got was 3 and that's good for me as i'm 54 years old and like to keep the mind going. my brain was ticking over all the time Ria
December 30, 2011
Some nice improvements, but same problem as WM4
I have to keep going back to World Mosaics 3, which in my opinion was the best for one simple reason: color scheme of the tiles. Everything was bright and clear, which tiles you selected, which were etched out, and which sets of tiles were done on a row. Again now as in WM4, WM5 has a poor colour scheme. I just spent about 30 minutes playing the demo and found that quick play wasn't possible, again. The colors between the free tiles and pegged tiles is almost the same, and tends to blend in as you're scanning the puzzle. I kept having to re-check lines and numbers over and over again just to make sure I was clicking the right thing. Am I the only one who has an issue with this? Maybe it's just me. It's a real shame too, since there's some great new content here, nice puzzles and very interesting background trivia once the puzzle is solved. I really wanted to buy the game just for that, but knew frustration with the tile colors would keep tripping me up. I was on the fence as to whether to recommend, but I think in the end I will. There was a lot of great work that went into the content. Based on that I'll recommend.
December 27, 2011
Hooray at last!!
I have been waiting for another World Mosaics or World Riddles game! I LOVE Picross style games and I have played all 4 World Mosaics games and all 3 of the World Riddles games, including their bonus puzzles, and I was just waiting for a new game to come. World Mosaics 5 picks up where WM4 left off, and has a tutorial mode for those who haven't played this style of game before, and also tips and tricks, that are helpful even to an experienced player like myself. I would highly recommend this game to any puzzle afficionados out there - if you like Sudoku, you would probably like World Mosaics 5. Now I'm going to get back to playing this addictive game!!
December 27, 2011
Lots of Fun!
I'm not a big fan of number crosswords like Kakuro, or Suduko, but I've been addicted to the Mosaic games since the first one came out. I purchased this one also, and I've got to say I've enjoyed it. I like the fun facts, and the bonus puzzles. It's just an all around fun game.
January 3, 2012
Disappointed in Game Series Progression
I was very disappointed in Game Series Progression. I have the series from game 2 - 5. I felt that game 5 was much less of a challenge than games 3 and 4. Game 3 introduced 20x20 puzzels and game 4 introduced 25x25 puzzels. I was naturally expecting game 5 to progress to 30x30. But it did not. As a matter of fact it had a large number of 10x10 puzzels, which was really boring for me. There was only 2 puzzles that took me longer than 10 minutes to complete on the first try without error or hints. If this is your FIRST mosaics puzzle game you will enjoy it. I would really like to see a more challenging game.
February 7, 2012
A refreshing change from my usual dark & eerie favorites.
I own the first four World Mosaics, and will probably purchase this one as well. It's a very simple concept, but as you move through it can get very challenging. I enjoy these games mostly because they contain some actual "fun facts" woven into a fictitious story line, so I get to glean a little knowledge while I fritter away my valuable down time. Word of warning: As introduced in WM IV, the squares provide a count for you. I remember some fans being very upset with that feature, but I find it speeds things up a little, so I don't mind. My own tip: As one who can't stand a red X on my board, I prefer to make my mistakes on graph paper for the really hard ones.
January 1, 2012
Very addictive
Very similar to the PICCross games from Ninendo DS. If you enjoy those, you will love this. Great puzzle game with just the right amount of challenge.
December 26, 2011
The Apple logo is a trademark of Apple Computer, Inc.
The Windows logo is a trademark of Microsoft, Inc.