Bedtime Stories: The Lost Dreams
Change the course of history by helping your relatives during key moments of their lives in Bedtime Stories: The Lost Dreams! Change the past and make your family's faces shine in a family photo. Help out an unaccomplished prima ballerina, a genius detective, a recognized chocolatier, and a famous adventurer in this incredible Hidden Object Puzzle Adventure game. Relive crucial moments and change the past in Bedtime Stories: The Lost Dreams.
Relive crucial moments
Improve your family's past
Change the course of history!
Game System Requirements:
OS:

Windows XP/Vista/Win7/8

CPU:

1.8 GHz

RAM:

512 MB

DirectX:

9.0

Hard Drive:

499 MB
Game Manager System Requirements:
Browser:

Internet Explorer 7 or later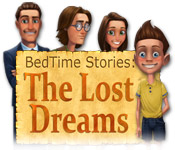 NEW299
The Big Fish Guarantee:
Quality tested and virus free.
No ads, no adware, no spyware.

Reviews at a Glance

Bedtime Stories: The Lost Dreams
0
out of
5 (
0
Reviews
Review
)
Customer Reviews
Bedtime Stories: The Lost Dreams
67
67
May be ok...but not for me.
Despite having good graphics, such as well drawn and cute dressing room, I stopped when I would have to kill the mouse, ... by throwing a stone! How awful! Even though I am terrified of rats ... for me, games that kill or mistreat animals (or throw sheeps, - as Elementary My Dear Majesty !!) are quite unfriendly (and unnecessary), even rats. I played only 10 minutes, but seems to be average challenging. obs: The boy must be "presenter's son" of series "The Hidden Object Show "? They have the same face!!!!
February 7, 2012
NUANCES OF THIS GAME
I found this game to be unnecessarily tedius for the following reasons: *cursor does NOT change to inform you to an item to be picked up when you land on it *have to see a green dot on cursor before you can utilize a tool *have to find OTHER objects NOT pertaining to your task at hand BEFORE you can do the task at hand *ignorant uses of some of the tools -- fire extinguisher on an armadillo? P-LEEEEASE *As hint button color is ALMOST as dark as the scene, it?s pretty useless for items that are close to any of the 4 corners of the screen: 5 is 5 scratches in upper left-hand corner, 9 is on post above hint button and clover is almost completely covered by the hint button *if you temporarily get out of the game to look at the walkthrough, upon returning the screen is black for 30 seconds *Puzzles provide no indication of correct placement of tiles *no color change of objects in list that are ?hidden? -- truck *odd naming of needed objects -- accumulator is an engine battery, stirring stick is a honey dipper, and darts is a dartboard and last but not least *the walkthrough is NOT complete; 2nd necklace?? Check the squirrels? room All in all, couldn't wait to get it off my computer after completing the game.
February 26, 2013
A total waste of time
I exited the demo after 20 mns of pure boredom. There is nothing exciting in this game. The storyline is soapy, the tasks are very basic, even silly and perfectly uninteresting, the only minigame I played was a jigsaw puzzle...[how original ! ], and of course you have HO Scenes that bear no relation with the story. I didn't appreciate having to kill a poor mouse with a stone under the pretext the heroine is scared of them; not my idea of fun. The visuals are okay but the intro and characters are very cartoonish and not even funny, some of them with a stupid look on their face. This game may be seen as a family game, but there are many better ones around. Not worth it.
February 5, 2012
Didn't like this one
Played for about 30 minutes, and was annoyed much of the time. I'd click on an active area, and wouldn't be able to pick up whatever object was there. It was only after I got to that spot in the game that I was allowed to go back and pick up the object. Occasional flashes would brighten the areas I was looking at, and I found that annoying, as well. The HOG's were areas that were full of objects, and it would take a few minutes for me to be able to distinguish between all of the things that were there. Some items were easy to find, and some were not. No interaction, just find and click. Overall, although the story line might have been interesting, this just wasn't done well enough for me to overlook the frustrating aspects.
February 5, 2012
Simple but frustrating game
The graphic and music are okay, and I don't mind if there are no voice over. The HOS are clear and at the right level. But what I don't like is that the tasks are too straight forward. For example, if I click into a zoom in scene, I can only pick up what I need for the current task, and nothing else. It gets annoying when you have to go back and forth in the game to pick up things you need. It would also be more challenging if the player can figure out on their own what item they need to complete a certain task.
February 5, 2012
Even if you have nothing better to do-skip this one
When I first looked at the images, I thought this would be a good family or kids game. However, I don't think it is either. For a family, kid or beginner I think the game would just prove frustrating and unenjoyable. The graphic were good if cartoonish and the storyline seemed promising. But it turned out to be only promising. There are no voice-overs, so the characters are constantly "chatting" sometimes relevant, but mostly annoying. The HOs were big messy junkpiles and some items were difficult to spot or misnamed. The puzzles were nothing new and very easy. I lasted about 15 minutes before quitting. Overall the game just fell short.
February 6, 2012
No Thanks
Found this to be confusing and annoying.Looked like it would be good with lovely bright colourful graphics and sounded like a fun storyline,but it turned out to just be confusing and no fun at all also mis-named HO items.Game to me seems to have been put together in a hurry and turned out feeling very unfinished,its a shame because it could have been a good fun game.
February 7, 2012
Boring, Predictable & Lackluster...
I learned a valuable lesson with this game. Just because a game is a daily deal and only $2.99, does not make it a good game. I remember demoing this and thinking it wasn't that good and after playing the entire thing, I concur with my first thought, that this game is not very good. Its boring, lackluster and very predictable. Predictable isn't necessarily a bad thing but the story lines could have been a bit more intriguing. You are helping your family get the lives they have always wanted because everyone is sad that they let their passions slip away and a little boy helps fix them. No one passions are all that interesting though. A mother wanted to succeed at a play, the daughter wanted to do adventures with some guy she likes, the dad wanted to be a baker, not a dentist and someone else wants to help solve crime but always lets the bad guy get away. The game ran great at first and I might have liked it more if it ran smoothly but by the 2nd chapter, and there are only 4 chapters mind you, it started to lag in some places. It was hard to move the cursor around, it felt sticky and sometimes it got better and other times it just made the game lag. I see this is a problem in the technical forum of this game and since its been awhile since this game was released, I can see that no patch was ever made so thats not real great in my opinion. Had the game mechanics worked properly, I might have given this 3 stars but the way it is, is sloppy and clumsily made and with only 4 chapters, there really isn't much game. Now what I will give props to is the difficulty level. There are 2 modes, casual and expert. Expert mode is pretty hard because you don't get the skip button out of hidden object scenes and there is no going back to change your decision after the fact. What makes it even more difficult is that it doesn't show you a "hand" if something needs to get picked up so there were times I thought I had all the inventory but was missing something and it took me forever to find what it was. I should also mention though that its not consistent, the difficultly level, because there are times you will see the hand over items but it seemed like when I couldn't move on, it was always because I had missed an item that the hand did not tell me was there. Overall, this is a filler game, which I usually enjoy but due to the technical issues, predictable story line and completely unoriginal stories, I have to give this game a pass and no I don't recommend you waste money or a credit on this one. Play the demo, be happy with it because its the only part that doesn't work slow and be done with it. Be happy not having to skip through a bunch of non voice over dialogue, snail slowwwww cut scenes and an overall boring game.
November 16, 2013
Did not finish the trial
This game did not hold my interest enough to even finish the trial, and that is unusal for me. Areas of darkness unappealing. Just was not fun, became frustrating, so can not recommend this HOG
February 10, 2012
Stupid game only lasted 1 hour
Dumb dumb dumb!!!! Was over just as you were getting into it. Glad i didnt buy it.
February 8, 2012
The Apple logo is a trademark of Apple Computer, Inc.