Farm Girl at the Nile
Farm Girl is well known for her green thumb. Everything she plants on her farm grows and thrives but now there is a new challenge: Building a farm along the Nile! Establish a farm at the edge of the pyramids! New conditions require completely new management on the farm under the Egyptian sun. You need to adept your manufacture and your offerings to the current marketing situation – how about growing papyrus or an ostrich farm? Sandstorms, water shortages or annoying crocodiles shouldn't prevent you from building up a premier agricultural operation in Farm Girl at the Nile!
Lovely graphics
Sell your products at the market
Manage your farm!
Game System Requirements:
OS:

Windows XP/Windows Vista/Windows 7/8

CPU:

1.0 GHz

RAM:

256 MB

DirectX:

9.0

Hard Drive:

161 MB
Game Manager System Requirements:
Browser:

Internet Explorer 7 or later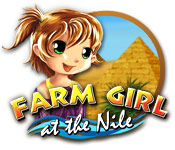 NEW299
The Big Fish Guarantee:
Quality tested and virus free.
No ads, no adware, no spyware.

Reviews at a Glance

Farm Girl at the Nile
0
out of
5 (
0
Reviews
Review
)
Customer Reviews
Farm Girl at the Nile
34
34
A good idea but...
Well farm games are my favourite so when I saw this game I had high hopes. It is a good idea but badly executed. The graphics were at least poor. The music was irrelevant to the game , a 80s like song in the Nile? why? There was no farm girl in the nile except in the tutorials. I prefer a person to sow , water and gather the plants, in this game there was nobody doing those jobs. The level of challenge in the normal mode I tried, was just ok. The whole idea seemed interesting , the crops and the buildings but the game was not. There are much better farming games
August 8, 2012
Could have been good
I played this game time ago. I love farm games and I love Egyptian themed games so I was very eager to try this one. The graphics are pretty cute, the music is not horrible even if after a while it become a bit too repetitive. It started fine, there are a lot of instructions and the game is easy to understand. For each level you can get 3-4 result if I remember correctly (normal goal, bronze, silver and gold). After the first few levels however, I found that the game kept asking you the same things, which was pretty boring after a little while. There's no story or interactions, only that girl that instructs you on each level's goal, which are basically the same: collect an amount of goods or collect an amount of money. The levels can be quite challenging but not really entertaining: you plant things, you water them and wait for them to grow, you collect them and send them to the factory to produce other goods. While doing this you have to find the correct order in which to perform each action if you want to achive a gold time. Between each level you can only visit a screen where you can buy and upgrade your structures, in your field you can grow 3 types of plant and create products with them, later you'll also have a couple of animals. Overall that's why I started to dislike it: -Repetitiveness of the levels, they just keep asking you for a bigger number of products so they're either boring or frustrating. -When wild animals appear on the screen and I try to cage them, they don't even slow down so they always end up eating/scaring away my animals (which take a lot of time to 'recharge' -no, you don't have to buy them, just wait that they recharge) -Instead of having multiple buildings in your field, some of them need to be 'converted' from one into another by spending quite a lot of money. So you first have to collect all the required products of the same type, and only THEN convert your factory to produce another product type, cause if you missed some products, you'll have to convert the building back, spending the same amount of money. This was probably the most annoying thing of the game. I don't like being forced to do actions in a certain order, or not being able to complete tasks simultaneously. -From a certain moment on, to advance on each further level you need to buy many upgrades for your buildings, otherwise you can't even start them. I found myself more than once without any money to buy those required buildings and had to repeat 6-7 older levels in order to gather the money needed... just to find out that for the next level, 3 further upgrades were required that I couldn't afford and I had to restart some levels again. That's where I definitely stopped playing. It came to a point where to advance to every new level I had to replay at least 5 older ones in order to have enough money and buy the upgrades needed. Overall I must admit it was a pretty frustrating experience, I'm really disappointed since I was expecting it to be at least good as other games of the same type and I honestly wanted to enjoy it.
August 8, 2012
Extremely annoying game
Get ready to be patient with this game. The musak is annoying at best. You can only reduce the volume by 1 at a time (100 is maximum, 0 is minimum). The tutorial is useless - doesn't teach you that you only have a limited number of watering cans, for example. The game isn't as responsive - I had to click more than once to get an action. At best, a 5-minute time waster when you're in between calls at the office.
August 8, 2012
terrible gameplay, annoying music
The gameplay is exceedingly boring, the music just awful - this is a terrible version of farm mania.
August 8, 2012
use spell checker
awful game, riddled with typos, come on! I would not pay 99 cents for this game
August 8, 2012
This game is good for a kid
I know when I downloaded this game it was going to be for a kid. I would say from 7-12. When you go into the game, it gave very good instructions. It walks you through what you need to do. I would recommend this game for a kid. I would not recommend this game for an adult. The graphs and sound are very good.
August 8, 2012
Not for me...
I love farm/gardening games but this was a poor execution of what could have been a good game. The graphics/music/game play were all poor.
August 8, 2012
Lasting Fun
No idea what type of problems some people are having with the gfx. I found them to be very good for this type of game and quite charming. I agree with the music beeing annoying though. But the game itself I found quite absorbing, especially the missiondesigns seem pretty challenging and not as easy to complete as in some other Farm games I played before, where finishing up was just a matter of clicking as quickly as you can. Sometimes it was a bit disturbing having to replay a level to get the needed money to upgrade one of my buildings...but hey, who wants to complain having to play one level over again and thus maybe bettering your score, The setting is very nice too, I liked the crocos as a threat to your animals. So, for those of you who loved Farm Frenzy/Mania as much as me and are looking for a new challenge... you can go to worse places than the pyramides.
August 10, 2012
Not the best
This game is below average for the type of game it is. There are many games out there that are much better. But I will give it 3 stars, as it is playable and not too bad. It just isn't really enjoyable or interesting. It is just ok.
August 8, 2012
What a waste of a time magement game!!!!
The tutorial is horrible the first 3 levels are supposed to be tutorial levels but no instructions are given on how to play.You have to figure out a lot of the game by yourself, so if you have never played a farming time management game before it will take time to figure out.the graphics are poor and kiddish looking the music was ok but it gets annoying after a while.you cannot upgrade when you want the game does it for you when you need it to be able to play the next level.after a bit you will try to upgrade the machines to complete a task faster and you won't be able to. part of the fun in a farm time management game is to be able to upgrade the farm and make it how you want it so this took a lot of the fun out of the game for me.eventually you will have to cage gators to trap and sell them.its not clear that you have to grow papyrus plants and keep them watered with the bucket full at all times so the game is confusing there is no help available.you will then have to take the papyrus plant and change it to paper and then buy feathers and eventually get the feathers from ostrich then make books all while trying to keep the ostrich fed with sugar canes which you have to water right away.that is as far as i got before the trial ran out.it's not a good game at all it gets pretty boring just because the overall way that it was made was horrible.it was a good idea but it needed a lot more developing before coming out.I'm certainly not wasting a game credit on this game.
August 8, 2012