City of Secrets
After he falls down a hole in your basement, you must Save Rex from a City of Secrets in this incredible Adventure game! Not only has Rex found a city of mole-people, but he's also been charged with espionage! Find useful items that you'll use as you solve puzzles and try to free Rex before it's too late! Scour gorgeous levels and save your best friend before he's convicted of a crime he didn't commit in City of Secrets!
Explore a city of mole-people
Go on an underground adventure
Save Rex from a City of Secrets!
Game System Requirements:
OS:

Windows XP/Vista/Win7/8

CPU:

1.0 GHz

RAM:

512 MB

DirectX:

9.0

Hard Drive:

672 MB
Game Manager System Requirements:
Browser:

Internet Explorer 7 or later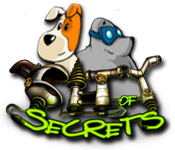 NEW299
The Big Fish Guarantee:
Quality tested and virus free.
No ads, no adware, no spyware.

Reviews at a Glance

City of Secrets
0
out of
5 (
0
Reviews
Review
)
Customer Reviews
You have to play the demo for more than 10 minutes!
I played the full hour demo and I was not bored at anytime. The game is not super challenging, but the story line is interesting. It is mostly walking around talking to other characters to obtain items to ultimately rescue your friend Rex who is in prison. Yes, the graphics are cartoon like, but they are well drawn. Yes, the voice over is a bit annoying at first, but you can click the screen and it will stop talking. Very helpful if you are a fast reader and have already read the subtitles! Unlike other reviewers, I found the Help button to be helpful. When you click it it will show areas on the screen to click to pick something useful up, but not every one of these areas contains something helpful. I also noticed that a hint was given at the bottom of the screen that was general, but there were arrows to click to get a more specific hint. Not sure if I will purchase this game, but it was a fun demo to play.
February 8, 2012
Judge for Yourself
First, a comment on some of the other reviews: you can NOT adequately review this game (really any game) with a 10 minute trial! Yes, the Narriator talks a lot but he is very amusing and is trying to explain the game. After the first task or so he doens't say a peep. Yes, this game is NOT something you can play on auto pilot, you actually have to think and pay attention. Yes, the hint system is "non-traditional" but it is multi layered so you can get just a nudge or the specific directions as you need. On to my review: This game is very reminisent of classic point and click adventures. Half the game is figuring out what to do next. Nothing is timed, humor abounds, and solutions may not always be obvious... but that is the genre! The characters do talk a bit much but the voices are great and they give clues on what to do next; you can always click through the dialog if you choose. I love the hint system: Step 1: shows you active zones... and this was usually enough for me to continue. Step 2: in the dialog area, you can advance the arrows for a more detailed hint, and Step 3 #or maybe 4# spells out exactally what to place where or what to do next with no riddles at all. The graphics are animated #almost clay-mation# 3-D so you can walk around in your environment, behind objects, around rocks, over bridges, and so on. The map is an instant travel map, at least once you get the map and have non-player characters start marking locations. I found a walkthrough on another site that said there were 5 "chapters" and I hadn't even completed the first one during my demo so this should be a descent length game #much better than the standard 3 hr HOG that I usually get from BFG#. Please don't judge this game by a few "limited" reviewers. If you like Adventure games #no Hidden Object scenes anywhere, and I don't recall any sparkles either# give this a try for at least 30 minutes before you decide. Enjoy!
February 24, 2012
A Cute, Fun Adventure Game, if a Tad Rough in Spots.
As far as game play goes, the City of Secret's tutorial would be a pretty rough introduction to the point-and-click adventure genre, however the hints did get pretty exacting if you used them enough, and afterwards the adventures got more intuitive. While I won't deny some flaws in the transliteration of the game's humor, and the rich voices in the game did suffer in their delivery of a few lines because of it, by in large I found it to be a charming, funny, gentle and clever social satire. I'd recommend this game, but I'd also recommend trying it first; adventure games are a very particular kind of game that can get frustrating, even in the best of circumstances. You should see for yourself if you want to take the good with the bad.
February 8, 2012
Finally, an adventure game
I really have gotten sick of all the HOGs, sparkles, and hints. This game reminds me a lot of the old adventure games before they starting making HOGs. They did put in a narrator who's talking you through how to play the game. That's different than the old AG. But, like the old AGs you just click-skip your way through it. I haven't played more than the demo hour, but I'm buying the full game. I loved Ghost Pirates of Voodoo Island, which was fun and silly and I spent days trying to figure out what to do. This seems like a simplified version of that. There were no hints back in the day. Just hot spots. That's why I found here. I don't know yet how many hours you'll get to play. But if it's like the old adventure games, it should take the whole weekend. It isn't a Siberia or a The Lost Crown, but for $7 its worth it. I just bought Braid, but haven't played it yet. This seems like a simplified version of that.
February 8, 2012
A change of pace from hidden object games.
After reading some of the other reviews it seems this game is for patient people. I agree the narrator can be a little long winded however the user can click to skip to the next set of dialogue and repeatedly click until the dialogue ends. I enjoyed the animation it reminded me a little bit of Sam and Max. There are no hidden object puzzles with massive amounts of objects cluttering the screen. The user instead has to locate items and complete tasks by talking to other characters. I appreciate the change of pace as no one is haunted and there are no monsters. I only played the demo version but am considering purchasing this game.
February 8, 2012
Very enjoyable game
It was so nice to not have any HOS! The game was very amusing and entertaining. Some comments quite funny. All in all, it was fun! However, there is a scene where the skip button (only one in game) that froze the entire game. I managed to get through it with quite a lot of grief, but was glad I did. One other thing, near the end of the game, an ethnic comment was made. Contacted game's makers and they promptly and clearly explained it was not a mean comment, just misinterpreted due to language.
April 17, 2012
Give it a try!
I think a lot of negative reviews may have been left by those who hastily try the first 10 minutes and give it up. The graphics of the dog are really underdone and gave a bad impression of what was to come. It was soon proved a wrong assumption once I started playing as the mole. This is a pretty good game. You have to like dialogue. You can turn the speech off, which is a plus because I hate when voices from my games disturb others around me. The level of challenge is great. I didn't find it that hard, but it certainly took some time to think things through. The hints are phenomenal and start vague and end up telling you what you need if the vague hint wasn't enough.
February 11, 2012
give it a try
This is something different from the usual type of game. I'm only halfway through the demo, but I've already laughed out loud twice. The narrator sounds like he's come straight from an old Monty Python skit (get on with it!# and the characters are great. I enjoy cartoon-style art, and this is fun to look at. So far, I'm having an unusual amount of difficulty figuring out how to navigate and how to complete the tasks. This may be something that simply requires adjustment and practice. In the meantime, the Help function #click the arrows to get specifics) is sufficient. Recommendation: give it a good, long try.
February 9, 2012
unexpect gem of a game
I did not think I would enjoy this one but I was pleasantly surprised. The story line is cute ( little childish) The hints were good and in many cases needed to figure out what to do or where to go next
February 19, 2012
Give this a chance
My first thought was that the commentator/narrator was an absolute pain! I just wanted to get on with my demo! LOL! OMG! This is completely different! I played for 14 minutes and was afraid that my time would run out before I could understand the game. IMHO this could be mainly a game for children or the young at heart! LOL! I would probably use a PC code to get this. First you have to reach a hook on the ceiling, then you have to build a lift/elevator, from unusual items. Inventory items can be merged together, but which ones are a mystery as to what and when! Could be worth buying if you want a good laugh. Not sure that I agree that the hints are of much help though, until you understand the mechanics of the game. I suggest that if you have the DL amount and/or time that you give this a go, even just to brighten your day. My suggestion is to give this the full demo and then decide what to do.
February 8, 2012