City of Secrets
After he falls down a hole in your basement, you must Save Rex from a City of Secrets in this incredible Adventure game! Not only has Rex found a city of mole-people, but he's also been charged with espionage! Find useful items that you'll use as you solve puzzles and try to free Rex before it's too late! Scour gorgeous levels and save your best friend before he's convicted of a crime he didn't commit in City of Secrets!
Explore a city of mole-people
Go on an underground adventure
Save Rex from a City of Secrets!
Game System Requirements:
OS:

Windows XP/Vista/Win7/8

CPU:

1.0 GHz

RAM:

512 MB

DirectX:

9.0

Hard Drive:

672 MB
Game Manager System Requirements:
Browser:

Internet Explorer 7 or later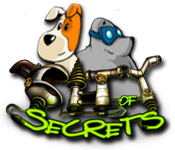 NEW299
The Big Fish Guarantee:
Quality tested and virus free.
No ads, no adware, no spyware.

Reviews at a Glance

City of Secrets
0
out of
5 (
0
Reviews
Review
)
Customer Reviews
Illogical and pitiful game
I hate to admit that I downloaded this pitiful excuse for a game. The solution to the first challenge or obstacle was absolutely ridiculous. For those of you who had to get the hook, you understand. I don't want to reveal too much. There were several things that I deplored. The first has to be the narrator. Someone please shut him up. I could not click fast enough to get him to stop talking. The solutions to obstacles and challenges were not logical. We are not suppose to reveal spoilers so I can't say much. If you did the first challenge, 'get the hook' then you understand. Unbelievably I proceeded on to the next challenge, which was for the mole to build a contraption to get in the hole. *sighs* The solution was even more ridiculous than the first. Not only that but I had to put up with this bungling mole's trip down memory lane each time I clicked on something. The hint button will highlight all items that you can click on. Unfortunately, 80% of them have NOTHING to do with your task and will just cause the mole to reflect on something. I soon realized that not only was the narrator's voice annoying but so was the mole's. I am really sorry that Rex the dog fell into a hole. If he is so smart that he can fashion a ladder out of items around the house then he can get himself out of the hole. I will NOT be saving him.
February 9, 2012
Don't waste your time...
Downloaded to see if this was good for the kids... Poor interface, repetative, not user-friendly. Narrator talks as the dog walks but it feels like the dog is talking in the third person. Boring, outdated and something that would have best suited the early 90's. Don't waste your time - I deleted this programme after 5 minutes.
February 8, 2012
BORING!!!
I've never written a review before and have played hundreds of Big Fish Games that range from just OK to great. This is without a doubt the most boring game I've ever encountered! Nothing about it was fun or interesting.
February 13, 2012
Awful is an Understatement!!!
Because I only lasted 15 mins, I can't provide too much helpful information on the game. However, I'll say what I can. With all due respect to the developers, overall, this game was one of THE worst games I've ever played. Gameplay-slow & choppy. Very user unfriendly. The objectives weren't obvious, the actions & items necessary to progress were illogical. Everything seemed disjointed. Storyline-uninteresting. Graphics-Colorful but flat. Unimaginitive & outdated. Dialog-Frustrating!!! There was more dialog between the characters & narrator, than there was game play. I kept thinking...'Enough already with all the talking...let's get on with the game!!!' Also, when I exited the game, the screen had a redish hue, and my monitor settings were all askew. Desktop icons were missing and the whole screen was significantly shifted to the left. #I had to restart the computer to get it back to normal# On the upside, I will say that I enjoyed the Mole's english accent. He sounded like Bob Hoskins. :D Not only do I NOT recommend this game to buy, but don't waste your time on the Trial. It's just that bad!
February 10, 2012
Annoying!
A stupid uninteresting story about a growling dog and a silly talking mole. Stupid tasks and a hint button that only serves to confuse you. But worst of all: a totally annoying story teller voice that keeps on blubbering all the time. All I wanted was to shut him off. Worst game ever!
February 9, 2012
Waste of time
This was a totally waste of time game. Played five minutes and deleted it. Deleting it was the best part of the game.
February 9, 2012
The most stupid game I've seen
12 mns of the demo and I exited without a shade of remorse after being stuck in scene #1 trying to grab hold of a hook. The only actions available were moving a washing machine and running aimlessly around a caryatid...duh ! No way you can exit that scene and search elsewhere or do something interesting. I quickly got tired of listening to the same repetitive oral comments -triggered by a hint system that doesn't help at all- and which are so perfectly idiotic that they quickly become extremely annoying, so I didn't persevere in my search. There was no point anyway: how interesting is it to get a hook to retrieve a magnet that's lost in the water under the ice ? As for the intoduction, it is also a masterpiece of stupidity. Two characters are babbling on endlessly, a talking mole and a dog that can't utter a word and only goes "grumpf, grumpf". In addition, this much too long monologue is utterly lame and a total bore. It is meant to be humorous, but I'm sorry to say it falls flat every second. Even the crooked graphics reflect a patent lack of taste and are not even pleasant to the eye. This game is a flop. Stay away from it.
February 8, 2012
Not Worth It.
Game was challenging, but not worth playing. I deleted after I got to building a lift. Got sick of trying to second guess what to do next. Needed better hint function. Not to be played when you have food poisoniong or not feeling good at all. Playing and buying game is solely up to each and every individual player. Usually a good game relaxes me, but not this one.
February 8, 2012
Save your money
I liked NOTHING about this game.
February 10, 2012
Annoying
i have to congratulate the first reviewer for lasting that long i managed 4 minutes the game in general very annoying, gave me a stress headache,
February 8, 2012