Haunted Past: Realm of Ghosts
You've inherited a home, only to discover restless spirits lurk, and only you can hear them. Years ago, a woman plummeted from an attic window to her doom, now she haunts her former home from another realm. Help her with her unfinished business and put her soul to rest in this incredible Hidden Object Puzzle Adventure game. Commune with the dead, and solve the mystery of Emily's demise. All is not as it seems in Haunted Past: Realm of Ghosts.
Appease the spirits
Communicate with Emily
Explore another realm
For a more in-depth experience, check out the Collector's Edition!
Game System Requirements:
OS:

10.5

CPU:

800 Mhz (INTEL ONLY)

RAM:

256 MB

Hard Drive:

612 MB
Game Manager System Requirements:
Browser:

Safari 4.0 or later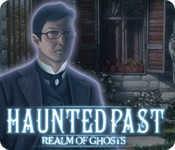 NEW299
The Big Fish Guarantee:
Quality tested and virus free.
No ads, no adware, no spyware.

Reviews at a Glance

Haunted Past: Realm of Ghosts
0
out of
5 (
0
Reviews
Review
)
Customer Reviews
Haunted Past: Realm of Ghosts
47
47
Truly Creative Use of an Old Gimmick
Having completed the trial version twice (did CE as well), I'm still not 100% clear as to how the game will play, but it has this to recommend it. The story is based around a spooky deserted mansion, with that also-now-familiar twist of a shadow world behind the real one. What makes this one original and interesting is the uses that you can make travelling back and forth through the rooms, hiding objects in the 'then' and digging them up in the 'now'. The music and sound are both great and the atmosphere is suitably gloomy. My biggest reservation about this game is the graphics -there are plenty of HO scenes, well drawn with very interesting use of brightness in the 'shadow' world, but all scenes are close to monochromatic, at least in the demo. That puts me off a bit. I like colourful games. The gameplay itself seemed fairly standard, and I enjoyed being able to work the puzzles myself - no skips in this one so far, and I finished the trial in just under an hour, which I take as promising 4-5 hours. Oh, and hint is really really quick, so if you must use it, at least you won't be stalled for long. In all, not a game on my 'must have or I'll die' list, but definitely on my 'punchcard weekend' list.
January 13, 2012
Interesting little game
Ghostly and mildly spooky this game has a few interesting features and some novelties -though nothing truly extraordinary- which I will not unveil here to let you discover them. The intro is rapid and simple, the music, very dramatic at first, becomes softer but tends to get irritating at times. The artwork is well crafted, neat, skilfully colored. Equally good are the voice-overs and the cutscenes. All the HO Scenes are neat, though sometimes a bit crowded, the items clear and not difficult to find except, maybe, a couple per scene. But the friendly Hint System recharges fast, random clicking is not penalized, thus making each search a pleasant task even for players like me who are not crazy about pure HOs. Hunting the useful objects is also quite pleasant and easy. For most of them, their use is pretty logical and natural, but many actions are unusual due to the element of novelty mentioned above. You sometimes have to think out of the box in order to successfully perform a task. The puzzles are very easy, and I know that some of you are going to growl because of that... as I did, even though I find it relaxing to have something easy to tackle every now and then. They can be skipped. The locales are interesting, you don't have to backtrack an awful lot, the objectives are clearly stated, and the game lets you know when an area has been cleared. There isn't a map; however, the game being fairly linear; no one should lose his way to the point of despair. You have 3 different modes; I played the demo on Casual; the other two modes will slightly increase the difficulty for the searches and should not affect the minigames. Even on Hardest, the game should remain very manageable. All in all a decent release, quite enjoyable, but which, unfortunately does not offer a high challenge level. Count about 6 hours of playtime, more or less..
January 13, 2012
I played ... I bought!
I really enjoyed! The story is attractive and pretty well developed, great graphics, locations in accordance, immersive atmosphere, very good sound. Not all locations are clear, but is ok for the mysterious theme. Lot of HOS, most are easy and pleasant - no tiny or almost transparent objects, thankfully !!!! Mini games are not challenging also, but enjoyable and there are some news. What I liked most, and is different from some games, was that instead of getting back and forth all the time, you go through "portals" (mirrors, fountain...) and enter in the same scene, but in the past, to get things required to go ahead. And the best,...is not just find! You have to take them to the future in "some way"!... They do not go into your inventory. Although not a challenging game, is an excellent amusement !
February 10, 2012
Something different
I found this game to be fun in that it was somewhat different in what it had to offer. I bought the CE during the sale last month and really enjoyed it. The HOs are good, clear and crisp, in the "past" world they are very bright with most items easily identifiable. The puzzles are good, maybe a little easy but all doable. There are 3 modes, casual, advanced and custom. The custom was kind of a neat option #I don't think I've seen that before#. The game play was able to hold my interest, and I think it took about 5 hours to play not counting the Bonus play which was probably another 45 to 60 minutes. The graphics are very good #dark & gloomy# as befits a ghost story, the voice overs and cutscenes were very well done, and the music was okay. I do agree with the others that it was not a "must have", but I found it enjoyable and relaxing. A fun little game that offered something different and some challenges as well.
January 13, 2012
Speechless
This is one of the WORST games I have ever played. I didn't have it on my wish list but got it last minute and Im kicking myself for even thinking this would be a good game. I can't believe this has so many good reviews. Lets start with the positive, I'll try hard to find it...the ghost realm was interesting. The going back and forth between worlds and hiding things was good. I like doing stuff like that, reminded me of mystery of mortlake mansion but without the cartoon graphics. Thats why I was somewhat interested in this game to begin with. So did not equal out later on. Cons: With all the options they give you in the menu why is brightness not a factor? the ghost realm scenes were bright n lovely, able to see everything but the main scenes in the house were awful. Half the time I felt like I was playing a game in one color, blue. It had a blue gray hue the whole time and I couldn't see the objects and if it hadn't been for the magnifying glass in advanced mode, I never would have seen what I was supposed to. -This game is too short and too easy even on advanced mode. This game was so boring that i played it for an hour a couple days in a row which totalled out to a 3 hour game give or take. That is NOT a good value especially since this was originally a CE game. -The plot was all over the place. Half the time I had no idea what was going on and why this lady was even there let alone who the mirror people were. The tasks were mundane. I don't recall seeing any mini games, it was just find this, put it there in ghost realm, find it in reality. It became very repetitive throughout the game especially because the rooms all are the same color and look alike. Id come back the next day and think...didnt I do this yesterday? -It had an ending although Im not sure what happened but it set it up for a sequel. I really hope this developer does something unique and special for the 2nd one because right now Im laughing they would even create another one. -Also, the game was jerky. Even when I turned off the optimizer in the options menu, it was jerky. So the game was jerky, blurry, dark, boring, repetitive and was a ghost theme so way too overdone in my opinion. I do NOT recommend this game to anyone. Its a rip off and I can't believe it has 4 star review. Really?
February 29, 2012
Absolutely loved it!
Really enjoyed playing this game and found the switching over to the other "realm" really unique. The graphics and gameplay are perfect, puzzles not too difficult. A great game all round. The CE version has quite a lot more content and is well worth buying.
January 13, 2012
Wishy-washy
One of the few games that i never bought the CE of, and glad of it now that i've played the SE. Firstly, this game had potential - but sadly fell short on too many aspects. The storyline made absolutely no sense whatsoever. You travelled between this world and the world of shadows via mirrors, which was an interesting concept. But you then needed to collect 'glyphs' to open doors [not heard of 'doorhandles'?] with the help of / to help spirits hiding from spirits, who as spirits caused their deaths..... utter confusion....and at the end when you've solved everything - you still don't know quite what it was you solved. The game itself was also quite short. The pictures were beautifully drawn but the colours were bland and wishy-washy. Would only recommend if someone was after a CE challenge, but wasn't interested in the why's and wherefore's.
February 3, 2012
Good, but it took me only 3 hours total!!!
This was good and graphically it reminded me of the first ?Princess Isabella,? but it just didn?t last that long. It was over fairly quickly even for a standard edition game. It did make me wish that I had gotten the Collector?s Edition when it was deeply discounted. The graphics were really good. There were some clever things like hiding objects in the ghost realm and using them in the real world. That made it interesting. But it was disappointing that you really didn?t get a chance to spend that much time in each area. The ghost realm was beautiful and lush while the present day was dark and decayed. Similar to ?Princess Isabella.? But it all just went by so fast. The overall game mechanics and concept had potential, but they just didn?t expand on it enough. I don?t think you should have to buy the Collector?s Edition to get the developer?s full vision for the game. The Standard Edition should be a finished concept. And I?m not suggesting that this game isn?t finished, but I used a free game coupon. I would have been upset had I paid $6.99 for only 3 hours!!! Even the average time management game lasts longer. However, it was still worth playing. I did really like it. But it left me wanting A LOT more!!!! So, I wish I could write something more thoughtful and had more to say, but there?s just not a whole lot of game to play in the Standard Edition.
January 27, 2012
Excellent Hidden Object Game
I loved this game, I thought the graphics were fantastic, the storyline was interesting and kept me wanting more. I have definately put this on my to buy list. I found the game to be not too challenging, but challenging enough and if I got stuck the hint button helped. It recharged fairly quickly.
January 15, 2012
A Very good game
I really liked this game,very different. The hint system was excellent. Not too much wandering around. The music and graphics were good too.
January 15, 2012
The Apple logo is a trademark of Apple Computer, Inc.
The Windows logo is a trademark of Microsoft, Inc.