Maestro: Notes of Life
Stop the young prodigy and save everyone from his evil plans in Maestro: Notes of Life! A missing girl has been lured away by evil music and now its up to you to save her in this incredible Hidden Object Puzzle Adventure game. Find the source of the music by scouring beautiful locations and put an end to the deadly tune. Solve tricky puzzles to become a hero and complete your journey in Maestro: Notes of Life!
Game System Requirements:
OS:

Windows XP/Vista/Win7/8

CPU:

1.4 GHz

RAM:

1024 MB

DirectX:

9.0

Hard Drive:

504 MB
Game Manager System Requirements:
Browser:

Internet Explorer 7 or later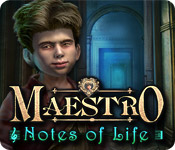 NEW299
The Big Fish Guarantee:
Quality tested and virus free.
No ads, no adware, no spyware.

Reviews at a Glance

Maestro: Notes of Life
0
out of
5 (
0
Reviews
Review
)
Customer Reviews
Maestro: Notes of Life
52
52
FIRST CLASS! A MUST-PLAY GAME !!
This is an extremely interesting game! ...as the first Maestro !!! The cutscene at the beginning already encouraging to continue ... the little boy is so sad that you really want to help him to find Alice, his sister. I was touched with his sorrowful voice and concerned eyes. You feel inside the very good storyline! Realistic characters, like real people. Graphics are impressive, song is spectacular, atmosphere is immersive. HOS are not really challenging, but interactive and entertaining. A lot of new and differents mini games. Some challenging, some very easy. I had already played and loved the CE, and now I will buy the SE. Super recommend !!
February 10, 2012
A great follow up game
I enjoyed the first Maesto and I loved this one just as much. It was long and challenging enough with a good balance of HOS and puzzles. I would have liked to have a map and some sort of indication at the various locations once they were complete to save a lot of running around looking where to use things in the inventory, some of which you carry around for quite some time before you use them. You need quite a good memory in this game if you want to play without using the hint button, which thankfully tells you if there is nothing to do in a scene. I had to use the hint button quite a bit because I couldn't remember where certain things were, once I found the item to use on them. Getting old I guess. lol. Other than that, it's brilliant!
February 15, 2012
A few hours of entertainment guaranteed
If you liked the first installement and if you don't mind a profusion of skulls and skeletons, you are bound to enjoy this Maestro #2. The developers [who have already released a number of very nice games] made a true effort to offer us a good movies as intro and cutscenes with convincing voice-overs. I liked the animations which are very realistic but the music is not a work of art that wll pass on to posterity. Else, the contents of the game are fairly similar to those you can find in their other games. The HO Scenes are not too cluttered, manageable and interactive, the puzzles interesting and not insanely difficult, the adventure quite manageable without too much backtracking. Of course you have tasks to perform, none being difficult or highly far-fetched, and several the standard kind, such as fixing a ladder. You have 3 Play Modes; on Casual, hints refill fairly fast, though not as fast as could be expected. They are very useful in the HO Scenes as well as to indicate what to do next or let you know there is nothing special to do in a particular area. Gameplay is nice. The hand-drawn graphics very well crafted and artistically colored. I didn't find the atmosphere was very creepy, just mildly gloomy, but some players might be disturbed by certain scenes as well as seeing two kids confronted with something that's on the evil side. I didn't see a wide screen option [but maybe I missed it]. The adventure storyline should keep you interested and the game shouldn't be too short Note: review based on the demo
February 10, 2012
Just as good as the first
This sequel is just as good as the first which I really enjoyed. The HO scenes aren't difficult and lean towards being too easy but do have some interactivity which makes up for that. The storyline is pretty much the same as the first game and the music/graphics/voiceovers are all up to par. The mini-games/puzzles aren't difficult and the tasks are pretty straightforward. As soon as an item enters your inventory you pretty much have use for it straight away. There is no map but I don't think it is necessary and I never use them anyway unless absolutely stuck. There is a journal but I can't comment on that because again I never refer to them unless necessary. I cannot comment on the hint recharge time. All in all a nice pleasant game which is not overly taxing. I think this would be a brill starter game for anyone not used to this genre of game.
February 10, 2012
It's an Ers game, but a bit better than I expected
If you haven't played games by this developer, you're in for a treat. This game is gorgeous, has a beautiful soundtrack, a story about saving a child, some interesting mini-games and inventory puzzles. If you have played a dozen Ers games, you get the same lost Keane painting kid, the same music, the same art, the same redesign of common mini-games AND a few tricky inventory puzzles. Plus a hard core option that takes out text hints, which makes some inventory items positively befuddling. In the demo, there are a few too many hidden object scenes and inventory items are pretty obvious. As the game progresses, H0's are paced better and items get more tricky. This is not fully satisfying game, it's an entertaining nibble. More like a snack than a meal.
February 11, 2012
Very good sequel
Just finished the demo and definitely enjoyed the play. This one is better than the first so if you enjoyed that you will enjoy this as well. The graphics are terrific, the voice overs good (although a few accents were "odd" for Paris), the cutscenes were great, the storyline similar to the first (save the child and town), and the music good as well. The HOs are messy junkpiles, maybe a little dark, but they were good with some interaction and some items that are harder to find. The puzzles in the demo were fairly easy but hopefully get a little harder as the game goes on. There is no map but was not really necessary. There are 3 levels which I feel is always a plus. The notebook was helpful, but the game is easily playable without it. The play was fairly straight forward. During the demo you only have to backtrack once to a previous section of scenes. So I would assume once you open a new section of scenes, you are done with the previous sections.
February 10, 2012
This game is AWESOME!! (Can you feel my joy?)
This game is totally awesome which is typical of an ERS game. -Great storylines -most of the time you're a detective looking for a missing person, this game is no exception. -Great graphics -so much that I usually get the CE of their games so I can get screensavers. The dragon oven from the first Maestro is so cool. -Spectacular music -another reason I get the CE. You get to download snippets of the soundtrack. -Tough HO scenes and last but not least, the -Gameplay. Always great, but this time its fantastic! I chose expert setting. It lengthens the charge of the hint button and eliminates the obvious sparkles that indicate active areas. ERS took this setting to the next level by also eliminating what they called the 'black bar hints'. These are the captions you normally see when an active scene is selected. For example, you see a suspicious mound of dirt in a field and click on it. The game zooms in. You click again and your character says something like "I don't want to get my hands dirty. There must be a shovel nearby." In Maestro: the Notes of Life, the elimination of these black bar hints made it especially challenging and super fun. I had no clue why I was zooming in and had to think of multiple possibilities considering my inventory -or lack thereof- to satisfy the active zone. If you're looking for a challenge or just looking for a great game, this and all the other ERS games should be your first stop. Series like Haunted Halls, Shadow Wolf Mysteries, Puppetshow and Redemption Cemetary. And games like Grim Facade, Spirits of Mystery: Amber Maiden, Haunted Legends: Queen of Spades and my personal favorite Edgar Allen Poe's The Black Cat. If you subscribe to their newsletter, ERS will email you whenever they have a new game release. Happy HO hunting!
March 23, 2012
GREAT GAME, AN ABSOLUTE MUST PLAY!!
I played the CE version of this game and was hooked within 15 minutes. Good graphics and sound, loved the hidden objects which were not too dificult to find and the puzzles were not too challenging even on expert mode. If you like 'hidden objects' and puzzles, this is definately one for you!
February 11, 2012
One of my top 25
Great theme, different puzzle themes, & just enough of a challenge. What's not to like!
February 12, 2012
Great Sequel!
If you enjoyed the first Maestro game, you'll enjoy this one as well. The plot is grim but there's nothing really scary or gory. Okay, I thought the snake was kind of scary. Don't touch it! A young girl is taken and forced to play violin in order to open a portal for other worldly creatures to enter from. Graphics: Very nice. Well done. Similar to the first. Music: The music appears to be the same as the first game. Or very very similar. Length: This is a looooong game. Took me several hours to play. I did not skip any puzzles and rarely used the hint to find objects in scenes. There are a lot of HO scenes in this game. You'll visit each of them twice. Story: Kept me interested. It's pretty similar to the first game; with a child being held captive and forced to play deadly violin music. I like how some of the scary things interact when you touch them (ie the snake). Challenge: The puzzles are not too challenging, you probably won't need a walk through. And if all else fails just clicking around will generally solve most of them. I'd say the puzzles are intermediate in challenge. Also, the HO scenes weren't impossibly hidden or too dark. Play again?: Oh definitely! I'll be playing the first one again and then this one for sure. Final Score: A
March 5, 2012
The Apple logo is a trademark of Apple Computer, Inc.