Grimm's Hatchery
Raise magical pets and fight monsters in an enchanting kingdom. Grimm's Hatchery is packed with 20 types of magical pets, four hatcheries, and several villages to explore. In addition to adorable creatures, you can hatch pets, create new breeds of pets, fight monsters, and solve quests for the villagers. Save the castle in Grimm's Hatchery!
3 difficulty levels.
Create 17 magical creatures.
6 areas to unlock.
Game System Requirements:
OS:

Windows XP/Vista/8

CPU:

600 Mhz

RAM:

128 MB

DirectX:

6.0

Hard Drive:

26 MB
Game Manager System Requirements:
Browser:

Internet Explorer 7 or later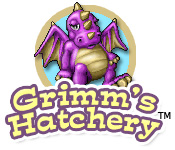 NEW299
The Big Fish Guarantee:
Quality tested and virus free.
No ads, no adware, no spyware.

Reviews at a Glance

Grimm's Hatchery
0
out of
5 (
0
Reviews
Review
)
Customer Reviews
Lovely game
Your mother, who was queen of the kingdom, married a greedy man who took over her kingdom. When he died, his evil son, your step brother, inherited the kingdom and the castle, and plans to drive you out of the country. The only way to reclaim your rightful inheritance as ruler of the kingdom, is to earn 300000 gold money in 80 days. To obtain this, you start a magical pet hatchery. You buy pets that lay eggs, like geese, dragon flies, griffons, dragons etc., and your job is to collect the eggs while defending your pets from attacking monsters. You can either sell the eggs cheaply for some quick money, or hatch them and sell the creatures for a considerably higher price. But approx 19 out of 20 eggs turn out to be rotten instead of hatching a new pet, so it takes a lot of time and patience - and eggs - to make money that way. You start out in the poor quarters with a small farm, but by doing quests for the locals, you can gradually obtain keys to better areas of the town and bigger hatcheries with more valuable pets. The creatures you can hatch are so cute, and I enjoyed the extra challenges of needing to reach certain goals to unlock new hatcheries and areas. Getting quests from the town's citizens was also fun, and I enjoyed the pet laboratory where you mix different eggs to create new species. Every day you can search every area of town that you have access to, for extra items and money that the citizens have dropped, and you can talk to them for extra hints, quests and pieces of the storyline. There are also several vendors for pets, eggs and other items. But it is rather fast paced; the monsters are many and require many slaps even with upgraded weapons, and they don't stop harming your pets while you fight them - which often results in your pet getting killed even though you slap all you can at the monster. They also starve rather quickly, so while you're busy fighting the monsters, your pets may die because you can't feed them fast enough. As you advance to new areas, you'll be able to buy upgrades and helpers that can collect eggs, feed pets, fight monsters etc, so that helps a bit. Getting enough money is quite hard because of the low prices of the eggs, the low hatching ratio of about 1/10 - 1/20, and the very high prices of the required keys you need to buy to open new areas. On my 50th day I still only had 2000 gold, two hatcheries and two town areas open (of total 4 areas and 4 hatcheries) - but the last 30 days got easier as you'll finally start getting access to helpers etc. I found this highly enjoyable though, and have created several users to try various tactics for reaching the money goals. Lovely little gem of a game! :)
May 1, 2012
Fun Time Management Game
Definitely not the same sort of game as the Diner Dash types, Grimm's Hatchery offers good replay value to see three different endings. It can be challenging the first couple of times you play, but once you get the hang of the "economics" of the game, it becomes more of an arcade type test of reflexes. The last hatchery, especially, is fiendishly difficult (but, of course, it is also the most rewarding).
January 1, 2012
MY FAVOURITE GAME OF ALL TIME
This is a difficult, involved and fascinating game. You have to hatch geese and occasionally there will be a golden egg which gives a golden goose to use on the next level. It becomes harder on each level but the creatures are fascinating. You collect their eggs and sell them, or mix them together with other eggs to produce different species. The whole point of the game is to beat the lord that has taken over the castle by presenting him with differing amounts of cash. If anyone loves Amaranth games, then this is the game for you.
September 7, 2012
Awesome
The only real downer to me was that it was too hard.
February 25, 2012
great fun world game
brilliant little game, the kids love it!
June 10, 2012
Not Bad, Lots & Lots of Clicking
At first I was unimpressed with Grimm's Hatchery because I made it all the way through the game without realizing that the game changes a bit depending upon the difficulty level. I don't mean the standard gets harder type of change, I mean there were more interesting options on levels besides the very easiest. So after coming back to see if I could get some more out of the game & discovering that, I was a bit satisfied. The sounds in this are NOT pleasing. I found myself unable to turn them off (only the music) so I had to go out of full screen each time & mute my whole computer. You do NOT want to hear the sounds of constant saving/restarting & in this game, I often did that up to 20 times in a couple of minutes bec. of the eggs. To destroy bugs, you need to click many, many, many times & that can get a bit tedious but sometimes that tedium is outweighed by the satisfaction of the rest of the game. Overall, if Grimm's Hatchery had had at least 4 or 5 additional animals in it, or some side quests or just more MEAT to it, I'd have given it 5 stars for sure. It felt lacking but it was still fun & mostly satisfying - enough that I was willing to do all that saving/restarting!
December 31, 2013
CRAMPS FROM CLICKING!
To be fair this game has a lot of positives - nice graphics, interesting storyline and you will be challenged. What ruined it for me was the exorbitant amount of mouse clicking required to destroy the attackers. Simply ridiculous. You have an excellent opportunity to develop a serious callous on your index finger and/or wear out your mouse. Other than that, go for it! Peace.
April 7, 2013
Don't waste your time!
If I could have given it NO stars I would have. Truly BORING!
February 13, 2012