Witches' Legacy: The Charleston Curse
End the Charleston Curse before it wipes out an entire family and save a young girl in Witches' Legacy: The Charleston Curse! After finding out that you are the last living relative to a young orphan named Lynn, you discover the terrifying tale of her family. The Charlestons have been systematically killed by a witch and now it's up to you to protect Lynn! Confront the terrifying witch and save Lynn in Witches' Legacy: The Charleston Curse!
Protect a young orphan
Escape a haunted mansion
For a more in depth experience, check out the Collector's Edition
Game System Requirements:
OS:

Windows XP/Vista/Win7/8

CPU:

1.2 GHz

RAM:

512 MB

DirectX:

8.0

Hard Drive:

973 MB
Game Manager System Requirements:
Browser:

Internet Explorer 7 or later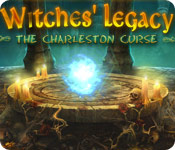 NEW299
The Big Fish Guarantee:
Quality tested and virus free.
No ads, no adware, no spyware.

Reviews at a Glance

Witches' Legacy: The Charleston Curse
0
out of
5 (
0
Reviews
Review
)
Customer Reviews
Witches' Legacy: The Charleston Curse
100
100
not bad but very short
It is mostly a hidden object game with a little adventure.For those who are new to this type of game play it would be perfect but for experts this game may disappoint you! Lot of HO scenes which are a little interactive and the puzzles are just too easy and nothing new. The story line is ok. look i recommended it for new players.
March 22, 2012
Not much new here
This game was very impressive visually - even though the objects have a drawn finish, rather than the new CGI look - and there were real actors. Still, it fell rather short on most other points. I played the expert level, but even there, it was hardly challenging at all. I can only remember one mini-game (and that got me thinking for a little while), but otherwise, it was straight HOS/Adventure. It wasn't nearly long enough either. There wasn't anything particularly gripping in the storyline, and the witch was your stereotypical hooded figure. The one unique feature was the drawings which came to life and provided plot points or clues. Kind of a nice idea in an otherwise run-of-the-mill game. Still, if you're looking for something not particularly challenging, this might be the game for you.
June 9, 2012
A good game for a new HOG player
The graphics where amazing and I so hoped the game play would follow suite, sorry to say it was just OK. I completed the hour demo in about 35 minutes in advanced mode; I should of realized that that would be an overall indication of how short the game would be. When you are a HOG junkie, you download them all trying to find games that can compete with the likes of MCF series or Raincliff; Sadly this one does not. It's just OK, not bad, not by any means in my top 10, BUT if you are a newer HOG/Adventure player this game is perfect for you. No real challenging puzzles or HOG scenes. The journal will help guide you along the correct path. If the game play matched the graphics and video cut scenes this would of been a home run. I would have to give it 3 stars just because of the graphics, without I would of rated it lower. Just not enough of challenge for me.
February 25, 2012
So So
Young girl stolen by witch. Witch wants to turn young girl into a witch. Supposedly relation sent for to save girl. Girl is saved. Nothing new here just an ordinary game with the same story line as many others. The usual Elefun Games overdose on HO's. My rating of 3 stars is for sounds and graphics and a small piece for the game. I would however recommend the game as many gamesters enjoy a plethera of HO's.
August 26, 2013
USES BACK & FORTH-ING TO MAKE UP FOR WEAK STORY
BASED ON COMPLETED GAME ON EXPERT LEVEL I HAVE NEVER PLAYED ANY GAME THAT INVOLVED SO MUCH RUNNING BACK AND FORTH. I'm so glad this game is over. What started as a decent story (although nothing new) deteriorated into mad dashing to and fro to look for objects to use. You will literally be going around and around, up and down, back and forth, picking one small piece which can only be used many, many scenes prior or further along. In addition, there are SO MANY HOS that it slows the movement of the story to the point where i doubt you will care whether the little girl gets saved or not. It's not totally a waste, but I wouldn't recommend you buying it unless it's on sale at a VERY reduced cost. Pros: Decent story Live actors Good voice overs Spooky child Good graphics Puzzles and HOS are easy Music adds to the atmosphere nicely Journal/diary Did not need to use hint button to complete game Cons: Forget your sneakers, you'll need a horse to get back and forth (and back and forth some more) Too many HOS that interrupt story flow Boring, nothing new Uses HOS and to and fro movement to "disguise" lack of content No map at all on expert level I'm recommending this game because it is somewhat enjoyable, but if you are the type of person who gets easily frustrated with time wasting tactics, this game is not for you.
July 7, 2013
Witch on a killing spree
Review based upon completion of the game. So an American went to Germany, got to know a woman and brought her back home to marry her. Rather bad idea, as she turned out to be a witch. Now you got to learn that a little girl, a blood relative of yours, is in trouble, so it's up to you to sort out this mess. The Good: + story told through crayon videos... + that also contain hints for the riddles + diverse mini games + Lynn's cute The Neutral: o the so called "Bloksberg" is actually the "Blocksberg", or commonly known as "Brocken", a peak in the German Harz mountains o you don't feel much threat, as you encounter the villainess only twice (you see her a bit more often, but it seems she isn't bothered by you) o already found items are put back into repeating HO scenes The Bad: - the story is a bit out there (sneezing door knob???) and the integration of live actors is sometimes unintentionally funny - graphics could be MUCH clearer in HO scenes Bottom Line: The game is not too bad. The ending - though satisfying - seems a bit chopped off, maybe it's expanded more in the CE. If you are desperate for a new game it's okay, otherwise don't bother.
June 14, 2013
Feels Like Work
Not as much fun as I wanted it to be. Lots of running around with just one HOS after another. By the time I get an item I need, I have forgotten where it is supposed to go. For example, if I need to cut something open, the scissors might not be picked up until many HOS later and clear across to the other side of the house. The HOS are absolute messes -- probably the worst I've ever encountered in any game I've played -- smudgy, shadowy hiding places for teeny-tiny little objects requiring you to click on exactly the right pixel. This is a very long game. I've been playing for four hours, and I'm not anywhere close to the end, I've now given up trying to figure out where I need to be and am simply using hints to point the way. At this point, it feels more like work than fun, just slogging away to get to the end.
July 4, 2013
I think the CE was the only way to go with this game
The ending lacked anything... the music was annoying, like some kind of depressing organ, that beeped out when you got an object from the HOG's which I thought were junk piles. I liked the way the lighting was handled and the doorknob, and the imp, but what happened to him? What was behind the brick wall at the entrance? The ending left you disappointed and wandering. I couldn't wait to be done with it. And put your sneaker's on, as they say, you are all over the place with things in your inventory that you have no idea where they belong. It lacked fluidity...& was repetitive and boring. The HOG's were not crisp either. I rate everything against Return to Ravenhurst... come on! This wasn't anything like that game in it's worst scene! (I don't think it had any bad scenes). I didn't think it was imaginative except for the door knob. The puzzles were so easy a child could do them. The story line was over played. The best part of the game was the demo, the pitch, then it was down hill... what ever happened to the the ritual in chalk that was referred to more than once? Dunno. Maybe it was a pretty package as a CE but wasn't worth a penny as an SE.
February 18, 2012
Hidden Object Game with minipuzzles
I'm over 65 and my memory is not so good. Making me go from one end of the house/area to the farthest area was cruel and unnecessary - for ONE piece of a puzzle. Finish with one area and move on to the next. I'm just glad the arrow Hints didn't cost anything or I would not have finished this game. Very disappointed.
May 18, 2012
witche's legacy: the charleston curse
Sorry I wasted my money on this one. I don't know how it got 5 stars. Just did not enjoy at all.
February 24, 2012
The Apple logo is a trademark of Apple Computer, Inc.