White Haven Mysteries
After waking up in an abandoned building, you find that you've been drugged and cannot remember who you are! Find the antidote before it's too late in White Haven Mysteries! As a mysterious man taunts you with his experiments, you must use your wits to figure out your identity and figure out where you are. Find Hidden Objects in chilling scenes, pick apart puzzles, and make it to safety in White Haven Mysteries!
Escape from White Haven
Scour Hidden Object scenes
For a more in depth experience, check out the Collector's Edition
Game System Requirements:
OS:

Windows XP/Vista/Win7/8

CPU:

2.5 GHz

RAM:

1024 MB

DirectX:

9.0

Hard Drive:

533 MB
Game Manager System Requirements:
Browser:

Internet Explorer 7 or later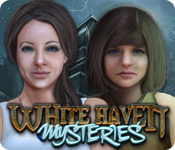 NEW299
The Big Fish Guarantee:
Quality tested and virus free.
No ads, no adware, no spyware.

Reviews at a Glance

White Haven Mysteries
0
out of
5 (
0
Reviews
Review
)
Customer Reviews
White Haven Mysteries
69
69
Spookie Fun!
Spookie atmosphere was great! This is a short and a little on the easy side but still a fun HOA. I liked that it gives you the choice between casual and expert modes. The graphics and eerie music make the game best played in the dark and with headphones on for maximum spooktacular fun!
March 16, 2012
Long game - Fun Game - but not Stellar!
The premise of the game is excellent, but the execution was lacking for me. The visuals were very good, and the game area/length was very good as well. There always seemed to be a new area to explore, or something to collect or do. Challenge level is set at medium, with most things falling in to place logically.
February 25, 2012
Pretty Good, But Too Short
A lot of good things about this game. The graphics and sound effects were great. The Hidden Object Scenes were clean and fairly easy. The storyline was interesting enough that I read all the notes that were found. Hints recharge quickly, and if you're stuck, Hints will point you in the direction you should go next. The Journal also keeps track of your objectives. However, the Journal was kind of a pain, since everytime there was a new document to read, you had to page through all the previous ones. It should automatically open to the latest entry. The warning about disturbing content is silly. There is maybe one time during the game when you jump a little bit. That's all. Anyway, I was really starting to get into it, and then it ended abruptly. I did enjoy what was there, but it's way too short.
February 20, 2012
Very fun
Great graphics. I really liked some of the mini games (see the telephone pic), they were really challenging and different.
February 20, 2012
Decent, fairly interesting, but not out of this world
The one hour demo took me past half of what I suppose is the first chapter. What I saw and did I in that hour didn't really blow my socks off. At the start, the game advises you to play in the dark, loud speakers on, and warns you that the "adventure" is frightening and might no be suitable for the fainthearted. I didn't find it scary at all..... but I am not hypersensitive. I also turned the speakers down; the permanent sound effects and the music track get very annoying after a little while. The strong point of this game is the voice-overs; truly professional. very natural, in one word, perfectly realistic. The dialogues are well worded and what the mysterious man says, the way he says it, is highly convincing. Intro and cutscenes are very well done. Oh, yes, the plot: the heroine has been drugged [we don't know how or why] and wakes up in what looks like a haunted mansion, except that it is not haunted at all. The inside is, or so it seemed to me, that of an abandoned, derelict mental asylum. Our heroine's goal consists in finding the antidote, escaping, and in the process, I suppose, defeat the man and save a little girl. Not a novel idea but it gave me the impression it was well developed and fairly interesting. Graphicwise, nothing exceptional. The artwork is good, somber as befits the atmosphere, colored with talent. Part of the game is an adventure, though the tasks are simple, unoriginal, and do not require much mental effort. They all respond to some logic in some way. A large part of it is left to HO Scenes. These are neat, not overly populated, and fairly easily managed, save one: imagine dozens of objects, not even half an each in size, all of the same color more or less, and crammed up on... a telephone !! I was happy, for this one, to be on Casual Mode [there are only 2 Modes], with a Hint System recharging almost at warp speed. Besides, you can click as much as you want without penalty. Hints also show you what to do next. But it's difficult to get stuck; the linearity prevents that, and the number of locations to explore is rather limited, at least in the first hour. That's probably why you have no map. Simple, too, are the objectives; moreover they are clearly stated in the journal. I was hoping for numerous fiendish puzzles. In vain. The first one was a piece of cake, the second, in fact a minigame [make a chicken soup... LOL], perfectly uninteresting, even silly. I didn't get to play a third one which, probably, comes up later on. Puzzles are skippable. I didn't see a wide screen option. Gameplay is fluid. All in all White Haven is not exactly a paradise for true adventure lovers and puzzle aficionados, just another decent game for those who are keen on HOGs and simplicity. However, bearing a full and perfectly objective judgement is difficult in the avsence of further information; we don't know how successfully the storyline unfolds, what the rest of the game has in store, and whether it is long or short. As is this game is okay, though I have seen better, so I can only give it 3 stars and I very much doubt I will ever purchase it.
February 17, 2012
Just OK
Good storyline. There were one or two scary parts, but certainly not enough to require the warning in the opening credits. I liked the graphics, the voiceovers and the music.I did not, however, find this game at all challenging. HOGs were simple and the puzzles didn't require much thought. The journal entries were confusing, as they didn't appear in the order they were found. I didn't even read most of them because they had very little bearing on the game play. Most of all, the game was much too short! I finished it in less than two hours. My advice: play the demo version and don't waste your money on the full version.
February 18, 2012
Disappointing
I get that there is more content in the CE games, but this one, the ending was just...bad. The story pulled you right in and then it just STOPPED. I'm sure the CE had more info in its ending, but in my opinion, the regular version should have a more solid ending. I'm disappointed I bought this one.
February 18, 2012
Ambitious But Flawed
There are a few reasons to like White Haven Mysteries, and as mentioned in other reviews, the storyline is the big one. Plenty of recent hidden object games have incorporated the scary mansion and the evil doctor, but rarely have they done so in such an effective and genuinely spooky way. The game begins with a recommendation that you play with the sound on and the lights off. I would recommend you do neither of those. The voice acting is acceptable but infrequent, and the music (while haunting) is more than mildly annoying after you hear it a few times. I found myself racing through hidden object scenes just to make it stop. As to the scares, there's one cheap one early on that's pretty enjoyable but not much to be afraid of after that. I felt like they should have delivered better after going out of their way to tout the scary factor. There's not much setup to the story. You play a woman who needs an antidote because she's been drugged, and you also are trying to save a little girl from some unknown horror. The story is fleshed out by collecting paper scraps from all over the mansion and grounds. In addition, you'll play a good amount of hidden object scenes. The art overall is very well done, and the scenes are big and enjoyable. The puzzles are very few and far between and require the most basic interaction. This game is all about the HO scenes, really, so whether that's a plus or a minus depends on the gamer. I thought the pieces were there to make this a winner, but a couple of things worked against it. One big one was an early scene where your character hallucinates due to the drug she's been given. I felt this added an interesting dimension to the game but it goes nowhere after that. Another issue is the abrupt ending, which goes for mystery and surprise but really falls a bit flat. The twist is a great reveal but there's not enough there to make it as fun as it could have been. The game (at least standard edition# is pretty short and not hard at all. You'll have it done in a couple of hours. Overall, the game has an interesting premise and a great look to it but doesn't live up to its own hype. You could definitely play worse, but this should be a skip. There are better examples of this type of game #and theme) out there more worthy of your time.
June 3, 2012
Incredibly Disappointing
The game had a really strong start. It actually stayed interesting pretty much throughout the entire thing, but there were several glitches that severely impacted the game. Also, the INCREDIBLY ABRUPT ending was ridiculous. It actually made me very angry (and after reading reviews), several other people . There were literally unfinished parts of the game that needed things from my inventory and such, but the game allowed me to complete it without having finished the other objectives. AND it wouldn't allow you to go back into the game to complete them afterwards! As I said before, the storyline was engaging, but you eventually become lose because even as you 'find' pages to add to your journal, they are not in any particular order and you end up losing track of which was the 'new' entry and it really confuses the story. Actually, the entire story becomes so convoluted at some point that it becomes irritating. I am very disappointed that I bought this game. Save your money.
April 14, 2012
Could have had a better ending
I didn't like the noise in the game. No matter where you went in the game some thing was running, the crows were the worst. I did like that when you were done with a room it told you you were done. The game was ok to play some HO were very easy to find and games were easy also. The end was not good at all. Still not sure what happend?????? Hope others weren't left hanging, maybe just me :(
March 3, 2012
The Apple logo is a trademark of Apple Computer, Inc.