Otherworld: Spring of Shadows
Exclusive
Use a mystical locket to explore a magical world and save a young girl in Other world: Spring of Shadows! After buying a quaint house in the country side, you embark on an incredible adventure. With help from magical creatures, find and save Fiona before it's too late! Find the menacing shadow that took Fiona and return her to our world. Solve inventive puzzles and discover secrets in Otherworld: Spring of Shadows, a fun Hidden Object Puzzle Adventure game.
Game System Requirements:
OS:

10.8/10.7/10.6/10.5

CPU:

800 Mhz (INTEL ONLY)

RAM:

512 MB

Hard Drive:

474 MB
Game Manager System Requirements:
Browser:

Safari 4.0 or later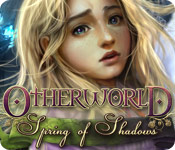 NEW299
The Big Fish Guarantee:
Quality tested and virus free.
No ads, no adware, no spyware.

Reviews at a Glance

Otherworld: Spring of Shadows
0
out of
5 (
0
Reviews
Review
)
Customer Reviews
Otherworld: Spring of Shadows
147
147
Too Complicated
I realize this is a quality game, but it is so darn complicated that I am not enjoying it much. There is so much running back and forth to find so many things, and I can't even see any related storyline to all the things you need to find and do. I would be lost without the strategy guide. I am not sure if I will finish the game or not. It isn't my favorite, but not everyone likes the same thing. Complicated isn't always better.
April 19, 2012
Surprisingly engaging
A wonderful title that makes good use of the mythos of the fae, while maintaining some of its admittedly sinister spirit. There was a little too much traversal, but the puzzles were quite inventive, and easy enough to figure out with careful thought. This may sound like it would be self-evident, but other games have had puzzles in the past that I never would have solved without a hint. I enjoyed the story, and the ending was a pleasant surprise. I may even replay the game to get all of the achievements, which would be a first for me.
March 22, 2012
This was interesting
I enjoyed this game it has a few different things and places that it takes you to which makes it interesteing. I thought that the colors, crispness of the various scenes was very good. The music is ok, at times it was a bit slow and I would have appreciated a bit more pace to my liking. I recommend this I feel that it has something for everyone and I did not find any slow spots or times that you loose your concentration.
March 1, 2012
Not Bad, but Not Great
This is one game that actually has a storyline, a somewhat engaging one. The graphics are excellent and I would have given it 5 stars except that the puzzles were not all that puzzling and it is more of an adventure game than a HOG. Had the story not been so well thought out and pleasing, it would have been simply OK. After great reviews by this and other gaming sites, I downloaded it during the President's Day sale, so I have no complaints. I wouldn't recommend it for Dire Grove / Dracula Origins fans looking for mind-numbing challenges, but it was nice.
February 21, 2012
Great fairy tale with sinister overtones
We played the demo and this is a buy for us. There is a choice between full screen & system cursor. There are volume controls for sound & music. Game play choices of casual, expert or hardcore. There is a tutorial and a journal that keeps track of the story line, tasks and characters. As the story unfolds, more is added to the characters page. The "shade" does come in to picture now & again and is quite ugly in a creepy monster sort of way. There are many achievements to attain and hidden fairies to find throughout the adventure. The hidden object scenes were mostly find a certain number of items. The mini games were fun. Some easy, some a bit difficult. The graphics art work is exceptional and the voice overs are pleasant. We made it far enough in the demo to get more involved in the story line and want to know how it ends. We have not finished the game so cannot comment on the length of game play. Regardless of length, it will be a great purchase as it was quite fun in the time we have played.
February 19, 2012
enjoyed it. very relaxing play
I really enjoyed playing this game. It's visually stunning and the story is captivating. The puzzles were on the easy side. and I can see children loving this one, and not having much of a problem. So I played this when I didn't feel like putting much brain power into a game. I bought the second as well as I wanted to know whats next.
January 11, 2015
A Very Cute Game
I really liked the storyline. The stained glass scene got to be monotonous and irritating. Overall I really enjoyed it. Great graphics, story and more puzzles than anything.
March 30, 2014
Dark, creepy, and unsettling, but still a game worth playing.
In Otherworld: Spring of Shadows, you play as a woman who has just moved into a house on the countryside. As you explore your new home, you discover that a girl named Fiona -- who lived in the house before you -- is trapped in the Otherworld. Using a magical locket that allows you to see and enter the magical world, you must try and save Fiona, who has been kidnapped by The Shade-- an evil fey creature who wishes to bring upon the Eternal Winter and plunge the world into bitter cold darkness. I really adorable fantasy games, so when I saw this game, I just had to get it. There are dryads, treants, feys, and for most of the game you are traveling through a wonderful magical world. There are plenty of puzzles and mini-games to keep you busy and they have just the right amount of difficulty. What I particularly liked was that this game did not have a lot of junk-pile hidden-object scenes. Some HOS require to find multiples of a single item, others have you find fragmented objects to make an item, and there are also HO scenes where you click on item that are related pairs, and click on an item based on a clue/riddle given. This was a very welcome change to the traditional "puzzles/mini-games with tons of HOS" formula. This made the game stay fresh, made it unique, and provides the player with lots of entertainment. In addition, the level of challenge was perfect. Nothing was overly easy and you could also get through the difficult parts if you stuck with it long enough. Visually, this game is certainly beautiful. Every scene in this game is like looking at a painting, the artwork is very detailed and stunning- living up to its genre of fantasy. The music was also beautiful and fit the game perfectly. As for the audio, only the woman you're playing as has any voiceover (and it isn't till later that the Shade talks too). However, the other creatures and people you talk to in the game have no VO's or lip-synch, instead talking to you with a text box. This made the game feel out-dated as most games these days are fully voiced. I do recommend this game to others, but know that this recommendation comes with a warning, as I personally don't see myself playing this game again. Despite the beautiful fairy-tale/fantasy aspect of the game and the beautiful music, the game is equally creepy, dark, and disturbing. I would highly advise to keep this game away from younger children unless you want to give them nightmares. The Shade is a very terrifying-looking creature. It has no eyes and an eerie mouth with sharp teeth. If you misclick a HOS too much, his face pops up on your screen with a very scary, repulsive smile, and then slowly fades away along with the scary sound effect that accompanies his sudden appearance. This made me especially wary during the HOS as I was afraid to accidentally click too much (I play on a laptop with the fingerpad, so that happens a lot) for fear of the cursor freezing up to show the animation of the Shade's face haunting the screen. I want to have fun when I'm playing a game, not get scared out of my wits. As if that's not bad enough, the game continues to get more dark and uneasy. People (including young children) and creatures DIE in this game (many of them are implied, but you do see some corpses and witness a murder of a cute creature that you later befriend). I can appreciate dark fantasy, but this game went above and beyond to be creepy and unnerving. There is scary music that accompanies already-scary scenes and the Shade has a face that I am all too happy to forget. -1 star for the excessive creepy factor that made this game incredibly uncomfortable to both finish and play. If you can get past the creepiness, you're definitely in for a treat as I think this game has a lot to offer, but please do yourself a favor and don't play this game in the dark like I did.
October 18, 2013
Spring into Otherworld
Otherworld: Spring is a visually beautiful game with a fairy tale story. Mini-games were diverse and the HOS screens were not too intrusive. There were a lot of 'find, use, assemble' activities and several tracing exercises that require hand eye coordination. For the most part, the use of inventory items made sense. And, if stumped, the hint system works very well. Game locations are locked when not in use so there is no traversing the universe looking for missed items. I enjoyed this game. I admit I am becoming weary of saving the world from evil spirits but this release had some interesting variety in terms of gameplay and Otherworld is a stunning place to visit!
September 20, 2013
Beautiful With Imaginative Gameplay
BASED ON COMPLETED GAME Okay, yeah, there is a little of the pre-teen girlie STORY in this one, but it has enough COMPLEXITY, combined with beautiful GRAPHICS & INTERESTING GAMEPLAY to keep adults interested. And it really is spectacularly gorgeous without ever being too cute. The MUSIC is ETHEREAL and the VOICEOVER in the intro is great. No other VO during the game. The extensive variety of HOS, with only 2 INTERACTIVE LISTS, and them near the end, means this doesn?t feel like a HO GAME. Some of the types include: *MULTIPLES OF *FRAGMENTED OBJECTS *RELATED PAIRS *RIDDLE CLUES Plus a number of almost-HOS, such as SPOT THE DIFFERENCE, and FIND THIS PIECE OF THE PIC. Along with these are dozens of delightful PUZZLES & MINI-GAMES. A LOT of ORIGINAL and reworked puzzles, NONE TOO HARD, but entertaining. All of them are SKIPPABLE, and they come with both INSTRUCTIONS and ONE HINT. I found this essential, because some of the instructions left me clueless. The STORY is interesting too. After buying a new house in the country, you discover that there is a whole different world going on in your garden, and only the FAY (people with the sight) can see it. You meet a trapped girl who helps you to unleash your own fay ability, and you set about rescuing her. This is a VERY LONG game. Took me 6 hours to complete ? and I really enjoyed every minute.
July 2, 2013
The Apple logo is a trademark of Apple Computer, Inc.
The Windows logo is a trademark of Microsoft, Inc.