Puzzler World
Visit Puzzler World and enjoy different Puzzle types like Wordsearch, Fitword, Sudoku, and many more! Tackle the Quickplay mode for a quick Puzzle fix, or take on Challenge mode to unlock even more game types. Use hint tokens when things get too tricky and master the different types of gameplay to discover the bonus Puzzle modes. Immerse yourself in Puzzler World and put your brain and wits to the test!
Take on tricky Puzzles
Unlock game modes
Visit Puzzler World!
Game System Requirements:
OS:

Windows XP/Vista/Win7/8

CPU:

600 Mhz

RAM:

128 MB

DirectX:

6.0

Hard Drive:

47 MB
Game Manager System Requirements:
Browser:

Internet Explorer 7 or later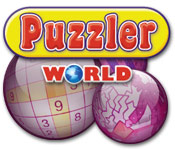 NEW299
The Big Fish Guarantee:
Quality tested and virus free.
No ads, no adware, no spyware.

Reviews at a Glance

Puzzler World
0
out of
5 (
0
Reviews
Review
)
Customer Reviews
This will help you spell and have fun.good old puzzler game.
This was a good game as it says its all diffrent sorts of Puzzles i have been looking for this.ok theres no storie to it but if you like wordsearch and other games of that nature then get this i did.the best think i like about it you can play in another country ie America Germany Italy you get the picture if you know the word in your country try and play it in another country.that way you learn to spell in 6 diffrent countrys if you go to one of them you will know how to talk to them in there country.i hope you understand what am trying to tell you.my spelling is rubbish thats way i bought it to try and help me.if you have children then it might help them as well.
February 22, 2012
Nice puzzle game
lots of different puzzle. not to easy. without storyline(a point that I like). nice to play when you have a little pause.
February 22, 2012
Nice Variety of Puzzles
I am enjoying this game so much. Great variety of puzzles, even if there may be a few I don't like as much as the others, they don't take long to complete, and you know your fav's are coming up soon. If you have a few minutes to spare or a few hours, you can relax and enjoy the puzzles.
February 24, 2012
Great puzzle game
While the graphics and sound effects would appeal more to children, the game is fun, with various levels of difficulty available. The interface is intuitive and easy to use; can point & click or use the keyboard. I am also very happy with the variety of puzzles offered (I particularly like Link-a-Pix, which I had never seen before).
March 28, 2012
Crosswords, Hangman, Sudoku and much more!
If you are looking for a game that has all your favorite puzzles in one place - you found it in this game. Graphics: Wow! First, you get to draw your profile picture, or name, as you choose. It is not easy - lol. Then, you can choose to create your own handwritten alphabet or numbers and symbols by writing a specific number, symbol or letter 5 times - this is impossible. As far as graphics in the game - amazing. Bright, colorful, cartoony and fun. The graphics are a huge part of feeling good while playing this game. Sound: Sorry - don't know. I have a now 8-week old puppy who i rescued at 6 weeks old and she's sleeping against my back - lol - so I had to turn the volume off. Of course, now my back hurts! Game Play: Fun, Fun and more Fun. All my favorite puzzles in one place. Crosswords, Fill-it-ins, Hangman, Link-a-Pix (couldn't figure that one out) and more. Choose a level (there are 560 - no kidding!). Click on it and the games begin. After you play 3 games (of the computer's choice), and win, you get to pick a "present" that awards you with hint coins (very handy), a puzzler letter (collect 7 for a special prize) and I can't remember the 3rd - sorry. When you are finished that level, it will blink, to move on to the next level, choose the one past the blinking number. I found this game to be thought-provoking, fun and yes, even relaxing. Definitely addictive. I know I said this a hundred times - but ALL your favorite games are now in one place! And there are 560 levels! I checked. This Glam-ma is on the fence about purchasing this game ONLY because there are several others in my top 5 and money only goes so far. Perhaps on my wish list. I do, however, encourage everyone to try this game. The demo is free and it's only an hour of your time. If you like puzzles, you will love this game. This might be a trifle hard for beginners or those who don't play puzzles but try it anyway. Happy Gaming to All!
June 19, 2014
Love it
I finish most games within a couple of hours. This took much longer so i feel like I got more for my money. Gave a variety of games that challenged me, yet had ways for me to get help if I really needed (hint points).
June 23, 2012
Puzzler World
Thought this was pretty good actually. Keeps you entertained and is moreish. Only one I don't like so far is Link a pix. Other than that, I could play it all day.
May 10, 2012
LOTS OF PUZZLES!!!
Exactly what I have been searching for! A VARIETY.
February 22, 2012
If you like puzzles, give it a try, you might like it...
I just finished the demo and am thinking of buying this game. Another reviewer here said this is a kids game, but I don't agree with that. Although you can play these puzzles with kids and they might like them, I think adults can find enjoyment from this game too. I guess it just depends on if the level of challenge is right for you. Although I did find some of the puzzles easy, the Spot the Difference I played was easy and so was the Word Search I did, I also found some of them challenging. I am new to Sudoku so those kind of puzzles challenge me and the one I played in this game did. I also found the game Codeword, which I have never played before, to be challenging as well. One of the things I like best about this game is that there is a variety of puzzles, at least 7 or 8 different kinds. There also appears to be hundreds of these puzzles to do, so this game is enough to keep anyone busy for awhile and seems to be good value. I would recommend that people give it a try and find out if it is the kind of game they enjoy!
February 23, 2012
Entensive fun Puzzler
Lots of differnt fun puzzles with great challenge aspect to keep you playing.
February 22, 2012