Surface: Mystery of Another World
After your son, Bobby, mysteriously disappears, it's up to you to find him in Surface: The Mystery of Another World! A peaceful train ride to the coast goes way off course and now strange occurrences are happening all around you! It seems that there is another world just past your reflection. Use your Hidden Object talents to explore the mysterious area and save Bobby before it's too late in Surface: the Mystery of Another World!
Game System Requirements:
OS:

Windows XP/Windows Vista/Windows 7

CPU:

2.5 GHz

RAM:

1024 MB

DirectX:

9.0

Hard Drive:

710 MB
Game Manager System Requirements:
Browser:

Internet Explorer 7 or later
Alcohol Reference
Mild Violence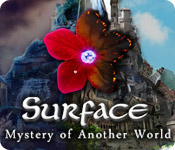 NEW299
The Big Fish Guarantee:
Quality tested and virus free.
No ads, no adware, no spyware.

Reviews at a Glance

Surface: Mystery of Another World
0
out of
5 (
0
Reviews
Review
)
Customer Reviews
Surface: Mystery of Another World
215
215
Walkthrough is Mandatory
This game is visually stunning. Graphics outstanding. However, it was frustrating on many levels. Hint: throw your logic out the window. Starts out ok but an hour in, you find none of your inventory items work where they should work. You are constantly shortchanged and it's difficult to make sense of items and how to use them. You have to be extremely thorough when looking in a new location and you'll still be pulling your hair out with frustration because the hint tells you to look somewhere not even on the map. It assumes you've already gone to a location when you haven't. In other words, the hints are out of sync. You'll find you can't complete HOGs unless you have certain inventory items. Good luck finding some of them because they won't appear for quite some time. You constantly feel like you have overwhelming unfinished business during the game. There's way too much going back and forth. I have the SE, should have gotten the CE with its strategy guide. IMO, if I have to use a walkthrough more than 2-3 times, the game is not for me. This game required way more than that. I had a good laugh at the end when a character is speaking and it's obvious that the English is dubbed over. His lips are moving and out of sync with what you're hearing. Things like that detract from a more polished and professional gaming experience. I found this game extremely challenging and not in a good way.
August 19, 2012
A Disappointment
This is typical of a lot of games where they start off really great and then mid-way they just get over-involved with a bunch of stuff that isn't needed. I liked the hidden object scenes where you have to use itinerary items to solve them. To me, the demo is misleading and I honestly would not have bought the game had I known where it was going after the demo.
March 18, 2012
A bit disappointed overall
I bought the game after reading all the fab reviews but was a bit disappointed. I normally don't mind going backwards and forwards through scenes but this one had so much of it that it started to get annoying. Also if you don't play the game in one go, I found that I forgot where things were. The puzzles were challenging but not interesting, nor was the storyline. The HOS were however good, neither too easy nor too hard. Lastly some of the inventory items and how you used them were rather baffling.....a feather to open a venus fly trap? Hmmm...maybe its just me!
March 5, 2012
Big Disappointment...HATED the HOS....:(
I was really ready to love this game based on the reviews;but I found it rather boring.It just didn't draw me as other games such as Eternal Journey or Dire Grove did.I actually used the Hint Button A LOT as I wanted to 'get if over with' and move on to another, more interesting game. I HATE, absolutely HATE IT, it when the game maker has you looking for objects elsewhere to complete the HOS! Not just one HOS at a time either...but several...and what you are searching for to complete the HOS has nothing whatsoever to do with the storyline. I feel it is a BIG COP OUT when game makers do this as you are running all over the place to find 'thread to sew a bears arm' in the HOS! UGH!I WISH they would quit making HOS like these! Other than the puzzles in this game,I was just plain bored.No great music to build atmosphere...the storyline was different and could have been great if fleshed out some more. Visuals-average Atmosphere-missing Puzzles-excellent HOS-Hated them! Interest Factor-Boring
October 22, 2012
Not what i expected
After reading the summary of the game i thought it was interesting enough to give it a try, so i downloaded the game and at first i thought it was pretty good. The artwork was very well done and the game had an original story. However, it quickly became too cliche and boring. There were certain things in the storyline that could have been better depicted in the game. As for the visuals... absolutely HORRIBLE! im sorry, but i have to be honest. It looked like the video cut scenes were made with a VGA cellphone camera, speaking and lip movement were completely out of sync. These cut scenes make dubbed Chinese kung fu movies seem oscar worthy. The costumes looked like bed sheets from Walmart and i wouldnt be surprised if that statement was accurate. But if you can look past all that, the game play was okay. There was a good balance of HOG scenes, puzzles and tasks. However, towards the end of middle to the end of the game, solutions to in game tasks seem too far fetched and too ridiculous to actually be feasible so you probably wont end up thinking about it and will have to use a walkthrough like i did. All together, based on this game, i dont think i'll be investing any more on the other titles in the series. I think there are other games out there that are better.
August 22, 2012
don't bother if you like logical progression
the logic of the sequence and the way to progress through the story was questionable. There were quite a few spots where I couldn't work out what I was supposed to do next and while the hints did tell you where to go/what to do I could see no way why you would make that decision other than being told to do it. Have not had that issue with other games of this type.
May 7, 2012
Both too hard and too easy
The graphics are very good. The story line and acting are a bit cheesy but not much different from most games. What I didn't like is that the objects in the inventory did not match very well their intended use. For example, who uses a tuning fork to break a mirror? I know part of the fun is being resourceful, but in this game, it became annoying to try to figure out what object to use to complete a task, and I ended up relying pretty fully on the clues, which said exactly what to do next. That made the game both too hard and too easy at the same time because I'm pretty sure I would have abandoned the game in frustration without the clues.
August 22, 2012
Average game, little challenge
Not much challenge in the HO scenes, object use not always logical
March 10, 2012
it's ok
After playing for an hour, decided against buying it. Maybe if it were a bogo, but just kept using the hint button majority of time. No rhyme or reason to what comes next; just back and forth, back and forth. My hint finger is tired.
January 17, 2015
WOW.. Was I Lost
Just finish the full game. I normally love Elephant games and own many of them, but this one, although I did buy it, was disappointing. Were it not for the hint button, I would have never found my way around. Thank goodness it recharges fast. The fun for me sitting there trying to figure our where to go, what to do next and having to rely on the hint just ruined it for me. When I did figure out where I was suppose to go on my own, it was like I had won the Olympics. As usual the visuals and sound were great. Good clear screens and the music and effects added to the game. The HOG scenes are interactive and again, you have to remember what you needed later on and where that particular HOG scene happened to be. I scored the level of challenge as excellent. It is, if you have a better memory and imagination than me. Getting around was seriously difficult even with the map. The map does nothing but tell you where you are and transport you if you know where you need to be. No other assistance from it at all. The story was pretty good. A twist that I haven't seen in any of the games I have played. As I was pounding around the other world, I had a totally different ending in mind and was rather surprised when I finally got there. I would recommend this game, only if you are satisfied with punching the hint or have a tremendous memory. I guess mine must be gone.
September 25, 2013
The Apple logo is a trademark of Apple Computer, Inc.