Natural Threat: Ominous Shores
Use your powers of observation to save your friends from the genetic aberrations that populate a forgotten island in Natural Threat: Ominous Shores! Brave the escalating threat that unfolds before you and save your companions! Each scene will bring new challenges, horrifying discoveries, and clues to what brought the monsters that populate the island to life. Be smart, and you might survive long enough to make the most shocking discovery of all in Natural Threat: ominous Shores!
Explore a mysterious island
Avoid terrifying creatures
Save your friends!
Game System Requirements:
OS:

Windows XP/Vista/Win7/8

CPU:

1.6 GHz

RAM:

512 MB

DirectX:

9.0

Hard Drive:

649 MB
Game Manager System Requirements:
Browser:

Internet Explorer 7 or later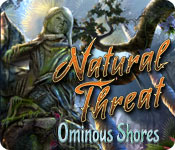 NEW299
The Big Fish Guarantee:
Quality tested and virus free.
No ads, no adware, no spyware.

Reviews at a Glance

Natural Threat: Ominous Shores
0
out of
5 (
0
Reviews
Review
)
Customer Reviews
Natural Threat: Ominous Shores
105
105
Went Downhill After Demo....
A.l.a...war games... This is why reviews should be done AFTER playing the entire game. When I demoed this a couple years ago, I absolutely loved it but didn't have full access to a pc and now I do so I demo it again and love it. I think its going to be a 4 or even 5 star game. However after playing past the demo and completing the entire game, I realized how wrong I was about loving it. I knew going into it that it wouldn't have a map and be a little more wandering around and have more hidden object scenes because it was a little old and I was totally fine with that, love a challenge. None of that bugged me but what bugged me is what happened to the story line! In the beginning you are playing an intern to a famous plant scientist and then BAM! something happens and the next thing you know, its like 20 years later and you are on a boat that broke down on a beach which happens to be the same place you were an intern at years ago...ONLY you aren't that intern, you are like a college kid with his buddies...soooo that was just confusing but I went along with it. I like plants taking over the world type games. So now you are on this island and all of your friends are missing and you need to find them blah blah but you keep stumbling upon these mutant plants and notes about this scientist guy who stayed on this island his whole life and worked on plants. I thought there would be some more story but no that's the gist and the rest of the game is mindless wandering around. I will say the island has beautiful mutant plants and venus fly traps which I LOVE but it kind of fell apart and got sloppy. I did love the mini games as most of them weren't this easy peasy stuff we see now but actual taxing the mind and I did like the interactiveness of the hidden object games. So remember how I said I didn't mind having a map? Well I didn't need it at all until the very end because you have to do some very repetitive tasks that you can't do all at once and you need to bring the item you find each time back to a place that is very far away from the rest of the places in the game. There are 6 of these items which I didn't really understand the need behind them but you have to travel very far out and then back and forth then back. My dogs were barking! Anyways, I would have at that moment LOVED a transport map but no I had to go back and forth, back and forth. Overall, I don't find this game awful. It took me 4+ hours to play it. I liked the hidden object scenes, puzzles and mutant plants. It doesn't have voiceovers or a map but its 2011 so that wasn't a dealbreaker for me. I just really really disliked where the storyline went or didn't go for that matter. It didn't make sense, I didn't understand the need for that intro at all and there is an ending but nothing that explains much. This is why I wait until after playing games to review them. I wanted this for years, bought it and honestly, I could have lived without it. What a shame...
September 8, 2014
Not as challenging as I'd hoped
For all of the apparent work that went into the visuals and story, you'd think the gameplay would have been a little more interesting. There were too many times where the thing you needed just happened to be right next to where you were - the cudgel to break the door's glass was actually hanging on the door? Ugh. The only time I needed hints was to see where to go next - there really wasn't much to tell you, after each "incident". You just had to wander around until something sparkled. So, not bad, but really could have been so much better.
August 10, 2014
Possibilities
A doctor doing genetic research on plants. Lots of creepy crawly bugs everywhere. The scenery was pretty. The music was odd. Sometimes it was totally soundless, then music would start to play. The HO scenes were ridiculously small. I ending up randomly clicking and was shocked when something I didn't even see was found. There is a journal, no map. Fairly straightforward game. Just not my cup of tea. Or swarm of bugs.
March 25, 2013
Whew1
I don't know about others who played this game, but I found the difficulty level to be increased because of the need to go back and forth to find what was needed. And sometimes they were so obscure I just got tired playing. So it took a long time to play as I'd decide I wasn't up to the game on any given day. I like them to be moderately difficult. This was over the line for me.
June 4, 2012
adventure-HOG for 3.5 stars
"Natural Threat" is an adventure game with lots of potential - unfortunately, it often doesn't life up to it. The story is ok and well done - genetically manipulated plants attack humans, and you need to safe your friends. You start with a "prequel" and then enter the story - good idea! The visuals and music are appropriate and well done - many of the scenes quite beautifully even. The mini-games are varied and fun, and not too difficult either. There are, however, a couple of things that are not well done with this game. 1) only one level of difficulty 2) no map - and with this game, and interactive map would have been necessary. Especially towards the end, you have to retrace your steps over and over, and since the cuts between the scenes are not well done, this gets very quickly very tiring! Also, if you don't play it in one go, you might forget where to use which element, since too much time passes between finding a task and finding the solution. You need to rely on the "hint" button far too much because of this! I would love the game if there weren't these weaknesses which impact the fun factor quite a lot! Overall, I would give it a 3.5. It is unfortunate that there is so little direction when this could have been very easily solved by integrating a map.
April 1, 2012
Well....
I don't know if it is just me, but i found this game incredibly boring. I played the demo and it got so tedious, I uninstalled it. Don't get me wrong, the graphics are beautiful. It would have been nice to have voices...but that's just me. I kind of found the premise a bit silly, but if you like the demo, buy and play it..even if ti's just because it's kind of pretty.
March 30, 2012
Pack your traveling shoes for this game, because you'll need them.
Overall - a nice game. Not a lot of annoying music,,,none at all, really, outside of a creepy piano riff now and then, and the environment sounds were well done - birds, rain,wind..all of that..nicely done. You even have the option of no sound. Graphics are well done, also, and hidden object scenes, though a bit junky, were fine, with the exception of one. Towards the end of the game, the sparkles indicated a hidden object scene (I was playing in casual mode - one of two choices the player has), so I clicked on the sparkles. There in front of me was a hidden object scene I hadn't played before with"0/20..(or 25..lol) but NO indication about what I was supposed to be looking for! I just started randomly clicking and got no penalty and finally found something that disappeared when I clicked on it. Once that happened, I knew what I was supposed to be looking for. There are a few scenes that ask you to find a certain number of one object, but most are the regular junkpile scenes.The mini-games and puzzles are equipped with a skip button, in the event you come across one you don't care for. I found the games and puzzles enjoyable and not difficult, if given a little thought. I did feel that there could have been clearer directions on a couple of the puzzles, but I muddled through. The game moved along fairly well, and was engaging, but, as I said in my review title, you do a lot of traveling. Be prepared for a lot of back and forth and visiting the same sites several times over. The only real negative I have about the game is the very last bit - you have to go back and forth many times...get a clue, wander off to find the thing, go back to where you were, do what you're supposed to do, get another clue, wander around and get the item...you do this several times, and even I found it a bit annoying...and I usually like a game that runs long. This game did provide me with three evenings of game play - about 8 hours. Keep in mind that I play slowly - really look around scenes - really take my time, so others may not have the game go so long. If you are looking for a game with an interesting storyline, long play, a lot of traveling (with no map to jump with...I can't recall seeing a map at all...), and just enough creepiness to spook you now and then, this game would be for you. I even felt a tinge of sadness near the end of the game...but I won't give that away. Try it - I think you'll like it.
March 18, 2012
Hoping for better.
Was at the end of vacation and looking for something engrossing but not too hard. Not sure about this game. Interesting story line although having a character to put the "thoughts" too would be helpful. I got stuck and downloaded the walkthrough and found I was missing a big "chunk" of the beginning of the story. The whole first chapter was not there. Not sure what to make of that. Played for about an hour but not sure yet what "friends" I am helping. The music is not obtrusive but again, kept struggling with no direction. Given it's uniqueness, want to buy but at this stage it's too disjointed. Won't buy.
March 4, 2012
Buggy but beautiful
This game started with such promise - the graphics were crisp and beautiful against an "Island of Doctor Moreau", exotic backdrop featuring a myriad of colorful and creative plant and insect life. The music was not obnoxious but also nothing special. Flaky Game Play - The game completely locked up twice, and in one HOS specified finding "0/20", but did not say the "what". - far from obvious, it turned out to be well hidden pieces of a stained glass window that had not yet been encountered in the game. Tedious back and forth - There are a lot of very beautiful scenes and the player will see them again and again due to the back tracking to see if there is a HOS required to continue and as part of completing tasks. There is no map so no way to jump from scene to scene so revisiting the same territory again and again became very tiresome. Storyline? The cut scenes seemed out of order as references were made to things that had not happened. At one point an "eye" appears and the reference assumes we have seen it before. The "eye" is never explained. Despite the plentiful scenes and beautiful graphics I cannot recommend this game.
March 31, 2012
Not really a challenge, lots of HOS
I don't know, if it were free, I might play it. The graphics were okay some of the time, and then not very crisp. Wayyy too many cut scenes and I only made it through 30 minutes of the demo. I swear, I gave it a shot. The sound track loop would play for about 3 minutes pause for about 2 and then loop back to the same ominous piano notes. I'm do not usually care about believable storylines, but this one annoyed me. You must click on one thing to do something else. You don't save up activities that you have to think about, you just click the next thing. I didn't need to think through anything. Receive knife, nothing else to do here, click forward once, a box to open. Now, let me think. Receive battery. A magnifier missing a lens and a flashlight with an open battery compartment. Now there's a hotspot under the cabinet, but it's too dark. If I had small kids, this would probably be a great game. I'm an adult who's into playing games, so this bored me stiff. And the notebook was not helpful. I'd rather replay what I already have while waiting for the next offering.
February 29, 2012