Natural Threat: Ominous Shores
Use your powers of observation to save your friends from the genetic aberrations that populate a forgotten island in Natural Threat: Ominous Shores! Brave the escalating threat that unfolds before you and save your companions! Each scene will bring new challenges, horrifying discoveries, and clues to what brought the monsters that populate the island to life. Be smart, and you might survive long enough to make the most shocking discovery of all in Natural Threat: ominous Shores!
Explore a mysterious island
Avoid terrifying creatures
Save your friends!
Game System Requirements:
OS:

Windows XP/Vista/Win7/8

CPU:

1.6 GHz

RAM:

512 MB

DirectX:

9.0

Hard Drive:

649 MB
Game Manager System Requirements:
Browser:

Internet Explorer 7 or later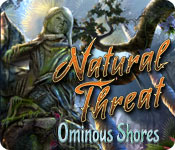 NEW299
The Big Fish Guarantee:
Quality tested and virus free.
No ads, no adware, no spyware.

Reviews at a Glance

Natural Threat: Ominous Shores
0
out of
5 (
0
Reviews
Review
)
Customer Reviews
Natural Threat: Ominous Shores
105
105
Nothing much to write home about......
Warning: For those who suffer from Insectophobia should stay away from this game. Too many bugs, creepy crawlies along with sound effects that adds to the ominous atmosphere of the game. Actually the highlight of the entire game was the superb sound effects. Very real and very effective. The story line is interesting: Following a boating accident, you and friends find yourselves stranded on a deserted island where a mad scientist experiments on bugs and plants, resulting in some very wierd spicimens that are out to kill you. You have two play modes, a journal and also there is a game bonus play which I have yet to access. No voice over and non-descriptive music. However the Graphics are clear and visually very impressive and the enhanced by what I could say is excellent sound effects that remind me of one of those sleep machines set to jungle noises. You should play this game in the dark and set your speakers on, this will really immerse you into the general atmosphere of the entire story. Unfortunately that really is the highlight of the game, the rest really involves rather mediocre gameplay with no challenge whatsoever which made for a very dissapointing one hour of demo time. I would catagorise this game as your basic run of the mill IHOG. Lots of HOS where either you find 25 of the same items or from a list. Some HOS are interactive and are on the easy side. During the demo, I ran across only three mini-games that were too easy to be called min-games. Alot of going from here to there and picking up this and that to get to the next scene. It reminds me of the earlier versions of IHOG games that were put out years ago. I will not totally dismiss this game becuase as I stated, the graphics and sound effects gate high marks and I am interested to see what will happen to our group of survivors. Therefore if you have a credit to spare, I will recommend this game. Other than that, there really isnt much to write home about........
February 25, 2012
Too easy.....
Played the whole demo (casual) - 2 gameplay modes, casual, expert - No voice overs - Jungle background sounds, didn't notice the music - Notebook - H0, you interact, objects sometimes not too easy to spot - Hint takes a minute to refill, useful outside H0 - Mini games really easy - Interesting story - Good graphics Crazy scientist dealing with carnivorous plants on a deserted island, ship wreck and people landing on this island. Not sure about this game, quite enjoyable but way too easy, you use the items you find straight away. Might spend a punch card credit on it.
February 25, 2012
For entomologists and HO fans only
If you like insects, or have the soul of a bug killer, and if the too frequent eternal HO Scenes filled to the brim with useless thingies or 24 insects or 25 leaves or 25 flowers do not bore you to tears, then you will probably enjoy the game. Other than that, nothing special, nothing new, nothing really exciting. Yes, the whole atmosphere is creepy, well sort of -what do you expect when you have to deal with loads of crawling creepies plus gargoyles without forgetting THE skeleton, yes the same bored looking one that hangs around in 99% of HOGS/Adventures ? - and that's about the only pole of interest with the graphics, which I must admit are very good. The puzzles seem dead easy and unoriginal though I didn't encounter many in the demo, only one in fact, tasks are the usual stuff: get a chisel, a sledgehammer, an axe - I can't remember if THE crowbar is tucked up somewhere...... and everything you need do is easy as pie anyway and, again, not at all different from what you have been doing in dozens of other games: oil hinges, dig up a patch of earth; plug in an electrical cord.... I wish some dev came up with new ideas, unusual items to find and tasks full of imagination. You won't find that in this one, I'm afraid. I'll recommend this game because it is not that bad, but it's a no buy for me
February 25, 2012
Not So Ominous
I played the demo and decided to get the game. It's not all it was cracked up to be. It's a lot of running around to get things done. I felt the story was to choppy plus you really don't figure out which character you're playing until the game is well over half done with. The graphics were good too bad the story wasn't. I was disappointed in the game but that doesn't mean someone might not enjoy it though.
February 26, 2012
Pretty enough but boring to play
This has to be the quietest game I have ever played, there are ambient background sounds & very occasionally some melodic piano music. No voiceovers, no clicking sounds when you find a hidden object. The graphics are nice enough & the artwork atmospheric, you are after all on an island inhabited by plants that might cause your demise. There are 2 modes of play, Casual with a 60 second hint recharge & sparkles & Expert with 2 minute hint, a pretty quick misclick penalty & also sparkles abounding wherever there is a H0 scene. The hidden objects are a mix of ?find 24 items of a similar type? or the usual word lists, they are well drawn & some items are very well hidden to make them a little more challenging, there are also some interactive objects. During the demo there were a few mini puzzles & these were pretty easy, perhaps they will get harder further into the game. This review is on the demo only as I decided not to buy; I got rather bored during my hour?s play. The reason I recommend? If you want a pretty game without too much challenge then you should try this out, it might be what you are looking for
February 26, 2012
SOoo much backtracking..
..that it was really aggravating. Other than that it had great graphics and was fun but the truly intolerable (for me) backtracking ruined it. Also it had a rotten ending, It really didn't matter, however, because by then I was longing for it to be over..but it was interesting, long, good hint button, colorful and had cool looking scenes, and cutscenes.. I am going to say I recommend it for the fun, but ...
November 13, 2012
A no brainer
I did like this game even though it's a very simple game to do...no hints were needed....To me it was very straight forward on what you have to do in each scene...The game was still fun to play...I liked the fact that it wasn't all HOS
March 6, 2012
UNUSUAL STORY: UNUSUAL SETTINGS
Here I am, working diligently as the lab assistant for a famous but outcast genetic botanist, learning all I can about crossing plant and human DNA, when suddenly I?m eaten by a strange plant that actually sought me out. Then I?m sailing with a group of friends and we capsize and end up on a strange island. Well, at least I?m on it; I don?t know about my friends until I see one lying unconscious on rocks and one being dragged off by a walking plant. In the end I?m just click-happy (maybe so I don?t change into another person). Not much happens while I?m a lab assistant. I wish the game put more emphasis on crossing and nurturing strange species with various characteristics instead of merely suggesting it. There wasn?t a whole lot of activity or things going on. By the time I?m shipwrecked, I?m in a normal HOG with a lot of beautiful scenery and making new discoveries of what really happened on the island, including finding my old lab. The Creepy plants are outstanding. Puzzles were somewhat challenging but fun. HOS are either list based or finding, say 25 dead leaves or bugs. It wasn?t particularly difficult to find everything. Music was sporadic ? it was on, it was off, why is unknown. Too bad, as the music can do a lot to create a specific atmosphere. SUMMARY: The change in heroes is sort of cool ? you?re two characters who are unrelated. It?s just a way to tell the story. HOS and puzzles are good, as is the music when it plays. Gorgeous artwork. Unusual story and settings. Don?t get too anxious around new and unique plants ? it?s just a game.
December 5, 2013
natural threat: ominous shores
to much reading not enough play time
March 17, 2012
Natural Threat: Ominous Shores
This game was such poor quality, kept fading and very slow.
March 17, 2012