The Cross Formula
Rediscover your identity and prove your innocence in The Cross Formula, an incredible Adventure game! After waking up in a roadside motel with no recollection of who you are, you learn that the police suspect you of murder! Solve puzzles, interact with quirky characters, and look for clues as you piece together the story of who you really and prove your innocence in The Cross Formula!
Search for helpful clues
Retrace your steps
Rediscover your identity!
Check out the Blog Walkthrough!
Game System Requirements:
OS:

10.8/10.7/10.6/10.5

CPU:

1.2 GHz (INTEL ONLY)

RAM:

1024 MB

Hard Drive:

163 MB
Game Manager System Requirements:
Browser:

Safari 4.0 or later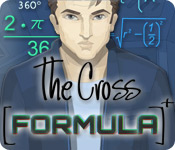 NEW299
The Big Fish Guarantee:
Quality tested and virus free.
No ads, no adware, no spyware.

Reviews at a Glance

The Cross Formula
0
out of
5 (
0
Reviews
Review
)
Customer Reviews
Fun Adventure Game
This is an interesting and unique adventure game. You start out in a motel room, you don't know who you are, but you know that you're a wanted man. You can choose to play casual (hints galore) expert (small hints) or with no hints at all. Some of the puzzles are easy, some are more difficult. At one point I was desperate for a hint and sorry I'd chosen "expert" but I managed to solve it on my own. ;) The art is different than every other casual game I've played, but its very well done, and gives the game a sort of "x-files" feel. I played the full free hour and it went by very quickly. The story line is excellent, its very intriguing, and although I'm not an adventure fan I did purchase this one because I need to know who this character is and what happened to him. I honestly I can't think of a single negative thing about this game. It's not the greatest or my favorite, but its a good one, and definitely an original in my opinion.
February 3, 2012
interesting
different and fun. I like when Big Fish Games comes up with some different types of games and this one delivers.
February 1, 2012
Liked it!
I may be in the minority, but I really liked this game! I thought the graphics style was interesting, kind of retro.The game has some challenging elements, where you have to figure out what to do next without the handholding. The story line kept me guessing. All in all, not a bad game.
February 2, 2012
A Happy Surprise
This review is based on completing the demo hour only. I see the other reviewer's comparisons to Myst and Siberia - let me add David Cage's work, especially Fahrenheit/Indigo Prophesy. The graphic novel/film noir feel and look to this game is good, and I thought the music was fun and appropriate as well. I've given it 4 stars as I have only played for an hour... Normally I don't review games until completion, but seeing these poor reviews I had to throw in my two cents about this one now. This game is not for folks who are looking for a HO game disguised as an adventure. Nor is it for a gamer looking for a fantasy, magical experience. However, if you're a person who enjoys adventure games rooted in reality, then this old-school gem is for you. Once I complete my playthrough, I believe I will find that I agree with other excellent reviews from gamers who completed the game. Although this game is imperfect, I encourage game developers to keep offering pure adventure games like these. These games have fans, and practice makes perfect!
February 15, 2012
Fun Little Adventure Game
No HOG here - just a fun little adventure game set in a bright, sunny desert. Written intro was very quick & anyone who doesn't read at the speed of light could easily miss a few words. I suspect it was put in more to allow the game to fully load rather than be of vital importance. Also, the driving scenes were simply fillers but thankfully a SKIP button was provided. DIALOGUE - short & sweet with your character given a choice of responses and questions. I don't think your choices change the storyline, but they do draw you into the adventure. INVENTORY - some needless clicking on "useless" objects but it wasn't tedious. Some items you had to guess what to look for; no outlines or descriptions were available. HINTS - I've been spoiled by HOG's that hand me what I need and walk me from one area to the next. This game made me slow down, relax & think. Hints tended to be very general. At one point I felt I had exhausted all the hiding places but was bascially told to keep looking inside & out. What? I have to do all the work? Oh no! There's no comparison between The Cross Formula & an HOG (apples & oranges), and once I got past that I found the fun factor. I recommend this game.
February 5, 2012
Try it, You May Like It (3.5 Stars)
After all the poor reviews, I wasn?t going to bother with the game. But, I prefer adventure/puzzle games over HOGs and I thought I?d try it. I?m glad I did. The story and games kept me intrigued until the end. I didn?t mind the comic book graphics and the music is good. I did like that you can change from expert to easy mode during the game, as I needed additional hints as I got further in the game. I got the feeling this game has been around for a while, before BFG picked it up, it has that older adventure game feel to it. The items collected are on the smaller side and there are no voiceovers. The worst part is the ending as mentioned in other feedbacks. I finished the last formula and was left just hanging, the game gave no indication I was at the end, no closure at all. I had to check the walkthrough to confirm it. Although, I wonder if there is a glitch in the game, because I was unable to use the exit screen button (but the menu worked fine) and it kept stating all formulas needed to be finished, which they were. The formulas are not mathematical by the way, which was my first impression. Overall, I liked it. It?s different than the usual games offered today.
February 26, 2012
What a busy, neat game this is!
I played it in casual mode. Music was good, was unaware of it mostly, I was too busy working things out for music to register! A game full of things to do, mainly mini-games, some repeated but different enough to have me totally engrossed. A helpful hint system too. The story was fine and carried me along trying to solve his memory problem whilst solving other people's problems, all good until the final which ended a bit abruptly, but I can say the same of the more elaborate games, even some C.E. games, in spite of their bells and whistles! Lots of exploring to do, and if you enjoy games where you press buttons and levers until things work in order to open a mini-game, then this is the game for you. Well done developers, it just goes to show you don't need video animations and intense graphic art, in order to make a good game.
July 22, 2012
Challenging, but incomplete
I thought this game was pretty good, except that it had an unfinished quality to it. The puzzles were fairly hard, and the storyline was good, but it seemed to lack cohesiveness. I kept thinking that more was going to happen in each area, but then I found myself going elsewhere. And, the end was terrible. There was no closure at all. I went back and tried to start it over again, because I was convinced that there was another part to it. Also, it hung up once, and I had to start all over at the beginning. In the end, I felt like there was a bare bones storyline that was just thrown in there to have some reason for the puzzles. So, I'm giving it 3 Stars, for the puzzles alone. The story was worthless as it stood. Unsatisfying.
February 6, 2012
Better Than I Expected
When I saw the other reviews for this game I was a bit worried, but after playing through the demo I decided that I could stand to buy it. Not overly challenging, this game presents itself in an almost comic-like manner which appealed to me in some aspects. In some ways it reminded me of games like "Hotel Dusk: Room 215" as the general way that the game was laid out was very similar. Overall I say it's worth it if you're in the mood for something simple, though for anyone looking for more of a challenge, you're probably better off finding something else.
February 5, 2012
A Final Chapter is Needed?
The story had me intrigued enough to purchase the game. Cartoonish graphics can sometimes be great (i.e. the 1st Nick Chase game), but these were just okay. The puzzles got harder as the game progressed, but they were just a repeat of the previous ones, especially the visions. This is an adventure game, but not too difficult of one. The length is a bit short. Without giving the story away, when the game ends, you scratch your head saying "That's it???" Perhaps this was just a tease to a sequel, but the main story itself feels unfinished. It feels like there should be a final chapter to complete this storyline. This would have been acceptable had the devs announced that this was an episodic series, like their Dream Chronicles games. Bottom line: This game is enjoyable, but could have been much better!
April 7, 2012
The Apple logo is a trademark of Apple Computer, Inc.
The Windows logo is a trademark of Microsoft, Inc.