Syberia - Part 1
[Note: If you own the original Syberia, this is the same adventure.] Search a mysterious estate and find a brilliant and mysterious inventor in Syberia: Part 1 and experience the first part of this incredible trilogy! Kate Walker is a young lawyer visiting France to close the sale of a large manufacturing estate. But when the estate's owner turns up dead, Kate must search for the hidden heir. Delve into a mechanical wonderland filled with puzzles and surprises, on a journey that reaches far into the imagination in Syberia: Part 1!
Find a missing inventor
Solve awesome puzzles
Search a mysterious estate!
Game System Requirements:
OS:

Windows XP/Vista/Win7/8

CPU:

600 Mhz

RAM:

128 MB

DirectX:

7.0

Hard Drive:

285 MB
Game Manager System Requirements:
Browser:

Internet Explorer 7 or later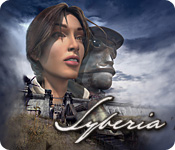 NEW299
The Big Fish Guarantee:
Quality tested and virus free.
No ads, no adware, no spyware.

Reviews at a Glance

Syberia - Part 1
0
out of
5 (
0
Reviews
Review
)
Customer Reviews
Loved it until...
I enjoyed the first part of this adventure game, with Walker's pleasant, intelligent personality and found the story line most interesting,. Later, as she met the robot, Oscar, on the train, suddenly her intelligence disappeared and her pleasant personality along with it, as she got impatient with a robot and expected him to have the emotions and thinking of a human being. Strike ONE! Then this Walker character used the Lord's name in vain in this impatience...Strike TWO! Then her boss used the Lord's name in vain in being angry at her (for doing her job?), which was absolutely unnecessary and ludicrous for the storyline. Strike THREE! It's amazing that Anna had faith in her sentiments about her brother, Hans, in hopes in her prayers to God that he would recover, and then the script of the story turns around and becomes blatantly irreverant. I refuse to play a game that insists on using the Lord's name in vain and wonder why they go to all the trouble of doing that. It's most offensive to me, a Christian and as a result, they have lost this sale. Too bad, because it started out as being upright and sound and even fun. I refuse to purchase such games that condone irreverance for our Lord.
August 9, 2012
It's an OK game
the game is ok and the storyline is fantastic. I just cannot stand it more when you have to wait and watch her running around slowly and stupidly. I was even bored enough to count how many steps she needed to cross the screen.
January 11, 2013
Good game, just incredibly short!
I really enjoy games like this: true adventure with no pointless hos's and no sparkles or hand-holding. I've been an adventure/puzzle fan since my first go around with Myst back in the day. I really thought that this game was going to be more challenging, as that is what the reviews suggest, but honestly (to me anyway) it was pretty linear and self explanatory. Every item you picked up, you almost immediately use. And when you are faced with a puzzle, the problem ISN'T that you just have NO clue at all what to do or what object to use, it's more of a trial and error... I knew what items I needed to use, just needed to figure out the order or how it worked into the puzzle. Like someone else said, the details in the game could've been better... for instance the water of the river doesn't move, it's static, yet you can hear running water...?? The characters movements were also very awkward and reminiscent of an early 90's PC game, but overall, it was decent. Would've given 1 more stsr if it was longer though... I finished it in a total of 2-3 hours (I took a few long breaks during game play, so I dont know the exact amount of time, but it was less than 3 hours.) I got this game on sale, so I can't really complain.
March 10, 2014
Disappointingly short.....
Visually, this game seems to have the right feel to it. For me, I enjoyed the aesthetics and the atmosphere and the game seems to be put together very nicely. I originally played the part 2 on a free trial, but didn't get too far into it because I decided it might be fun to play the first game beforehand. So, I bit the bullet and purchased my first ever game from this site. I have to say, however, that after the initial enjoyment of how the game actually looked, I wasn't that pleased with it. Probably my own fault for not reading enough reviews! The storyline is fairly strong, but there are a few niggling elements that really let the game down. The controls are simple enough to understand but I soon got bored with all the running between scenes when there isn't much to explore in each. I also hated the way the main character never ran off-screen, but stopped abruptly on the edge of each scene as if she'd been smacked in the face. (minor niggle, but still frustrating). My main issue with the game however, was it's length. It seems madness to me to split this game into different parts. I was ready to settle down and become stumped for a few days on certain puzzles, travel to a few different places and really get into the adventure....that wasn't at all what happened. Overall, I think the game is nicely made, has a few niggling problems, but isn't nearly long enough to warrant paying the full price for. Especially as you then have to pay for the second instalment after merely collecting a few items, information and working out how to leave the area. This game might be perfect for beginners to the point and click adventure genre, but I have to say that I won't be buying the rest of the chapters.
April 25, 2013
Fun but too easy
I liked this game but it really was too easy. For anyone looking for more of a challenge, I would not recommend Syberia.
September 23, 2012
not that great!
well game is ok,storyline is ok,characters are a bit dull and graphics well,ok.. everything in this game is ok,not a game i would recommend someone to get.. the whole game needs to be done all over again everything is in mess i think ???? im pretty sure the creater could have done a better job at creating this game,as the price is not worth paying! just saying :)
July 17, 2012
Where is the rest?
I enjoyed the game, but was really disappointed when the game finished - where is the rest of it? I really don't want to keep spending out on the next parts and I don't want to wait. Really disappointing!
March 31, 2012
I love this game
very fun, I actually lost track of the time while I was playing.
March 19, 2012
splitting a game into three parts is NOT a good idea
First of all let me say, the game itself is excellent and gets five stars for that. I bought it after buying Syberia II. I mistakenly thought that Syberia part 1 was the first game, but after I purchased it and played it and read the forums to see what happened to the rest of the game, I found out that this game was re-released in 3 seperate parts. So the original Syberia is now Syberia part 1, part 2 (still to be released) and part 3 (still to be released). I'm very disappointed that this wasn't explained properly on the purchase page. It actually said 'Note Syberia and Syberia part 1 are the same game', it didn't say that it was only part one of three parts of the same game. The developers have decided to break the game into more managable pieces to make it playable on iPads etc. I think they should have kept the entire game for purchase for PC users. I now have to pay for parts 2 and 3 if I want to actually finish this awesome game and I feel cheated, as you can buy this game whole on other sites for just one low price and you used to be able to buy the whole game on Bigfish as well for only one price. I think Bigfish should offer parts 2 and 3 at a heavily discounted price to players who have already purchased part 1. From reading the forums, there are a lot of unhappy customers out there over this issue.
July 10, 2012
I Got Lost ! Very confusing game!
Kate arrives in Valadilene in the French Alps when a funeral is taking place. She will buy a factory of mechanical toys (Automators, not robots! Do not talk the word "robot" in this town)! She goes to the hotel, talks to the receptionist, goes to the room, goes in the living room, pick up some fax,some cogwheels, a pamphlet, talks on phone with the office and walks by Valadilene. From then on, I could not do anything else! I was going back and forth ...So what? What to do? Hint does not help, inventory popping up and you can not grab things (just the phone) - because it closes ! Besides, the game is interactive, but too much!! ... Kate just walks if you click the direction ... and suddenly she stops! Ie you have to click all the time ...I enjoy challenging games, but this ...becomes boring...you have to guess! No map, no hint to help. Graphics are well done, sound is very suitable, voice over is great....but, I enjoy to play, to have fun...not to be lost..annoys!
February 28, 2012
The Apple logo is a trademark of Apple Computer, Inc.