Luxor Evolved
Step into a time tunnel and experience Luxor like never before in Luxor Evolved! Travel back to the 80s and enjoy the classic blips, bleeps, and vector graphics in this incredible Match 3 game. Take your mystical winged-shooter and collect incredible powerups that you must use to stop the multi-colored balls from reaching the pyramids as you progress through amazing levels in Luxor Evolved!
Collect awesome powerups
Step into a time tunnel
Experience Luxor Evolved!
Game System Requirements:
OS:

Windows XP/Vista/Win7/8

CPU:

1.0 GHz

RAM:

512 MB

DirectX:

9.0

Hard Drive:

67 MB
Game Manager System Requirements:
Browser:

Internet Explorer 7 or later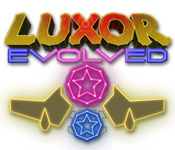 NEW299
The Big Fish Guarantee:
Quality tested and virus free.
No ads, no adware, no spyware.

Reviews at a Glance

Luxor Evolved
0
out of
5 (
0
Reviews
Review
)
Customer Reviews
Another great Luxor Game!
To be honest, when I think of Luxor, I think ancient Egypt. The theme has been pretty consistent through all of Luxor?s iterations, so can imagine my surprise when I watched an online game play video of Luxor Evolved. Talk about a totally different game! Or is it? After spending a couple hours on the game, two things were very clear. First, despite the spacey futuristic (or retro) design, the theme was still intact. Second, the game is absolutely beautiful. When you do something amazing and the slo-mo effect kicks in the view is just stunning. The visuals do take a bit of getting used to. But after around a half hour I had a lot easier time sorting out the chaos that can develop on screen. The audio track does a great job enhancing the immersive game play. This game is great and a lot of fun. A must have for any Luxor fan!
March 23, 2012
Good Nostalgic Fun!
Luxor gameplay but with sounds and visuals reminiscent of the 1980s. Different levels have play similar to Centipede, Pac Man, Missile Command, Asteroids, Galaga and more. I think it's a blast! Definitely takes me back. And the power-ups and increasingly challenging game play make it exciting and at times really humorous. I love it - My favoite new game in awhile!
March 25, 2012
Luxor but now awesome
Never realy liked luxor. but with bosses, cool powerups and the new effects and sound effects its awsome!
June 14, 2014
WOW!! This Certainly is Different
This is certainly different from the normal Luxor Games - more like marble popper meets Star Wars. There is no real storyline to speak - just a futuristic type background. Graphics are very basic in that it is a space background and line drawing channels for the futuristic type marbles. There are four modes - the usual three plus the bonus elite mode after hardcore is completed. The usual powerups are present plus some new ones - paintball, bullets etc. There are achievement awards eg. 25 hits in a row etc and a high score league table. You only start off with one life and there are bonus rounds to complete. Some of the levels are fast. The big differences are; - pulsing disco type very loud background music. - strobing or fireworks effects when marbles are blasted - minimalistic background. I really enjoyed this game for an hour then my head started to hurt from the music and the strobing. I think I would only play this game in small doses. Warning: the strobing effect which is quite intensive may make some people ill. If you like marble popper only games this certainly is different and worth a try.
March 1, 2012
Not your father's Luxor
Fast paced, techno music, neon graphics, challenging, and hyper. I called it quits 51 minutes into the demo after reaching stage 3-5, mostly just to breathe. Wasn't what I expected with the Luxor name, but can't say as I hate it. Very different take on a marble popper, just don't expect a familiar, relaxing experience.
March 2, 2012
Marble Popper with a twist
Preferred this to previous Luxor games. Addition of secret levels, bonus levels and boss battles are good. Music is loud and flashing lights could be a problem for some. Enjoyed it immensely, though would play for shorter periods of time.
March 2, 2012
Fast Paced Fun!
I love the Luxor games...and this was a BIG challenge! VERY fast paced and hard to keep up with on the easier setting! I'm going to buy this with a free game coupon as I enjoyed playing the demo. I also need a change to HO games!
March 1, 2012
More Arcade than Match-3 Marble Popper
I agree that people will either hate of love this game. It is more of a shoot-em-up arcade game than a match-3 or traditional marble popper. Sadly, it runs too fast for my old arthritic hands, much as I enjoyed the early levels. I do want to say, though, that the concept seems neither flawed not old-fashioned. If you are a fast shooter who can move a mouse quickly to capture the falling goodies, I would think this would be a very fun game to play. The graphics are original and seem to make targeting easy.
March 1, 2012
Pure adrenaline!
Pros: multiple difficulty levels, variety of game objectives, lots of powerups Cons: interface is hard on the eyes, very challenging At first, I couldn't figure out why they named the latest Luxor installment "Evolved" as it appears more "devolved" at first glance with the DOS-era graphics. Don't let that fool you though--although the main game details are simplistic, there's a lot going on in the background, and this doesn't play like just another Luxor game, either. The game objectives include standard marble popping play as well as bonus rounds in which you must try to remove all the balls before the chains go off the screen, and boss battles. If you're good at collecting falling prizes, you'll be rewarded every so often with hidden levels. These hidden levels give a nod to 80s arcade games and brought a huge smile to this child of the eighties! One of the best improvements to me compared to other MPs was that losing a life doesn't force you to start the whole level over--the chains back up instead and you get to pick up from that point with the next life. (You will still get to see the typical MP "down the drain" action should you run completely out of lives.) There are four difficulty levels to choose from with Elite locked until the game has been completed in Hard. The playing action has been stepped up greatly from previous Luxor games in that the chains are now shorter, move faster, and come out really fast. I was able to keep up in Casual, but Normal gave me a serious run for my money and required a restart halfway through to finish. Hard had me restarting the game over and over before I could get to the end... Players will either love or hate the pulsating, swirling details in the backgrounds and large, flashy explosions, with an equally energetic techno soundtrack. I personally loved the soundtrack, but the flashing got so excessive at times that this isn't a game I would recommend playing for hours on end due to the eyestrain factor. I also noticed a slight lag in action when really large setups were exploding. Recommended only for those who want a challenge and don't mind a high-intensity game. You will find yourself living or dying based on the powerups you get.
March 3, 2012
Science Fiction meets retro game aesthetic is great
Very enjoyable. The audio and visual design make it stand out over similar Luxor and marble-popper titles.
March 8, 2012