Sherlock Holmes - The Mystery of the Mummy
Exclusive
Help Sherlock Holmes, the famous detective, solve a mystery involving the disappearance of Lord Montcalfe, a famous archaeologist specializing in ancient Egyptology, in a mansion protected by Egyptian magic. The mansion is like a museum full of stunning artefacts and secrets. Go forward to the heart of the sanctuary and discover the Mystery of the Mummy.
Packed with puzzles.
Interact with Watson.
Logical and intriguing story.
Game System Requirements:
OS:

Windows 2000/XP/VISTA/7/8

CPU:

600MHz or faster Processor

RAM:

128 MB
Game Manager System Requirements:
Browser:

Internet Explorer 7 or later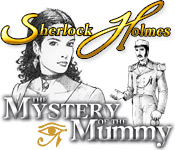 NEW299
The Big Fish Guarantee:
Quality tested and virus free.
No ads, no adware, no spyware.

Reviews at a Glance

Sherlock Holmes - The Mystery of the Mummy
0
out of
5 (
0
Reviews
Review
)
Customer Reviews
Sherlock Holmes - The Mystery of the Mummy
11
11
Not for the shy...you gotta love a challenge
Some people may find this particular game a bit disconcerting since your mouse is in 360 degree mode. If you're not used to this type of mode, you could get dizzy. It's not one of my favorites, but once you get the hang of how to use the cursor, you're hooked. This is not a game for the beginner. It works linearly, meaning that you must complete tasks in order to go on to the next task and level. Wonderfully moody atmosphere, and there are some moments where you're on the clock, so watch out. The puzzles are medium to almost "aggghhhhh", but the Sherlock Holmes series from Frogwares, never fails to disappoint. One item, no Dr. Watson in this one. Holmes is on his own. Great introduction to the series.
November 22, 2011
Test your wits and skills
When I first bought this game, I was fairly new to computer games and wasn't sure I was up to the task. And I probably wasn't, but I kept at it. Finally I made it and really did enjoy the game. I will say it took me quite awhile as I would set it aside to play something else before starting again. So what do you get? Marvelous graphics Great storyline Great sound effects Puzzles that can drive you mad and others that seem like a snap 360 movement which takes a bit of getting use too A real mental workout and a lot of satisfaction when done I highly recommend this game to those who wants go on to the next level but I would also suggest purchasing the SG as well. For those who have played these types of games I think you will really enjoy it.
February 2, 2012
Loved it
This is my favorite game. It has different games/challenges that get harder as you go and requires actual thought and processing unlike many computer games I find. It does require you to take a few quick notes and read the clues given to be able to solve puzzles. There are even a few areas that if a puzzle is done incorrectly the character dies. I think this adds to the involvement in the game rather than just clicking until you figure it out.
May 26, 2012
Yet Another Mysterious & Unsolved Error
I loved the beginning of this game; it looked like being another "Siberia". However, as excited as I was, the game suddenly crashed with that ubiquitous "Microsoft Error" and then quit on me. I have played MANY of these games, and about 40-50% of the crash with this Microsoft error that nobody seems willing or able to address and rectify. As there are no technical details other than the option to submit an error report (utterly useless), I am unable now to even get the game to switch on! However, if the short part that I *did* see was anything to go on, it seems this is another eye-candy extravaganza and not so uch a 'game' as a mental challenge. The GFX are eye-popping, the perspective simply wonderful and the muted, realistic colours add to the realism. Perhaps one day BF may address this annoying Microsoft issue so that I (and many thousands of other players) can play these games without them crashing. It may be DirectX or my video card (works fine on many other games, "Siberia" included), so why only a few games? Do they have an errant piece of code? Do they address an area of prohibited memory? Your guess is as good as mine. Still, if you're into these big file games, this one will not likely disappoint as long as you're prepared to spend a lot of time scratching your head and trying to figure out the logic and the clues, which are often obscure.
November 21, 2012
A challenge - but mainly for your patience
The first thing worth making clear about this game is that it is a detective game only in the sense that you play a detective. The gameplay does not involve detective work at all. Rather it is all about finding the necessary objects and hints to move from one room of the mansion where the game takes place to another. Of course searching the mansion may somewhat resemble detective work but not more so than the gameplay in any average adventure game. Searching the mansion is what the gameplay is mainly about. Unfortunately what this means in practice is moving the mouse cursor over every object to see which objects you can interact with which is not at all fun. It is made all the more frustrating by the fact that the mansion is literally cluttered with objects, most of which seem potentially relevant but only a small fraction of which you can interact with at all. For example there is a wine cellar where you can pick up some of the many wine bottles. The only way to find out which bottles you can pick up is to move the cursor over every one of them. Once you have found the necessary objects it is often not that hard to figure out what to do with them, although to be fair there are some challenging logic puzzles in the game as well. It is a challenging game, and I love challenging games in general, but in this case too much of the challenge comes from the need for this kind of very careful searching, in practice meaning moving the mouse cursor over every object, which (to me at least) is simply no fun. There are also some timed sequences which is in itself okay, but it was annoying that it is often not even made clear why you die when the time runs out (apparently being in a dark room without a light source will kill you). The game also feels unpolished in several other ways, for example I found it annoying to have Sherlock Holmes comment "This door is locked" when I try to unlock a door with a key. This didn't exactly boost my confidence in the intelligence of Frogware's American/Fake British Holmes. The graphics are adequate, although I've seen graphics which are both more expressive and less grainy in older games. The voice acting on the other hand is quite poor. Sherlock Holmes himself is played by an american actor with a badly faked British accent. The voice acting for other characters is even worse. The music is also really poor. It sounds more like elevator music than anything else and annoys rather than creating an atmosphere. There is no volume control in the game so you cannot even turn the music off without turning all sound off (outside of the game). The story is okay, although not as good as I would expect from a Sherlock Holmes game. It is also made less fun by the fact that there is very little real story development throughout the game. Instead the game is mostly about moving from one part of the mansion to another. It is possible to figure out what is going on from notes that you find during the game, but this is in no way required to progress with the actual gameplay and it is only at the very end that Holmes himself has something really substantial to say about the actual mystery. To sum up I found this to be a very dissapointing game with dull and frustrating gameplay that resembles detective work only in that it requires a lot of patience, poor voice acting and music and very little story development throughout the game.
November 1, 2012
Sadly not my type of game
It is just not my kinda game. I wish it were because I am always cognizant of the work that a team has accomplished developing a game for us. I tried to stick with it however I was not successful navigating the game to the extend it would hold my interest. For many this game will be of their liking so I highly suggest that one not base purchasing the game on my review. Should you choose to give it a whirl I wish you happy gaming.
December 3, 2011
What happened here?
The original cut scene was stiff, the main menu lead me nowhere, and the ability to navigate was --like--okay, what did I do wrong? I downloaded twice thinking maybe it was me, I was so disappointed because the other Sherlock Holmes games were so cool. This one was a total dead end for me. I will try for a third time, but do not recommend this version at this time.
April 18, 2013
Leener
I love sherlock holmes...I hate ones lke this where you 'walk' him around....I'm not that puter literate to be able to do this, wish I could return it.
December 17, 2012
A mystery why anyone should play it!
I hated this game (sorry Big fish!). Sherlock Holmes without Doctor Watson? Without characters to interrogate or interact with? No, no, no! It's elementary, it simply doesn't work! (yet the game description has the player believe that there are plenty of characters!?). I bought the game when I was a novice adventurer, and before I had the internet, but I gave up, when I got trapped inside a tomb, and as it was timed, there didn't seem enough time to figure out how to get out! Now you might think me thick, but if games have a timed puzzle, shouldn't it be apparent BEFORE you go into the area? Players shouldn't have to discover it's a timed puzzle, after they fail! Maybe I should've perservered, but frankly, the game didn't have enough pull, and I traded it in! This was so unlike the other Sherlock Holmes adventures, in every way apart from the graphics. I wouldn't recommend this to novice adventurers, or fans of other Sherlock Holmes games, as it was a total dissapointment. Try instead, any one of the others, particularly, Secret of The Silver Earring, or Sherlock Holmes vs Jack the Ripper, which were excellent, and had the fundamental ingredients of superb murder mystery adventures!
March 14, 2012
Hated this game
I uninstalled this game about as soon as I got it. It is not up to the standards I expect from this site.
June 16, 2012