Nightfall Mysteries: Black Heart
Stop the evil Vansig family before they point their vengeful wrath at your friend Christine in Nightfall Mysteries: Black Heart! Just as Viggo and Christine believed themselves free from the shackles of the Vansig family, an enemy they thought dead returns to kidnap Viggo, destroying the newfound peace of the lovers. Powerless to save Viggo by herself, Christine has called upon your help in Nightfall Mysteries: Black Heart!
Save Viggo and Christine
Explore the secretive manor
For a more in depth experience, check out the Collector's Edition
Game System Requirements:
OS:

Windows XP/Vista/Win7/8

CPU:

1.0 GHz

RAM:

1024 MB

DirectX:

9.0

Hard Drive:

309 MB
Game Manager System Requirements:
Browser:

Internet Explorer 7 or later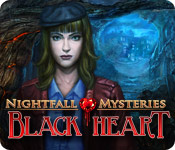 NEW299
The Big Fish Guarantee:
Quality tested and virus free.
No ads, no adware, no spyware.

Reviews at a Glance

Nightfall Mysteries: Black Heart
0
out of
5 (
0
Reviews
Review
)
Customer Reviews
Nightfall Mysteries: Black Heart
72
72
Enjoyable game
The graphics and storyline in this game are very good - The puzzles are very entertaining. There are as usual far too many Hidden object scenes, which I find boring and feel they detract from the game itself - but it is difficult to find a decent adventure game without them. - Overall this is a great game and I would recommend it to my friends.
April 30, 2012
Demo Only
The music and visual arts were very good. The hint key was okay. It filled quickly but did not help a lot in regards of what to do next or what you missed and needed to pick up. The hos scenes were well done, but one or two of the items were difficult to find in each scene.The storyline was good, but needed to play the other nightfall mysteries first as this was a continuation of a prior game. Overall I enjoyed the game and will probably purchase it soon.
March 4, 2012
Good solid game would buy again
This game had good puzzles that were doable in one sitting. I prefer games that don't repeat the same puzzles. This game was a success for the most part in that aspect. I play in hardcore so that I am not tempted to hint or move the game along too fast. The HOS were fun and required more that a basic repetive find the same old things.HOS were repeated so I did memorize some objects. The HOS included a list of words some of them required an extra click to find the object. I prefer this type over the HOS that show you pieces of an object to find. Good work on the HOS. The SE did not have an interactive map but the map did hint to where areas of interest were. The story line was the biggest drawback for me. I did not enjoy the detective and the other interruptions while playing but I am very hard to please in this aspect. I hink I detected a familiar very well know voice which made me give it an excellent on sound quality. The visuals were fun too. One other thing that was slightly irritating was the reward box that popped up when I found an object. It was big, red and always cheery.... "Congratulations you found the Chain." I had to click on the box and again to get back to game play. I finished this in less than a week(not playing all of the time but would play a couple of hours at a time) The end seemed rushed to me as the puzzles and challenges got easier. SUMMARY: Since I don't like distractions the storyline and pop up boxes hindered the game play for me but the visuals and memorable voice along with the HOS made this a keeper for me. A challenge but not too hard. As picky as a am I would buy again. I wonder if the CE would have helped me give it a better rating?
March 26, 2012
Decent Addition to Series
Just to clarify, this is the third game in the series even though storyline-wise it is the direct sequel to "Curse of the Opera" (the first game). If you want to play them in chronological order, play "Asylum Conspiracy" first then "Opera" then this one. However, I don't suggest doing it that way because if you play "Asylum" first, you will ruin the awesomeness that is "Opera" and spoil the surprises. So I suggest playing them in order that they were released: "Opera", "Asylum", "Black Heart". "Curse of the Opera" is one of my favorite games ever on this site and was glad to see a direct sequel had come out. I didn't really care for "Asylum Conspiracy" since a lot of details just didn't add up to the way they were in "Opera". "Black Heart" doesn't worry about going back in the past though, it focuses on finishing up the storyline and that's how it should be. I liked that they brought some characters back and tied them into this game. The finale was pretty lame though if you ask me. There wasn't even a final puzzle, you just literally click something to put in your inventory and then place it somewhere else and then that's it, you get the final cut scene and it's game over. Could have been waaaay more exciting. Anyway, the puzzles are relatively easy and there are thankfully not an overload of HOG's, you only revisit a few scenes maybe twice and they are spaced out pretty well. The journal contains your basic clues/storyline observations, and the audiotapes section like from "Asylum", and also a very handy map that lets you know when something of interest needs to be investigated in other rooms. Overall, not a bad game, but seeing as how it's possibly the last game in the series I would have preferred to see it go out with more of a bang. The scenario we get as been done repeatedly (someone gets kidnapped, you have to save them, blah blah). But it's still not bad, if you like this series and want to know what happens to these people then check it out!
March 13, 2012
Nice Game
This was a nice way to wrap up the series. This game was more like the first (Asylum) and was much better than the second (Opera). The graphics were not the best, but were acceptable and the HOS were clear. The voice overs were excellent! The game was lengthy with lots of rooms to explore and items to find. Most of the mini games were fun. I skipped a couple of them because I wanted to get on with the game. The map was good and the hint button recharges quickly (although you really won't need it more than a couple of times). The journal provided assistance on some of the mini games. There was one technical glitch that didn't affect the game, but made me keep revisiting one room because I thought there was something else to do. The only thing I really disliked about this game was the ending. It was rushed and somewhat unsatisfying. You do find out what happens to the characters, but after such a lengthy game it seemed to end too abruptly. I recommend this game, but would suggest you play the first game in the series (Asylum) before you play this one.
August 11, 2012
A very good Tale
An interesting story line but alot of back tracking. Voice overs were nice along with the graphics. Very colorfull and easy to see items some of which you have to carry for a while and others you look for in one HOS and have to return to another HOS to complete it's object list. Well worth the price.
March 21, 2012
Pretty Cool Game for all Levels
BASED ON COMPLETED GAME ON HARDCORE LEVEL EXCELLENT: Story Puzzles, easy to challenging but all doable with thought Music adds excitement Voice overs are great GOOD: Map shows you where you are and where you need to go Graphics Lots of places to go Interactive characters Pace of game is pretty quick Longish game Didn't see any pentagrams Map keeps backtracking manageable OKAY HOS are nice but are repeated and ask for the same items on occasion Ending is a bit sudden, but its good SO-SO Map is not a jump map Some items in the HOS are small or visually blend with surroundings making them difficult (not impossible) to find For those with blood phobias, some blood and organs Demon and demonology references OVERALL IMPRESSION Lots of fun, some thinking involved, pretty good story, suitable for all levels of adult players.
September 24, 2013
A bit anticlimax for SE
The ending for this story is rather anti climax it may need some work. From the beginning and before the ending part the story is rather interesting and fun. There is some challenging puzzles to solve while most of the challenge is not too hard. There is a map for this story and it's easier to navigate with it and would not be able to get lost or lost sight of what to do next. Everything is pretty straight forward from the beginning to end. It may seem a bit scary but it's not overly so. You can play this game at midnight without feeling being spooked. I give this game SE a four star since I am disappointed with the ending. The storyline and game play with the ending just need a bit more work. It didn't end well as I expected to. It was going good for majority of the story too. I recommend it since it's still a great game to play. The graphics is good and it's a adventure type of game with some hidden puzzles to find & solve. I don't mind play it again.
June 9, 2013
Always a pleaasure
I have played all in this series and this one did not disappoint. The graphics do seem a little old school but they are decent. I enjoy the stories in this series. It does help to have played the others to follow the story. Game play merges well with the plot. There are always several items to collect. I look forward to the next audio tape to disclose more of the mystery. There is a map that displays objectives. The Hint points out an action in a scene to be completed or if there is nothing to be done. There are not as many puzzles as HOS and they are from easy to moderate difficulty. Only down side, less HOS would have been better. This series has continued to improve. Always a pleasure.
April 12, 2013
Long game with many rooms!!! Enjoyed
It is nice to have a game with some longevity and challenge.
April 7, 2012
The Apple logo is a trademark of Apple Computer, Inc.