Nightfall Mysteries: Black Heart
Stop the evil Vansig family before they point their vengeful wrath at your friend Christine in Nightfall Mysteries: Black Heart! Just as Viggo and Christine believed themselves free from the shackles of the Vansig family, an enemy they thought dead returns to kidnap Viggo, destroying the newfound peace of the lovers. Powerless to save Viggo by herself, Christine has called upon your help in Nightfall Mysteries: Black Heart!
Save Viggo and Christine
Explore the secretive manor
For a more in depth experience, check out the Collector's Edition
Game System Requirements:
OS:

Windows XP/Vista/Win7/8

CPU:

1.0 GHz

RAM:

1024 MB

DirectX:

9.0

Hard Drive:

309 MB
Game Manager System Requirements:
Browser:

Internet Explorer 7 or later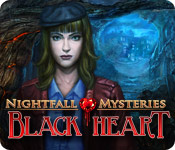 NEW299
The Big Fish Guarantee:
Quality tested and virus free.
No ads, no adware, no spyware.

Reviews at a Glance

Nightfall Mysteries: Black Heart
0
out of
5 (
0
Reviews
Review
)
Customer Reviews
Nightfall Mysteries: Black Heart
77
77
Solid chapter in a promising series. SE would be my call.
This review is based on a complete playthrough of the game and bonus content. Most of this is copied over from my review of the CE. First off, the Bonus Content so you know what you'll be missing by getting the Standard Edition: Not as strong as it could have been, and that's being generous. The bonus chapter took me a bit more than an hour, and basically added a 'mini-chapter' that develops your character and sets up another sequel. A couple puzzles and HOS all done in about ten areas. Nothing really earth-shattering. A tetris style jigsaw was the highlight. There are collectible masks to find - I found 12/15 which was enough to 'unlock' everything: you get to do the same puzzles and HOS from the game as many times as you like. Yippee. Screensavers, Concept Art, and a few music tracks fill out the 'swag'. Now for the main game: THE GOOD: Took me over six hours to play through the base game, mostly on the highest difficulty (no help at all), though I did use the occasional hint and even one skip. There's no option for "no sparklies" but hint and skip still enabled. come 'on devs! We reprise our role that we had in 'Opera' helping out the protaganists from 'Asylum'. Our fearless detective friend also returns. The voice actors seem to have been kept consistent throughout the series thus far, which is a big plus in my book. Some top-notch work there.Similar artwork and style to the previous games as well. HOS are well drawn, well-lit, and not random junkpiles (for the most part, anyway). I mentioned the voice-acting. Dialog was interesting, just be careful you don't click through it too quickly - you may miss something. The story was interesting. I highly recommend playing at least Asylum before this one so you'll know the dramatis personae. Opera is the weak link in the chain (and I think the first released, though the 2nd chronologically). At over six hours for the base game, you've got a good solid title (your time will probably be faster than mine, I like to smell the roses and puzzle things out myself as much as I can). Just like in Asylum, collectible cassette tapes let you into the viewpoint of the antagonist and other characters. THE BAD: "Widescreen" still just distorts the game. Hint system. We get the dreaded "Nothing to do here". I also had at least two 'hot spots' fail to update correctly, and a few more show up before I'm able to do anything there. I was hoping for more improvement here over the prior games. THE UGLY: Other than a few minor typos and grammar issues, not much. They have tightened up their production in this department. BOTTOM LINE: The SE really seems to be the way to go on this one (IMHO). There just isn't that much 'new' story or development that happens in the bonus to justify the price of a second game. If you've played the first two, you can probably guess most of it already. A solid four star game as a Standard Edition - I dinged a star for the Hint system problems they've kept over from the last game and no real wide screen. If this ever comes up as a DD I wouldn't hesitate if this type of game is your cup of tea.
August 1, 2014
THIRD IN THE SERIES
LENGTH: 5 hours casual. Anticlimatic ending. Ending for the detective wasn?t very believable, but I guess it could happen. The first two in the series were better. GOOD: - Plenty of HOS. - Hint recharges very fast. - Gameplay focuses on plenty of HOS, generally not too busy. - Mini-games are of varying degrees of difficulty, starting fairly easy, ending with more challenging puzzles. - Map shows where actions can be taken. Not interactive, but not really needed. IMPROVEMENT NEEDED: - Information on the top black line ? s not there long enough to read. - Music, while not intrusive, does not always fit with the on-screen locations. - Hint could be more helpful. Points out nothing to do there ? fine. But it also points to something to be done; only you don?t have the tools for the task yet, so you waste time trying to figure out why your inventory tools won?t work and wonder what you?re doing wrong. - Story: Christine and Viggo and Det. Thomas keep disappearing. I can understand the detective going off on his own. But Christine should at least be accompanying you. Where is she? What is she doing to help? It?s like she was cast into the story for some unfathomable reason, other than she was in prior stories. And she and Viggo disappear after he?s rescued and you have no idea what they were doing to help escape. - Low resolution graphics ? okay but not great. - Couple of the puzzles near the end didn?t appear to work. In one, the beginning portion of the puzzle looked like the solution. Maybe I missed something, but I looked at it several times.
December 20, 2013
Enjoyed the game
This game had a good story and was long in length. Good sounds and graphics. A lot of running back and forth. The HOG?s were re-visited. Worth a try.
July 14, 2013
Weak Entry In A Great Series
Consider this the Back to the Future II in the Nightfall Mysteries series. The first game was fantastic, the second very good, but it unfortunately seems that the developers are content to leave it there. The problem with setting a really high standard is that you have to continue to up the ante. I'd like to say that this does, but it ends up being very average. The story will make sense if you've played the previous games, but is essentially a rather blatant ripoff of Frankenstein. I actually enjoyed it for the most part, but the ending is completely anticlimactic and way too simple for such a complex backstory. You can gather cassette tapes to fill in even more of the narrative, but they don't unlock any bonus features in the standard edition so there's little point. Voice acting is plentiful (a welcome touch) and not bad at all with the exception of the evil countess who sounds like she's auditioning for Young Frankenstein. Music is inoffensive and largely not memorable. I found the graphics to be below par. The first two games were much better in that area and this looked thrown together. The estate is huge, but the poor visual quality doesn't make it stand out at all. Challenge level can be set at the beginning. Even at the hardest level, it's nothing too challenging. Puzzles are a myriad of things you've seen before, though there were one or two that I found creative and enjoyable. Hints will point you in the right direction or tell you there's nothing to do in the room you're in at that time. Hidden object scenes will be repeated, and you'll do some minor "open the drawer" type things to find items, but there's far too much obvious deliberate backtracking. At the end of the day, had this been a stand-alone HO game I wouldn't be so harsh on it. The game is lengthy enough, and you get your money's worth on hidden object scenes. But the earlier entries are far superior (particularly the first game, which is a must play) and I think they've exhausted this storyline by now. It unfortunately shows with the lack of attention to detail.
March 26, 2012
Not as good as the previous two
The series that started with exploring a small town moves to a fairly standard creepy mansion, which as usual is full of doors that open when you insert some object you picked up four rooms away. How the people who live in the mansion get around the place every day is hard to figure. Maybe that's why you only see them in occasional cut scenes, even though the place isn't that large and you are backtracking through it constantly for a few hours. There's a fair amount of that sort of absurd adventure game logic, here, in general. Sometimes you need a special tool for a job that you could obviously do with your bare hands, but then in the next moment you'll be such a Macgyver you can fix something just by throwing a dirty old chain at it. The plot has some serious hiccups, including a spectacular crash that happens right in front of you and yet injures no-one. (Your character actually expresses urgent concern for the victims, but then forgets all about them after the crash scene turns out to be a hidden object jumble.) The characters who periodically appear in cut scenes are tolerably voiced and add some interest, but they appear and vanish abruptly and are otherwise nowhere to be seen, even though they are supposed to be around doing stuff just like you. The bottom line is that this is an unusually non-immersive game even for a HOG adventure, despite its quite good production values. It looks good, but it reminds you again and again that the plot and setting are really just excuses for a series of mildly challenging puzzles. Otherwise it's a decent enough game, and may be worth getting if you liked the two predecessors and want to see the story continue.
March 17, 2012
Disappointing....
This review is based on the demo only. I have played NM Black Heart and Curse Of the O. and the games are really ok. But this game: No hints explanation, no fantastic storyline, just an average game. The sound - I have never heard such a boring sound. No game for beginners. I was very disappointed.
March 9, 2012
Liked It Well Enough To Buy it!
Overall, I liked this game. I took advantage of the BOGO free deal Christmas weekend. So it was worth it. I didn't play the prequel to this game. And from how the reviews look, I'm not going to waste my time with it - not even for free. But this one was cool. The visuals were good, not great. I'm guessing the storyline is ok. But I can't say for certain because I didn't play the first game. However, it provided me with enough information to know that it was a continuation of the first game. I liked the fact that it did have a map. However, it wasn't interactive. I thought the ending was a little weak. It does provide enough mystery whereas there may be another installment to this game. I would say definitely play the trial first. Then decide. But I do recommend it.
December 22, 2012
Not as good as the last game
I thought this game was just OK. The hints fill very quickly,and the skip of the puzzles fill quickly as well. These are the good points. I was disappointed in this game after Asylum Conspiracy, which I thought was just excellent. I didn't think the story flowed very well.
March 5, 2012
just couldn't get into it
I played through the trial and it was an ok game, the HO scenes weren't bad and the storyline was ok. But the whole game was just ok, there was nothing about it that inspired me to buy it. If you have extra money and time I'd recommend it, otherwise pass.
August 1, 2012
I don't understand the hype...
For me the graphics of the game were just terrible. So bad that it made the hidden object scenes very very challenging. The look of the game is very fuzzy. I have played many other games that looked better than this one and I know that it is not my computer. I was so dissapointed with the graphics that I could not even stand to play the game for more than 10 minuets. It is a shame because I was really hoping to enjoy the game since the story seemed interesting enough.
March 16, 2012
The Apple logo is a trademark of Apple Computer, Inc.