Pahelika: Revelations
Return to the world of Pahelika as there is trouble brewing in the land of Dhara! Go on a whole new Adventure in Pahelika: Revelations! After finally getting his hands on the magical book, Sudesh Budkoti realizes that he has released an ancient evil. Help Sudesh go back and prevent the evil from causing utter destruction. Solve tricky puzzles and explore incredible locations in Pahelika: Revelations!
Stop an ancient evil
Solve tricky puzzles
Return to Pahelika!
Game System Requirements:
OS:

Windows XP/Vista/Win7/8

CPU:

1.0 GHz

RAM:

512 MB

DirectX:

7.0

Hard Drive:

236 MB
Game Manager System Requirements:
Browser:

Internet Explorer 7 or later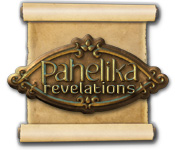 NEW299
The Big Fish Guarantee:
Quality tested and virus free.
No ads, no adware, no spyware.

Reviews at a Glance

Pahelika: Revelations
0
out of
5 (
0
Reviews
Review
)
Customer Reviews
Pahelika: Revelations
46
46
Pahelika: revelations rocks!
I played the first Pahelika a long time ago. As soon as I saw this one I had to try it. I did not even finish the demo before I purchased this game! If you like a real challenge and you like magic, wizards and time travel, like i do, you will love this game. There are no hints to use but there is a walkthrough available. A tip for those of you who might not know is if you are in the walkthrough and minimize it, then open the game, you can then press alt+ tab and toggle betweeen the two without having to close out the game. This will allow you to continue forward without so much trouble. This is really a great game if you want to use your brain a little without so much help!
March 4, 2012
At long last its here !!!!
I have waited a long time for the next installement of Pahelika and finally I have settled down with my cup of Jo to venture into the the land of Dhara. Those of faint hearts take heed! Absolutely NO HINTS and No Hand-holding of any kind so you and your grey cells are left alone to wander in and enjoy the experience of a true adventure game. Although this is the second installment of the Pahelika series, the storyline is stand alone and unique. However I do suggest you try the first game to familiarize yourself with the backstory. Options include two game modes and 3D. The Graphics are top notch, and there is voice-over during the cut scenes. As I mentioned earlier there are no hints available so you really have to use alot of brain power to move about. The min-games and puzzles are intricate and that only adds to the fun; the walkthrough which is available will be appreciated by many. For those who have complained about too many sparkles, too much hand-holding, be careful for what you wish for! This is certainly a game that offers a great deal of challenge and I recommend it to the many adventure seekers like myself. Enjoy!
March 4, 2012
Thrilling Sequel
I agree with some of the other fishies, why all the negative reviews. So many of you have been asking for something diferent than the usual HOG. Pahelika: Revelations gives the gamer just that. A true adventure game. If you are an adventure lover, this game is well worth it. No hints or handholding. Put your grey cells into gear with some logic and wit then have a great time solving mysteries in the wonderful adventure game. Thanks BF for listening to your fishies and giving us a compelling adventure game.
March 10, 2012
Quite Challenging
Love this series. This is an adventure game of puzzles, with no hint system. I especially enjoyed the riddles you had to solve to progress on different levels. This game is probably not for the casual gamer as many of the puzzles will have you scratching your head wondering what the heck to do. But there are walkthroughs available which you may want to have handy. (I hate to have to use hints or walkthroughs but I did with this game) I suggest you leave no-stone-unturned when exploring an area because some of the items you may need are small or blended into the scene. The story is good but the "cut scenes" are done with a comic book-type of structure. Unimpressive. I really enjoyed going through the worm-hole teleporter.
March 9, 2012
Hurrah for a real adventure game!
I'm only about halfway through so far but enjoying this one a lot. It's rare to see a true adventure game these days, rather than the hidden object hybrid variety. If you are only familiar with H.O. games, you may find this one frustrating since there are no hints, as has been noted by other reviewers here. But don't be turned off by the negative reviews before giving it a shot. Imagination and logic (and a bit of patience) will take you a long way towards solving the problems. I definitely recommend this for fans of adventure games, and encourage H.O. fans to try it too.
March 6, 2012
Finally, a game for the Adventure Lovers
First, this is NOT a game for beginners, or HOG lovers. That said, WOW, watch what you wish for! I've been wanting a game like this for so long. Tired of lists of "hide and seek". Love the adventure games, could do without the HOG. This was a difficult game for me. I normally play in expert mode; here I had to switch back and forth between expert and casual in option setting. And yes, I frequented forums and as a last resort checked the walkthrough on occasion. This is a great game for those of us you HAVE to finish something we started, HAVE to find why we are 2 cents off in the check book, if you?re looking for a game to play to relax w/a glass of wine, this may not be it. It gets your brain to think outside the box, use your resources, and sometimes know your limitations, and when to ask/seek help. In this day of computer gaming I would think they could have done more with the graphics even the HOG's have so much more enticing artistry. They could have put more effort into the cut scenes. The voice over/acting is ok. Overall, enjoyable, frustrating and want more of these types of games?.
March 10, 2012
Impatiently Awaiting Another Pahelika!
After playing the first two "Pahelikas," I am impatiently awaiting another installment in the series. There were negative reviews of these productions and I don't understand why. Both "Pahelikas" were very adventuresome and full of Old World intrigue. They held your attention. They even demanded it! A few of the puzzles were very difficult and some items were hard to find. I have to disagree with Wombat, who found the second Pahelika easier than the first. I thought the first one was a "walk in the park" compared with #2. In any case, the developers at Ironcode have a great thing going with the Pahelika Series and I hope they continue to make sequel after sequel! Buy it! It's really worth it!
August 8, 2012
A really great game
I don't know how I missed the first one but I did, I will go and play it even thow I have played this one. This is a great game so much to do and so much to really think about, it is challenging and very interesting. I really appreciate the picture, color, grafics, and the sound, there is not one dull minute or repetative nonsence in this one. I highly recommend it and I am going now to start the first one, have fun if you like a challenge, its worth it.
March 5, 2012
Awesome game! Makes you think!
This was a very good game! A challenge to find out what you had to do next and what you had to use to advance in the adventure. Love that you had to use your brain in this one! It was great fun to conquer making the potions and use the magic to get to the next destination. There are no "real" hidden object scenes, but you pick up items in your travels. Again, you really need to think about what you will do next, as there are no real hints. We also played the demo on the first installment and liked this 2nd one better, so we made the purchase and are pleased. If you don't want a challenge and need constant hints and/or guides, this game is not for you, but try the demo. You may like the change from the "normal" game selections.
March 11, 2012
I adored this game
I really adored playing this new Pahelika as much as the first one. I couldn't wait for this game to be edited in french so i bought it immediately on the english site ! These games (Pahelika 1 & 2) are so special, so different from the other games, sometimes very difficult, they require much cogitation, but i love find or try to find the solution by myself. Pahelika is unique ! please give us a Pahelika #3 ! please please please !
May 2, 2012