7 Gates: The Path to Zamolxes
A long time ago, the Dacians asked their gods to hide their treasures. Now, you have been chosen to find the treasures and return them to your people in 7 Gates: The Path to Zamolxes! Pass through different temples and return home in this amazing Match 3 game. Embrace your destiny as the chosen one as you progress through tons of levels and find the incredible treasure in 7 Gates: The Path to Zamolxes!
Explore the temples
Solve tricky puzzles
Find the hidden treasures!
Game System Requirements:
OS:

Windows XP/Vista/Win7/8

CPU:

1.8 GHz

RAM:

1024 MB

DirectX:

9.0

Hard Drive:

285 MB
Game Manager System Requirements:
Browser:

Internet Explorer 7 or later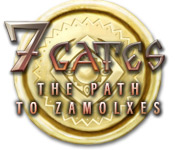 NEW299
The Big Fish Guarantee:
Quality tested and virus free.
No ads, no adware, no spyware.

Reviews at a Glance

7 Gates: The Path to Zamolxes
0
out of
5 (
0
Reviews
Review
)
Customer Reviews
7 Gates: The Path to Zamolxes
43
43
A lot of potential
This game could have been great. But, it is a timed match 3 that does not allow for new matches while the board is clearing previous matches. If that was fixed, it would be a definite buy for me. I only played the first temple and almost used my whole hour so this should be a good length game. Great graphics. A very interesting storyline. If you like Match 3 games give it a try. I will wait for a sale to buy, but others might snap it up.
March 7, 2012
A Must Have for the Match 3 Lover!
Colors are spectacular and the story line is riveting. I tried the demo and purchased and am presently on my 2nd time through the game to improve my score. The HO areas at the end of each gate are bit difficult, but they can be managed. A hex cell game that can perplex some people who enjoy Match 3, yet enjoyable all the same.
April 21, 2012
Another Favourite
I wasn't going to buy this game, until I saw a couple of reviewers list this as a favourite in another game review, so decided to buy it. At first I didn't think I would like it, but after a while, found myself really getting into it. Other reviewers have listed the pros and cons of the game, so I just want to say "thanks" to those reviewers who listed this as a fave, and gave me a chance to get another fun game.
May 2, 2012
wonderful
It's wonderul and excited that's why I want to it and then buy it
June 2, 2012
Fun Game with Challenges
I finished this game today, after taking a LONG break. Hexagon Match-3, beautiful graphics and compelling music. There are a few HOs at the end of each section, but except for the story, these are not much of the game. The story is based on the history of the Dacians, an actual people who lived in the near middle east 2000 years ago. Check Dacia and Dacians in Wikipedia for more information than the game gives. Play is easy, all matches must be made drag and drop - click does not work. The most frustrating part of the game is that you must wait until all matches are done before you can make another move. Sometimes a series of matches that you have plotted out will be erased during a long matching session. While there is not a "real" clock, the color of your award for each session (gold, silver, bronze) is determined by the time you take to complete the level. Levels become increasingly more and more difficult to finish in gold time. Later levels need the power ups to finish at all. Even with the challenge, I really enjoyed this game. I am now going back and trying to complete all the levels at gold - a huge challenge for slow fingers and weak eyes me, but the game is fun enough for me to want to do it.
September 28, 2013
Level 3 first chapter
Not impressed with this level, have clear the number of shapes needed, have one space that needs to be filled in but can't and there is absolutely no help anywhere that I can find in order to complete the level and move on.
July 11, 2012
So-So Match Three Game
This M3 game was just okay. Even though this has been my favorite type of game for a while, the really good ones are few and far between. This was one of the monotonous ones. I played the free trial and it was mostly the same throughout - rotate same colored shapes in order to line up at least three in a row. There was a bit of strategy in there but not enough to keep my interest. Between each set, there was a statue of a women who looked like she had a gold skin disease that sloughed off as the game progressed. I wasn't paying much attention to the story line but, all the same, it wasn't a particularly pretty image.
April 25, 2012
A little M3 mindless fun
Okay, M3 games are fairly easy and there's not much new about them. No great buzzers or whistles on this one, either. It's your standard M3 game with a mythology theme. Complete the puzzles and restore the temple of a god/goddess. There are the usual ice and chain blocks, and the single, double, triple match blocks to remove from the board. Same repetitive music throughout. There's a little hidden object challenge at the end of each section (temple) - a nice bonus, but not difficult because you get plenty of help if needed. That being said, it was slightly challenging - I actually did not get all gold in the first level, although I think I would if I had gone back to play those levels again. That alone made me sad when the 1 hour demo was done - I found myself wanting more time, and that's a good thing for a game. There's also a "color" challenge in some of the levels (have to remove x number of a certain color), and a "bring the amulet piece to the bottom" challenge, but neither of those were too difficult to achieve. I would have liked more power-ups, and not just color-based ones given in this game. (earn power-ups by making matches in a particular color; the power-up then helps you remove that particular color from the board) I like bombs and hammers and such - things that are really helpful. You have to drag-swap pieces, not click on one then the other. Most M3ers prefer the drag-swap anyway, but it's nice to have a choice. I do like that you can skip the story and the temple-building if you wish. Overall, it's not a bad game, just not over-the-top fun, either. I might go for it when it is deeply discounted, but not just yet. I am going to give it a recommendation because it really doesn't have a lot of negatives to keep anyone away from it. If you really like M3 games, you might want to give it a try and make your own judgments. Happy gaming!
March 9, 2012
Like Math 3 games but
not this hexagonal straight line game. Not for me. Good graphics, nice story line. bad game play.
March 7, 2012
The Potential Is There
This game has all the potential in the world to be a great game sadly it doesn't last. The graphics are really nice. It is your basic match and swap match 3. It started out fine there is no timer but sadly this game needs one or at least give the player the option to have a timer because with the honeycomb shape board it quickly can become a chore just to finish a level it just seems to go on and on and the few levels that I did play there is nothing like a hammer or any type of power up that you can use to knock out that last chip and that is where this game quickly died for me and I found myself becoming very irritated with it because it just became very tedious and too much work to even try and complete a level with these types of boards it's best to have the chaining method or again give the player that option to choose the type of board or method of play because the basic swap is very hard with this type of board especially if there are no power ups to help out, then there is the hidden object scenes and the objects are so well hidden and small they are almost impossible to find without constantly hitting the hint button. Needless to say after a couple levels of this mind numbing and tedious game play I quickly gave up and deleted the game it was just simply not worth the time to continue and that is sad because the potential is there but sadly the potential doesn't last and I was really hoping it would get better but again it didn't and it just became so tedious and overwhelming boring. I love a good match 3 but sadly as beautiful as this one is it is not a good match 3 and really needs some revamping. Sorry dev's I love the effort and time you put into the game and as I said the potential is there but you just let it fall short too early on in the game. This is just my opinion on the game however it is worth the demo but for me that's where it ended.
March 7, 2012
The Apple logo is a trademark of Apple Computer, Inc.