Committed: Mystery at Shady Pines
Committed: The Mystery at Shady Pines finds you strapped to a bed inside of an abandoned hospital! Escape from Shady Pines and save the other patients! Explore the mysterious hospital and stop the psychotic doctor before it's too late in this incredible Hidden Object Puzzle Adventure game. Navigate terrifying twists and survive special surprises as you solve challenging minigames and uncover the truth in Committed: The Mystery at Shady Pines!
Stop a psychotic doctor
Spooky hospital to explore
Escape from Shady Pines!
Check out our Blog Walkthrough
Game System Requirements:
OS:

10.7/OSX_10_6/OSX_10_5

CPU:

1.0 GHz (INTEL ONLY)

RAM:

1024 MB

Hard Drive:

327 MB
Game Manager System Requirements:
Browser:

Safari 4.0 or later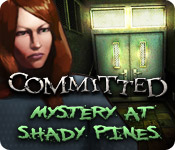 NEW299
The Big Fish Guarantee:
Quality tested and virus free.
No ads, no adware, no spyware.

Reviews at a Glance

Committed: Mystery at Shady Pines
0
out of
5 (
0
Reviews
Review
)
Customer Reviews
Committed: Mystery at Shady Pines
49
49
Awesome game
I have a soft spot for games that are set in aslyum hospitals. If they are well done, there's just something spooky about them. This is a HO/adventure game. The visuals are excellent as is the storyline. The mini-games are skippable and the skip button loads quickly if you get frustrated with a mini-game. I give it 10/10.
October 1, 2012
Enjoyable
This game has all the makeup of an awesome game though is missing something. There are a lot of rooms to get into though not as many challenges as I'd expect for the size of the map. There is a map that indicates where things are if you want help which I found handy with the map being so big. It would have been nice if you were to help the other patients escape and when transported into another realm, had more to do there. Some of the puzzles were a little easy.
November 26, 2011
Good Game
Really enjoyed this game, just over 3 hours of play, great storyline but a bit too much back and forth for my liking and the HOS were a little grainy with the items being quite difficult to find and very small sometimes. Doesn't have a hint system in place (only in hos) but the map gives enough hints on where to go next if you feel stuck. Quite enjoyable.
April 5, 2012
look like a good game to me
I played it for 15 min and bought it. Was only $2.99 so what could I lose. The HOS were easy and the game had a good flow to it. Has voice over and the graphics are good.
October 1, 2012
It's all in the execution
The game starts out with a premise I've seen before: your character wakes up in a bed in a derelict hospital with no memory of how she got there. However, the interesting story, atmospheric graphics and sound effects, entertaining plot element where you enter the minds of other patients and creepy imagery all combine for an experience that lifts the game above its cliched beginning. The graphics did a great job of conveying the dinginess of the hospital and there is a scene near the beginning that was wonderfully creepy (don't want to spoil it). You find audio tapes throughout the game that slowly reveal the story of the hospital and what happened to its patients (and to you). Occasionally over the PA you hear some propaganda about what a great place Shady Pines is that adds to the menacing atmosphere. I got to the part where you have to enter the first patient's mind and considered this a five star game at the time. But then towards the end of the game, I thought that it lost a bit of steam, and the reveal of your true identity wasn't that satisfying. Not because I had already guessed it, but because there was a glaring loophole in the plot that was never explained. There is a map that highlights locations where there are hidden object scenes, puzzles, items, etc. which I always appreciate in HOGs. There are quite a lot of hidden object scenes; these are junk pile style, and while the graphics seemed a little grainy, I didn't mind as much because it fit in with the "decor" of the decaying hospital. The puzzles, while fairly easy (i.e. average for a HOG), are generally well-integrated with the story. In order to enter patients' minds, you have a machine that displays their brain waves and you have to adjust the wavelength, amplitude, frequency and phase of another wave on the screen to match it. Once in their minds (some pretty spooky locations!) you solve a riddle that is related to their circumstances to finish a puzzle. Despite the story running out of steam a little towards the end, this is still a high quality, atmospheric game that's well worth playing.
September 5, 2012
Committed: Mystery at Shady Pines
A 32 year old patient wakes up strapped to a bed in what seems to be an abandoned Mental Hospital. Her chart reveals little other than the fact that she has been in a coma for over three years with no hope of recovering, she is only known as patient number 100! Your first task is to find a way out of the locked room and escape from this asylum, problem is that there is a psychotic doctor calling the shots, and other patients that need help escaping as well.The graphics on this game are grainy and greenish on purpose, it really sets the stage for creepy, psychotic, unorthodox abandonment. There is a map that shows locations that have a mini game or HOS but cannon transport you there, you must old school click and walk, and there is a lot of back and forthing which can be a huge turnoff for some gamers. There is no hint system in the game itself, only available in the hidden object scenes. The hidden object scenes can be difficult because of the grainy dark graphics and some of the items are partially hidden behind other items. There are mini games where you try to enter the other patients minds through a monitor by adjusting the wavelengths in yellow with the wavelengths in green by turning dials. When the wavelengths turn blue you enter their minds dreamworld and solve the riddle of why they are there. You receive audio tapes throughout the game which tells you the story of Shady Pines and the patients, a little at a time. If you are a fan of the demented, abandoned asylums then this is the game for you, enjoy!
May 14, 2014
It's Different, Unusual Story
Storyline: It wasn't actually 100% clear. It was built off of a good premise but it doesn't really go into too much depth. Just enough to let you know there was something going on but not exactly what and and how it pertained to the main character because of the other characters. You wake up from a coma of three years in some shady place that you do not recognize.trying to make head or tails of your situation. You end up chasing this doctor around this "asylum" trying to find answers. Graphics: Like someone else said not clear but wasn't sure whether that was supposed to be because of the story. Sound: Can't comment, had it off because I play late at night and I don't like to disturb my husband sleeping. Gameplay: I played it within 5 hours on Expert, but it can easily be beaten in less time.(I tend to get distracted because of my kids) The puzzles weren't all that challenging and there wasn't a variety. For example, with each patient you encounter you have to adjust the yellow wavelengths on their monitors to match the green wavelengths by adjusting the dials until they match, they will turn blue, then you can turn the handle to enter a dream state and solve puzzles pertaining to that character. Then you get an audiotape that gives you a bit more insight into what is going on. You do have to travel back and forth between scenes to obtain items that you will need for the room you are in but they do not become available until you encounter that room. Such as I had to visit the garage at least three times I believe. I didn't know I needed an axe. Well first I had to get a key from another room that required that I get a hammer from yet another room to break this key out of a compartment, then later I had to go back to the garage to use the key to get the axe, then later I had to go back to the garage yet again to get an oil can to lubricate a door handle, etc... Kind of tedious in some ways.Why couldn't I have just gathered all the items in one go and then use them when I got to that area later? The HOS weren't always clear. Most objects were hidden pretty well behind other objects. You might have the handle of some shears peeking out behind a tire and not even realize that they were shears until you decided to click just because you thought what the heck and got them out of sheer luck. In another scene there was a foggy window of a car that was supposed to be the rear windshield with objects decorating it. I couldn't find a compass and of course it was behind a teddy bear in the foggy window! There was at least on object from each scene like that. But it wasn't overly frustrating, just kind of made you go, oooookay.... It's not a bad game but I like the Haunted Halls games better. But by no means pass this one up. It has a happy ending. And it passes the night away in a relaxing way.
April 17, 2013
An interesting mystery
The story really kept me going through this one, but I have to say first off that the answers you receive aren't very satisfying. However, the voice acting and the audio tapes are top-notch and really worth listening to, and despite the lack of detail given to the plot, it really is a tragedy of touching proportions. The HOS were fine, and most of the game was interesting, but I couldn't do the ECG puzzles by any stretch of the imagination, mostly because I don't feel sufficient instructions were given. There was a lot of running around that I found unnecessary, especially since the lifts take time to move, but the map shows exactly where you need to go in every case, which I thought was a great step forward over some other games I've played. It's also not as creepy as some other games set in asylums (e.g. Green Hills) so that may be a bonus for some. Essentially, it only loses one star because it made me care about the characters then didn't provide a satisfying resolution. Definitely check it out!
February 22, 2012
Good solid game
The gameplay flows fluidly from one scene to the next, you do not spend too much time with object before knowing what to do with them. There are only hints for HOS but the map lets you know where you should go, which mean that you do not waste time backtracking. The HOS are quite decent, and the storyline is gripping. Too bad that the other patients get blown up...
June 14, 2014
Surprisingly nice little game
This was a daily special priced at just 2.99 so I wasn't expecting much. I was pleasantly surprised at how much I enjoyed playing it. It's a little different, as there is no hint button for the game itself. You have a journal and a straight map which doesn't allow you to jump. You do however have a hint button for the HOS. The game starts when a lady wakes up in an institution, but has no idea how she got there. From there she has to discover for herself why she's there, and the mystery of why strange things are happening. An excellent storyline that will keep you playing to find out what happens next.
October 12, 2013
The Apple logo is a trademark of Apple Computer, Inc.
The Windows logo is a trademark of Microsoft, Inc.