Agency of Anomalies: Cinderstone Orphanage
Save the souls of prodigy children and their caretaker who disappeared during the fire in THe Agency of Anomalies: Cinderstone Orphanage! As an agent of the Agency of Anomalies, its up to you to find the phantoms and find out who started the deadly fire. Help the inhabitants of the orphanage use their extraordinary abilities to break the plans of the mystical brotherhood and escape! Search gorgeous Hidden Object scenes and solve a paranormal mystery!
Explore the orphanage
Solve a mystery
For a more in depth experience, check out the Collector's Edition
Game System Requirements:
OS:

Windows XP/Vista/Win7/8

CPU:

1.0 GHz

RAM:

1280 MB

DirectX:

8.0

Hard Drive:

386 MB
Game Manager System Requirements:
Browser:

Internet Explorer 7 or later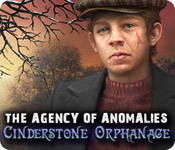 NEW299
The Big Fish Guarantee:
Quality tested and virus free.
No ads, no adware, no spyware.

Reviews at a Glance

Agency of Anomalies: Cinderstone Orphanage
0
out of
5 (
0
Reviews
Review
)
Customer Reviews
Agency of Anomalies: Cinderstone Orphanage
83
83
The same old same old
I didn't even make it through the trial for this game. It's the same old thing? a fire, an orphanage, save the kids, etc. There is too much hand-holding; I don't want to be told what to do and when to do it. The HO scenes are junkpile, the graphics are OK. I was just not thrilled at all with the story line and did not like the lack of a challenge and adventure. This game would be good for someone who has never played a hidden object adventure game, but it's not for someone who already knows the basics of this genre.
March 11, 2012
Good but not Great
I enjoyed the first installment of "The Agency of Anomalies" and was pleased to see another. While it was ok, this chapter was a bit of a let down. Don't get me wrong, I recommend it, just don't expect too much fromf it. It is a nice mix of HO scenes (HOS have enough challenge to be interesting) and puzzles. But the puzzles are pretty much the same old tired tile, connect the cogs and rotate the rings that you see in EVERY one of these games. I'm hoping the creative people at various game design companies can come with something different there. The music is at least not annoying but is kind of dull and the graphics are nice, but nothing to knock your socks off. I continue to miss the live actors that you see in an MCF episode, at least in the cut scenes. I know they must add to the expense of game development, but they add a lot to the game experience. The game seems to be short and ends abruptly. Oh, and as for the ending..the last plot twist is so old and over done, felt like a real yawner. One last concern that I'd level at most games like this. There are a few puzzles that require using color. Now look folks, I know I'm in the minority here, but there is a certain percentage of the population that, like me, are color blind. That means when a color based puzzle comes up, I head for the "skip" button. I wish game designers would come up with another way to do that kind of puzzle, like shape based or something. So go ahead and the try the game, just don't look for a great experience. You may like it, but I don't think you'll love it.
May 11, 2012
fun mini games
lots of fun mini games but Way Way way way way too many HOGS there must have been 40 plus. could have been a 5 star if the HOG had been cut in half very good story and visual quality
May 16, 2013
Been There, Done That...For The Most Part
I enjoyed the first Agency game, and the second takes a step back into marginal territory in my view. The plot is still something right out of an X-Men comic, as you're a detective attempting to find out what happened to several orphans with magical abilities who have disappeared at a run-down orphanage. There is of course a mad doctor involved, but I didn't have to tell you that, did I? For the most part, this plays like a standard HO game you've already gone through before. The setting, characters and plot are largely uninspired, as if the developers thought "Well we have to make a sequel, so.." That's not necessarily a bad thing, as hidden object searches are frequent and look pretty good. It's just not adding much to the genre. A couple touches I did enjoy that I'll make mention of: Upon going through the rescue of each child, you'll get a special power from them that you can use to advance in the game. I don't think enough was done with this, but I did like the concept and it made getting to previously inaccessible areas of the orphanage more interesting. I also liked the added feature in the HO searches. Things you collect in one scene are then added into another scene to make it more interactive. It wasn't consistent throughout, however, which was unfortunate. I really liked the continuation and thought it added a different dimension to the game. The puzzles are decent, but nothing stood out to me. There is a sequence at the end where you'll do 5 in a row and it takes a while to plod through them..sliders, jigsaws and rings oh my! You'll backtrack a bit, though not excessively, and music and voice is unobtrusive but nothing special. The ending is pretty weak compared to the story of the game. Overall, this was enjoyable enough but I expected better. I think it diverged from the first game but didn't really follow through. Too many inconsistencies and unfinished promises for me. Pass.
June 17, 2012
tedious
The visual and HObjects are quite good but the story and game itself are not cohesive and are hard to follow...I found myself playing, getting lost, playing, getting lost...etc. It has taken me awhile to finish and my response to the end of the game was....FINALLY! I immediately deleted it and will not play it again.....
October 6, 2012
Not my favorite
This game was okay...JUST okay. I really had to force myself to finish it and when I did I wanted to jump up and down in the shear enjoyment knowing that I would not have to play this game again. There were no maps and really not too many places to go. Kind of hard to explain but I just didn't like it at all. Try the demo first and you'll see what I'm talking about...
April 23, 2012
Boring
The HO scenes were cluttered. I hate games that tell you what to do next. Its an ok game for beginners.
March 12, 2012
Missing Orphans
I loved the story line: orphans with phenomenal powers are missing, so is the doctor who was helping them. It was fun trying to find each child and learn about their powers. What I found to be quite tedious was all the back-and-forthing one has to do to complete the game. In addition, there are a lot of mini games, so many that I feel asleep and forgot what I was doing. Other than that, it's a great game.
August 2, 2012
Frustrating
At the beginning I really enjoyed the game, I played casual mode although I could play expert but I like to be relaxed while I play, skip when I want to skip and get hint when I like to get hint. The hint in this game is very poor. It just tells you "there's nothing to do here at the moment" or it shows you a picture of what must be done which I already knew. It did not tell me what to do next it did not point where to get or use items and it did not show how to solve puzzles. As for the puzzles they were good at the beginning but then they turned boring and repetitive (more than 5 jigsaw puzzle in one game) let me tell you this it's the first time I skip more than half of the puzzles because either they were boring or not challenging. I did not complete the game although I was near the end. It's the first time I do not complete a game. I really wanted to know how it ended as the story is interesting but I just can't play it any more. It's frustrating
November 29, 2012
Spoilt, Spoilt, Spoilt!
This game would have been so much better if answers were not automatically given to so many of the puzzles (even on the hardest difficulty). What is the point of being constantly advised of which item you need to do a certain task, such as, 'Oh, this door is locked, a screwdriver will do the trick.' It's a good job that some of these programmers aren't quiz show hosts!!!
April 1, 2012
The Apple logo is a trademark of Apple Computer, Inc.