Agency of Anomalies: Cinderstone Orphanage
Exclusive
Save the souls of prodigy children and their caretaker who disappeared during the fire in THe Agency of Anomalies: Cinderstone Orphanage! As an agent of the Agency of Anomalies, its up to you to find the phantoms and find out who started the deadly fire. Help the inhabitants of the orphanage use their extraordinary abilities to break the plans of the mystical brotherhood and escape! Search gorgeous Hidden Object scenes and solve a paranormal mystery!
Explore the orphanage
Solve a mystery
For a more in depth experience, check out the Collector's Edition
Game System Requirements:
OS:

10.7/OSX_10_6/OSX_10_5

CPU:

800 Mhz (INTEL ONLY)

RAM:

256 MB

Hard Drive:

389 MB
Game Manager System Requirements:
Browser:

Safari 4.0 or later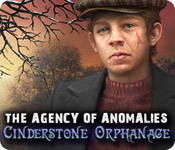 NEW299
The Big Fish Guarantee:
Quality tested and virus free.
No ads, no adware, no spyware.

Reviews at a Glance

Agency of Anomalies: Cinderstone Orphanage
0
out of
5 (
0
Reviews
Review
)
Customer Reviews
Agency of Anomalies: Cinderstone Orphanage
83
83
OBTAIN PARANORMAL ABILITIES
Lengthy game (I forgot to record ending times once or twice so don?t know exact hours). Very well developed and highly polished adventure/HOG. Overall, very good graphics. STORYLINE: Orphans possessing paranormal abilities and their caretaker were lost in a fire claiming the Cinderstone Orphanage. Picking up objects will cause cutscenes to tell you the story. The story and any documents you find are added to your journal. Nice voice acting. GAMEPLAY: You will save the children by finding items their favorite things and, as you save them, they will give you their paranormal ability, which you will use during gameplay. That?s great fun ? you think you just can?t find something or don?t know what to do, only to remember the abilities you?ve collected so you can finally solve the problem. Fairly intuitive gameplay, but if you need them, hints recharge quite rapidly on regular difficulty and show you where to go if outside of a HOS. Although there is quite a bit of back and forth, it is reasonable as there are a limited number of scenes. HOS and PUZZLES: 2 types of HOS: object lists and placing objects in their proper locations ? objects in HOS scenes have good visibility and scenes are not too crowded. When you play a HOS again, the objects will be in the same place as the first time. Doesn?t bother me, but it does for some people. Puzzles are fairly easy to complete (to be fair, I play an awful lot of HOGs, so I may think puzzles are easier than they are just because I?ve probably encountered them so often). Overall, imaginative and very entertaining.
May 5, 2013
Enjoyable SE gameplay
I prefer more gameplay than animation and story line so my review is based on my preferences. 1) nice HOS with some objects easy to find and more difficult. HOS included 2 kinds item word lists and item pictures to be placed in the scene. I like the variety and difficulty. 2) puzzles ranged from very easy to 1 I had to skip and one I went to the strategy guide for(vases in the cupboard) I personally dissagree with how they solved it based on the clues. That is my reason for loosing one star. The clues were not accurate. 3) Since I was only slightly interested in the storyline, I was happy to "skip" the scenes. This did not affect gameplay. 4)new twists on "powers" you earn make for an interesting game. It isn't memorable but I would play again.
March 24, 2013
Same Ol' Same Ol'
Good graphics, some hidden. I will be honest, I did not make it far, for I need some excitement, thinking to do, and time to rush and do it. Some people will like this and buy, for I am sure a very enjoyable game. Not for me, not even at this good deal of a price. So, a hunting I will go for a challenge.
March 16, 2013
Different than other HO's
I actually like the concept of this game. I usually don't write reviews nor do I go by any depending on the game. I usually play the trials to see for myself if it is my type of game because we all have different tastes. Now this game was different for me. You gain powers from the different ghosts in the game once you find their special items that are dear to them. These powers help you progress in the game. Found a toy axe? There's a place that is overgrown and needs to be cut? Well use your growth power and now the toy axe is a regular axe. Granted it's not perfect as it's still sometimes corny the way the powers are used but I was drawn in because it wasn't like other HO's where you find objects in scene A, return to scene B and use objects found then return to scene C to get past an area and get another object. The story is okay. A fire destroys and orphanage and kills the the children and their caretaker who are now trapped because some paranormal power keeps them trapped. You are there to help them "move on and gain some of their power back so that their powers will help you advance in the game." I didn't really listen to the music. Which is good in my case because it takes very little for music to annoy me. And believe me I like music but certain games like Farm Girl on the Nile made me want to throw my laptop across the room. At least the music in this game was integrated well and did not distract (at least me in any way). The graphics were fine. Yes some games have grainy graphics but not this one. And the objects are not so tiny and integrated into the HO scenes that you feel you'll go blind soon. Or want to burn your computer. Overall a different twist on HO games and one that keeps you interested. I did the one hour trial and actually bought it because I wanted to finish the story. Most games don't draw me in too well, their just bearable, but this one was a keeper for me. At least try the trial, I don't think you'll be disappointed especially if you're looking for a different twist to a timeless genre of games.
August 9, 2012
Very entertaining
Just finished this game. It was good mostly. The HOs were mixed, some you have to look for the items - some you put back the items. The puzzles were challenging; some I did manage to solve. The hint button was no help except in the HO scenes but not as directions to go from scene to scene. The storyline was excellent. I've always been interested in the paranormal. The hint button will show solutions but you must try to figure out the background and where you've seen that area before. Good game.
July 9, 2012
The Agency of Anomalies: Cinderstone Orphanage
Just finished the demo and I will definitely be buying. Really enjoying the game so far. Graphics are quite good, the H0 scenes are better than some as they are not junk piles and some are 'place the object in the scene' so there's a bit of variety. I love the part of being able to obtain powers throughout the game. Makes it a bit more interesting than some games. Not so keen on the voiceovers though as its clearly a non-english person putting on an english accent and its not great. This happens a lot in games and I don't understand why they don't just get an english actor to do the voice. Also the mouse pointer gets laggy in some scenes which is a bit annoying. But other than that, I highly recommend the game.
May 27, 2012
Save the poor children's souls
I liked the story line about children with supernatural powers being subjected to experimentation, then dying in a fire. Enjoyed the graphics and the almost linear movement throughout the scenes. Some back tracking involved but not enough to mess with your head. When you "Return a child's power" they loan that ability to your character which you in turn use in the story to get from one scene to another. Nice touch, but sometimes you want to use that ability and the game won't allow it. Pretty easy mini-games even in expert mode. I reccommend the game at the sale price, but not for the collector's edition price.
March 21, 2012
Just about average
I haven't tried the previous one in the series but this sequel seems okay. - good graphics and great cutscenes - professional voice-overs - easy minigames though neither new nor extraordinary - some adventure but emphasis is placed on HO Scenes - HO Scenes are the usual pile of junk, but are interactive - tasks present no novelty either - you earn achievements and collect some of the character's abilities Considering the point I got to in the demo, the game is probably fairly short. An okay game if you have nothing better
March 9, 2012
Average and boring
Looked forward to this game but there was too much hand holding - prefer not to be told what item i need for an action or where i can find it. Would like to have had a map with ability to go from area to area - needless amount of travelling thru outside/inside, etc. Found nothing new in minigames and out of frustration skipped two. Graphics and music/voice well done. Recommend for a newbie to HO games. Having just finished Surface Mystery... which had newness and challenge - if you are an expert/ intermediate try demo-know it is like the entire game then decide. Matouks
March 9, 2012
oh for a transporter map
This started out well but soon became slightly tedious with all the back and forth, repeating (more than twice) hidden object scenes and the usual storyline, especially the end. The pace of the game was off, sometimes you were in adventure mode not seeing a hidden object or a puzzle then suddenly it was one after another. Also I was too long in one area at one stage before other new areas opened up. There ended up being far too many hidden object scenes for my taste, with tiny objects, random click penalty both of which annoys me. Even the puzzles although nicely varied in hardness I didn?t love ? either the execution of it was off (manually dragging the ball through the labyrinth) or the type. I played in the hardest setting of two, and there were mega sparkles for hidden object scenes and black bar tips (hand holding). THE GOOD - -Graphics were lovely and clear and they did have my rare favourite kind of hidden object scene ? the reversed kind in a non junk pile setting. But sadly they turned out to be very few in the game. -Quite a few hidden scenes weren?t junk pile and were nice to look at but when you replay them they become sadly tedious. -They tried to make the game different with collecting different abilities that you use on some items. - I did feel the end was 100% tied up and that was nice to see for a change in a SE. If they had a transporter map to cut back all the backtracking ( just to see if I had to replay a hidden object scene for the third time), it would have made it more enjoyable. It?s a shame as with some tweaking it could have been a very good game. LENGTH was normal for me for a SE 5-6hrs, but by then I couldn?t wait till it was over. (I'm not going to not recommend it, as for a coupon or a DD and you don't mind backtracking it's OK but I preferred the first game in the series.)
May 22, 2012
The Apple logo is a trademark of Apple Computer, Inc.
The Windows logo is a trademark of Microsoft, Inc.