Entwined: Strings of Deception
Uncover a dark scheme in Entwined: Strings of Deception and solve an elaborate murder mystery! Play the role of detective Karla Robbins and interview the different suspects of a grisly murder. Search the Edward family mansion and question the late Christopher Edward's wife, butler, housemaid, and even his physician in this incredible Hidden Object Puzzle Adventure game. Find the murderer and discover their motive in Entwined: Strings of Deception!
Interview suspects
Search Edward manor
Uncover a dark scheme!
Game System Requirements:
OS:

Windows XP/Windows Vista/Windows 7/8

CPU:

1.6 GHz

RAM:

512 MB

DirectX:

9.0

Hard Drive:

503 MB
Game Manager System Requirements:
Browser:

Internet Explorer 7 or later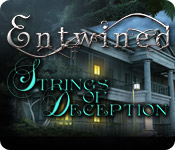 NEW299
The Big Fish Guarantee:
Quality tested and virus free.
No ads, no adware, no spyware.

Reviews at a Glance

Entwined: Strings of Deception
0
out of
5 (
0
Reviews
Review
)
Customer Reviews
Entwined: Strings of Deception
97
97
Too easy
I enjoyed the storyline with the detective and the search of the house. The visuals and music were good. I also liked the map, suspect list and additions to it, the examiners report and the way the hints were given. What I didn't like was the magnifying glass showing up before I even had gotten my cursor over to the area, and felt that it was giving me too much help and took some of the challenge out of the game. The hos items were almost too easy to find and the lock game seemed too "flimsy". The game is definitely for a beginner and would recommend it for that reason.
March 11, 2012
Good HO Whodunit
BASED ON COMPLETED GAME This is one of those games I bought on a whim but shouldn?t have, because it is just not my cup of tea. However, I will try to give you an unbiased appraisal of the game. It?s a MODERN WHODUNIT, complete with detective, you, MURDER BOOK in hand. It lists suspects (5), autopsy, observations and task list. A famous inventor has been murdered in his home, found at the bottom of the stairs with a (non-fatal) stab wound, injuries from the fall, and poisoned contents in his stomach. Sounds like they all had a go at him! His mansion is a wonderful, many-roomed affair, and that NON-INTERACTIVE MAP is a necessary accessory. HINT is VERY HELPFUL outside HOS, you choose a task you want help with, and it will list the necessary steps. It WILL NOT tell you where to go next, however, you will have to work that out. In HOS, it gives you a close-up view of the item. The game is dominated by ADVENTURE action. You spend most of your time trying to nut out the clues, and there are only a VERY FEW PUZZLES. A lot of toing and froing is required, and it is easy to lose track of what was needed where. But then that?s what adventure games are all about, right? You must question all of the suspects, and VOICEOVER is used for this. It is VERY GOOD. The only other SOUND I noticed was the drumming of rain on the roof. There are quite a lot of HO SCENES, which provide many of the tools you?ll need. They are of the NON-INTERACTIVE LIST variety and can be quite tricky. CRYSTAL CLEAR REALISTIC GRAPHICS make the scenes a joy to search. TWO COLLECTIBLES. FINGERPRINTS are collected with a fingerprint kit. And there is also a large quantity of JEWELLERY just lying around. I am convinced that someone without my prejudices would find this a good game, but I doubt anyone would be floored by it.
May 9, 2013
Game was ok
We enjoyed playing the demo of this game. The story line pulled us in right away with the beginning scene. You can select casual or hard modes of play and there is a map, but you cannot jump from one location to another. The voice overs are not annoying and the music is good. The graphics are clean & crisp and there are some beautiful scenes. The hidden object scenes are very very easy and we didn't find any that were interactive. The puzzles and/or games that we encountered must have been easy, since we don't remember many of them. There were way too many pop ups regarding what was going on and what you were to do next. Rather annoying and made the game play a bit slow. That being said, we are interested in the "who done it" part of the story and most likely will purchase if we need to fill our game card towards the end of the month.
March 11, 2012
Could have been so much better
I concur with Rebr2009. This is exactly how I feel about the game. There were annoying bits to it, banners staying on too long and you can't click to get rid of them. And it was real slow. I don't use the hints much, I've been playing hogs for a long time, but I noticed that they filled up a little slower than most games. It's not the best game I've ever played, still, it was a nice way to spend the day.
March 11, 2012
Somewhat frustrating yet easy game.
A HOG with an interesting story and decent graphics. The HOG scenes were easy however after about 30 minutes playing the demo I couldn't figure out what to do next and the hint was not helpful. When you press the hint button a list of objectives pop up and when you hit an objective hoping to give you the answer on what to do next it doesn't really tell you. Frustrating. Had to turn it off because I couldn't figure out what next.
March 11, 2012
overall okay..but
a little too much hand holding and dialogue for me. likely appeals to those who enjoy a good whodunit. nice job of laying out the story line in the demo.
March 11, 2012
Okay for awhile - then too repetitious
I liked the idea of the story and actually had fun for most of the game. The map was a great help since you had to keep going from place to place and then back again each time you found another piece. It would have been great if, when at the map, you could click on a place and go straight there instead of all that clicking and if the places let you know if you had a task at that place or not. Finally just got bored with the whole thing. Didn't get all the jewelry and whatever that other thing was - not sure what my reward would be either. Wanted to be finished and then delete the game. Not worth playing again.
August 17, 2012
Meh to the power of Meh.
I had much higher hopes for this game than were actually realized. My high expectations were due to these two reasons: 1) I LOVE mystery games where you need to find out 'who done it' and question suspects and b# The reviews are overall pretty darn good for this game I did not feel, however, that: 1# You really do much questioning of suspects OR b# The reviews were accurate I downloaded only the trial of this game #which is a blessing bc rarely am I that cautious# and I'm glad of it. I will not be purchasing. That said, here are the pros and cons as I see them: Pros: - Nice graphics - Voice overs - Many locations to visit and items to collect - Murder case file set up - Two levels of difficulty #I chose difficult which has slower loading hints and only the HO scenes sparkle# - Task list which makes it easy to see what you have to do - HO scenes challenging but clearly depicted Cons: - The voice acting was flat and not well-synced - The story was not interesting and there was not enough interaction to capture my attention - I had to force myself to complete the demo - TOO MANY HO SCENES! - It just wasn't fun, although the thought was there, the execution wasn't. #IMHOHO# In summation: I went in with high expectations, which were speedily dashed. However, if you are looking to roam around a mansion and solve fairly easy inventory challenges and fairly difficult HO puzzles and not get excited OR stressed, then this is for you!
July 18, 2012
Just OK
A good OK game. The graphics are clean and clear but a bit too simplistic, no great use of imagination. Story had a lot of red herrings but you can figure out -who dun it- pretty fast. I did finish the game, but one play is enough. I did not find one piece of jewelry, but I am not interested enough to go back and look for it. There were a nice amount of HO scenes, nice and readable ( important to me because I don't have the best eyesight) I would have liked a game with more pizzazz!
March 11, 2012
Nice whodunnit story
Nice story, clear graphics. But A LOT of to and fro, and a lot of HOS, too much for me. The voiceovers are done very good. The story is good, sometimes a bit slow. I enjoyed myself for about 5 hours, but I'm not jumping up and down of enthusiasm. Nice game to pass a lazy afternoon. Try it for yourself! Have fun!
February 19, 2014