Entwined: Strings of Deception
Uncover a dark scheme in Entwined: Strings of Deception and solve an elaborate murder mystery! Play the role of detective Karla Robbins and interview the different suspects of a grisly murder. Search the Edward family mansion and question the late Christopher Edward's wife, butler, housemaid, and even his physician in this incredible Hidden Object Puzzle Adventure game. Find the murderer and discover their motive in Entwined: Strings of Deception!
Interview suspects
Search Edward manor
Uncover a dark scheme!
Game System Requirements:
OS:

Windows XP/Windows Vista/Windows 7/8

CPU:

1.6 GHz

RAM:

512 MB

DirectX:

9.0

Hard Drive:

503 MB
Game Manager System Requirements:
Browser:

Internet Explorer 7 or later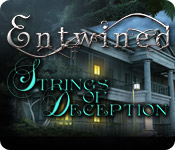 NEW299
The Big Fish Guarantee:
Quality tested and virus free.
No ads, no adware, no spyware.

Reviews at a Glance

Entwined: Strings of Deception
0
out of
5 (
0
Reviews
Review
)
Customer Reviews
Entwined: Strings of Deception
91
91
Nothing special
Nothing special, ordinary kill time game. The storyline is boring
April 13, 2012
Lots of HO's !
I liked this game mostly because it was not dark & gloomy. There were a lot of HO's, not much interaction or adventure, just a lot of moving around. The journal did not keep up with the area you are in, but the hint button also acted as a stratgy guide, so that was fun. I really like HO games, this one just needed more interaction.
April 12, 2012
Strings of Deception Review
Definitely NOT my favorite puzzle game. I enjoy playing for recreation and this was just not intuitive enough for me. I kept getting stuck and having to check every building and every room for the next step. The hint gave me no clue as to the logical next step. I like things to progress a bit more logically and be challenging, but able to be worked out based on inventory and storyline. This wasn't the case with this game. Also, there were not enough puzzles. Effects and storyline were pretty good, though.
April 9, 2012
Play for the story, nothing else
When I started the demo, my initial reaction was that I hated the graphics. It's a very plain, realistic art style with not many artistic textures or detail. But I was intrigued by the mystery and the way you got to gather evidence and interview suspects, so I bought the game anyway. The hidden object scenes and puzzles are super easy, even for a HOG, but the story delivered. This might not be enough for most people, but it was for me.
April 8, 2012
Ok HOG...liked storyline.
The storyline was excellent. However, it seemed a little monotanous. If you got stuck there was no help at all except to go to each and every room. It would have been nice to have something on the map to indicate an area of interest. Might have helped gameplay. However, I really enjoyed the storyline...Clue-like in nature...a real who dun it. That part was very interesting.
April 5, 2012
Fun and Relaxing
This game was not super challenging, but it was fun and relaxing with a good "who dunnit" quality. The graphics could have been better, but otherwise I have no complaints.
April 3, 2012
HOS Happy! Fun Not!
This review is based on game play in hard mode. Out of consideration for the talented folks who developed this game, it pains me not to be able to give a thumbs up. The reviews had me set to absolutely love this game but unfortunately the tedium was almost immediate. The M.O. was random schlepping from scene to scene and back again. --Not unlike a day at the mall shopping until you drop. The gamer has the "bonus job" of locating items of jewelry and fingerprints in each scene. The way this was implemented made game play became formulaic - 1) Enter a scene, 2) play the HOS, 3) locate the fingerprint, 4) find the jewelry, 5) move on, 6) Not sure what to do next? Meander from room to room, find a random HOS that will yield some Gizmo for later use. Map: There was a map but it did not allow movement from location to location so was of limited use. Case File: A case file took the place of a journal. It's clear a lot of effort went in to putting it together but it was rarely of use. A couple of times I wound up writing things down that weren't captured anywhere else. Strategy Guide/HINTS: The HINT system was very well put together and like a strategy guide. Very nicely done. Mini-Games: These were the usual fair, few and far between, and shamelessly easy. Storyline: The gamer is kept on a tight leash and herded in a single direction to close the case. This one is just not my cup of tea. Again, thanks to the developers for their hard work, but I cannot recommend this game.
June 22, 2012
The year 2005 called, and it wants it's game back......
Wow. I really wanted to like this game - it had some of my favorite elements in it. I like detecting, puzzles, figuring out whodunit....exploring a mansion. Questioning suspects. This game could have been really good, but a combination of graphics and game play that are reminiscent of games YEARS old really spoiled it. The graphics could have been forgiven if the game play had risen above mediocre, as fun game play will trump pretty graphics any day...but there were neither of those things here. The voice acting left something to be desired as well; most of it was ok, but the main protagonist - your character, the one you have to listen to the most - was downright terrible. She sounded as if she were reading straight from the script, rather monotone and even bored sounding. There were also some out of time objects - this was supposed to have taken place in 1970, but things like a razor scooter were in the hidden object scenes. That's just lazy! This is a no buy for me, not even if it were a daily deal.
March 14, 2012
For Straight HOG Lovers Only....
I was really in the mood for a good murder mystery so I decided to try this game. I knew there would be a lot of H0 scenes, since it is hard to find mysteries on here that are without H0 scenes, but I thought that the story and the puzzles would keep it from being completely monotonous. I was wrong about that. I am not a Straight HOG lover, but can enjoy a game that has a lot of H0 scenes in it, if there are other elements to maintain my interest such as good puzzles, adventure and a gripping story. The demo makes it seem as if there are more puzzles in the game than there are, and that disappointed me. After the demo, puzzles are few and far between, and the few that you do come across aren't very unique. There is a need for finding inventory items and using them, but most are found through hidden object scenes. Instead of there being adventure, you pretty much wander from one H0 scene to another. When you do need to use an inventory object, it usually opens another hidden object scene instead of a puzzle. The demo makes the game seem more like a HOPA than a Straight HOG, but it is deceiving in that way, since most of the latter half of the game is one H0 scene after another. I am not complaining about the amount of H0 scenes, since I knew there would be a lot, I was just hoping there would be more puzzles, interactivity and adventure mixed in to break up the monotony. The story isn't bad, but I was able to figure out who the murderer was pretty early on in the game, and my only reason for finishing it was to find out if I was right (which I was). It does seem as if the Dev put a lot of thought into the story and tried to make it good, but I don't understand why they set it in 1970. The game did not feel like the '70s to me at all, and there were some glaring anachronisms in some of the H0 scenes, one that particularly stood out to me being a computer disk. I don't understand why they didn't set the game in present day, since it would work just as well that way. I enjoyed the demo enough to buy the game, but after the demo, I found the game to be pretty boring, and had to force myself to finish it. It is unfortunate that they did not add more puzzles, adventure and interactivity to the game. H0 scenes often repeated themselves, and were not interactive at all, which made them particularly snooze-worthy. The story and characters had the potential to be really interesting, and it's too bad that the rest of the game couldn't be.
November 21, 2012
I've played much better.
I downloaded this and played for about 40 minutes, and I was disappointed. The music was good, but the voice acting was terrible. The voices were wooden and reminded me of Microsoft Sam. There were also some syntax errors that gave the impression that the dialogue had been badly translated from another language. The story didn't grip me at all, and I found the introduction video frankly confusing. I'll be uninstalling this game and won't be buying it. If you want a good murder mystery game, play any of the James Patterson Women's Murder Club games instead.
March 12, 2012