Flower of Immortality
Exclusive
To avoid imprisonment, a deal is made to retrieve an artifact in Flower of Immortality! Set in the 1930's, this amazing Hidden Object Puzzle Adventure Game takes you across the world in search for a hidden treasure. Find the artifact and uncover its secrets! Journey though this incredible adventure in Flower of Immortality!
Search for the Artifact
Explore a lost island
Exciting mini games!
Game System Requirements:
OS:

Windows XP/Vista/Win7/8

CPU:

1.6 GHz

RAM:

512 MB

DirectX:

9.0

Hard Drive:

372 MB
Game Manager System Requirements:
Browser:

Internet Explorer 7 or later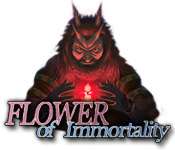 NEW299
The Big Fish Guarantee:
Quality tested and virus free.
No ads, no adware, no spyware.

Reviews at a Glance

Flower of Immortality
0
out of
5 (
0
Reviews
Review
)
Customer Reviews
Flower of Immortality
47
47
Tapa-Tui - 1930. Very good and entertaining HOGA
The enjoyable story takes place in 1930. An archaeologist has to travel to Tapa-Tui, an island in the Pacific, seeking the expedition of Anna Stevens, pick up an artifact and return to the British Crown. Cutscenes are like old movie, but the game has crisp and clear graphics, excellent music. No VO. Different places to go, with good ambiance. Large amount of interactive HOS, a bit challenging and, even if asking for things that sometimes do not match the environment, they are good to entertain. Some objects you need, are broken - you take a part in HOS and the other in a different place. Several mini games (some brand new), good level of challenging, demands you to think. Might fit better as HOG, but also have adventure. Really pleasant and enjoyable.
March 14, 2012
Sold!
At first, this game gave me pause to think, to have or to have not? I can say this, I played the entire demo and decided that this game had great potential to being a really great game, but saddly, it missed the mark in several areas. First, there is the language problem; it would be apreciated if game developers spend some extra money on better english translators which would make the game more user friendly. That being said, "Flower of Immortality" is a classic HOG adventure game where you have two modes of playing included in the options. I chose the difficult mode and I can tell you this, absolutely not one speck pf sparkle or any kind of hand holding. Really good music, I actually enjoyed it and no voice-over which is too bad. Voice-overs could haveshot the rating way up high. I liked the story: a classic adventure set in the 1930's where our protagonist needs to retrieve an artifact in order to avoid execution by the British Government. I am curious to see if our hero saves the girl as well as saves his life. You meet alot of quirky character (with bad english ) and that made the story a bit more fun. Unfortunately I wish I can say the same for the the graphics and animation. They are very outdated and gives the game a real "old-school" feel about it. (It must be a week for retro games at BFG:)))) Some scenes are clear and crisp but HOS scenes are dark and grainy. I will say this, HOS that I came across during the trail period were really difficult and caused me some anxiety. I really had a difficult time finding some items and actually had to use the hint button which for me is rare. They are also interactive which I liked and some were very "challenging". I actually appreciated the fact that there were no penalty clicks because, much to my chagrin, I was clicking away furiously at objects. The puzzles were at times difficult and I hate to admit, I was stumped a couple of times. Again I had to use the hint button and will probably look forward to a walkthrough. This is a game where you will defintely need to use your little grey cells and this does make the entire gaming experience challenging and most probably be alot of fun for some of the more advanced players. Mingames were actually different and I really enjoyed them. So what am I saying? Yes! I will be recommending and also buying this game because I actually missed the extra aggrevation and frustration of being challenged which not many games offer. For those who want a bit more oomph in your gaming experience, at least try the demo and then decide. I expect that this is another case where many will either hate it or really like it. I really liked it and am now off to buy. Happy gaming everyone.
March 14, 2012
A few mistranslations but quite good
This is more of an adventure game with some interactive hidden object scenes thrown in. The artwork is attractive, the music is very good yet unobtrusive, the ambient noises are well done and the plot is actually very intelligent. If you can overlook some odd word choices in the hidden object scenes and some slightly stilted dialog blocks, you might enjoy this game. It's a little rough around the edges but I think the development team has shown some originality and talent with this.
March 14, 2012
Interesting, different and fun adventure
Based on Demo only: I enjoyed this unique game. The music was wonderful... a including a variety of pleasing instrumentals, with the area of the demo ultimately landing you in the jungle and ironically sounding Native American Indianish to me.. yep, it's a game, imaginative ironies allowed. And the game thus far was filled with many little nuances of the real and imagined. The graphics were pleasing and story through the demo, anyway, enjoyable and different. This game is very heavy on the adventure aspects... you must do a lot of moving about and figuring things out before any 'reward' in action and progress. That always comes with adventure gaming and I happen to like it. Instant gratification gets boring to me eventually and most games now are filled with it. Have no idea where the negative views are coming from; but thankfully, I ignored them and tried it anyway so it will be a buy with credit for me.
March 14, 2012
Not that bad
Why so terrible reviews. Played the demo in spite of all negativeness, bought the game at DD price. Good deal to me. True not great, but I've seen worse, I've also seen poor English before and didn't stop me from playing, the story differs from insane asylums and demons which I played enough of. I like different cultures and exotic places. Rates as a good hopa
March 20, 2013
Review on completed game
I liked the game enough to use a coupon..Only thing is i wish instead of having to read everything ,wished they would talk out loud to me...lol...Hint was very helpful...It took me about 3 1/2hours to complete...Thanks and I love Hidden Object Games!!!...I buy ALMOST E1 that comes out....
March 22, 2013
Not so sure
I played the trial version and I am not so sure i really like the game. Objectives are not always clear, mini games are not interesting. I don't mind having to read but there was too much talk and there is no skip button on the dialogues. I didn't feel drawn to the game I guess one would have to try the game before deciding if they want to bye it or not. As for me I will wait till its on sale to bye it
March 14, 2012
Good and bad
Nicely done graphics and animations, and I liked the storyline in general. But the dialogue needs work, and there were too many inconsequential tasks for me. The game is heavy on the adventure aspect, and light on HO scenes, which are pretty easy, anyway. I'm not very experienced at adventure games, but it was easy enough for me to figure out what to do without using too many hints. Glad I tried it, but not interested enough to explore beyond the hour trial.
May 3, 2012
Good Story, Poor Syntax, Unfinished
An archaeologist in serious trouble with the British Crown has to travel to an island in the Pacific, steal an artifact from another archaeologist and bring it back to the British Crown. This all must be done with very little funding so it's no pleasure cruise. The music alternates between relaxing, sneeky and whimsical. The cutscenes are like old movies. There is a grainy texture for period effect but the game has crisp and clear graphics. All the things that I did appreciate about this game were quickly overshadowed by the improper syntax and object id. Even object lists were incorrect. I don't expect games to always translate 100%.A few grammatical errors are understandable. However, there is no viable excuse for releasing a product with this level of syntactic butchering. That surely must be the reason no voice over talents were used. It would not have been possible with that script. These shortcomings stumbled my game play significantly because I had to constantly stop and figure out what they were trying to say or what object they were really looking for. The characters conversations were sometimes awkward and it made them sound like dullards. Irritation quickly replaced my intrigue in what could have been a thrilling, clandestine adventure. This was frustrating as well because I liked the story, though hanging seemed severe for this offense. Had Itera taken the time to finish this game it would have been superb. To many things left unfinished! Someone should impress upon ITERA Labs that proper syntax should not be ignored in an international market. For the first time ever I'm not going to recommend a game. This was a case of pure laziness and not just a few grammatic errors. Extremely poor craftsmanship.
June 9, 2012
Painful game to play
I played the demo, which was not too bad, but it was not on the top of my wish list! So I bought it with my punch card. (such a waste) I would like to think that BFG would have done an audit before they released it. It was so awful! Things that you had to find ie., Plate, which turned out to be a 'record disc' Axe was spelt Ax..the dialoge could have been a lot lot better than it was. Very bad English. Had to switch music off, because it was so awful. Graphics were OK. The end was so abrupt, that I did not realise it had finished, so that made eveything, no fun at all
November 19, 2012