Your Doodles Are Bugged
A magic explosion in the studio of Doodleus the Master Doodler has hexed his pet bugs into his doodles in Your Doodles are Bugged! Grab the magic pen and use your drawing talents to help Doodleus free them again. Do you have the skill and precision to handle hundreds of bugs at once? Do you have what it takes to be a Master Doodler? Find out in Your Doodles are Bugged, an incredibly fun and gripping Puzzle game!
Save your pet bugs
Conquer difficult levels
Become a Master Doodler!
Game System Requirements:
OS:

Windows XP/Vista/Win7/8

CPU:

2.0 GHz

RAM:

1024 MB

DirectX:

9.0

Hard Drive:

164 MB
Game Manager System Requirements:
Browser:

Internet Explorer 7 or later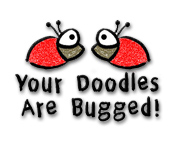 NEW299
The Big Fish Guarantee:
Quality tested and virus free.
No ads, no adware, no spyware.

Reviews at a Glance

Your Doodles Are Bugged
0
out of
5 (
0
Reviews
Review
)
Customer Reviews
Your Doodles Are Bugged
14
14
Great fun game
The aim is to get your bugs to the honey pot and to do that you have to draw them a pathway, a little like lemmings, but you are the one making the pathway - the fist levels act as a tutorial. There are obstacles such as already present doodles plus sometimes the amount of ink may be limited. I loved this and bought it as soon as the trial was finished, I could not stop playing otherwise I would have bought it sooner. Love this kind of game which make you think but are fun at the same time.
March 15, 2012
Love games like this
I played the demo earlier today. Very challenging but a lot of fun and totally engrossing. Quite a bit of time had passed when the light bulb finally went off for a solution to lever two. Level two! I stopped playing and wanted to see what others thought. Thanks for the great reviews. This will be a buy. Just a tip if you aren't aware of ''The House of Goo.'' It's a fabulous logic, physics game with great graphics, funny little ''goo'' voices and gorgeous, almost epic music. Challenging but so much fun. You learn as you progress and become quite sophisticated in your solutions. There are videos of each level on Youtube if you get stuck, and I did a few times. Solutions were ingenious but doable. If you like this game, give it a look . It will keep you entertained for days.
March 15, 2012
Brilliant Game
I loved this game, fun, challenging and a bit different (although I agree it's like lemmings!) Will take you some time to complete so good value for money, and you can always go back and try and better your scores.
March 21, 2012
If you like Lemmings........Not a Kiddie game
This is NOT a child's game...even though it looks childish!! As wonderful and unusual a game as Lemmings was. Fun, frustrating, aggravating, and silly. A total delight!!! This is not the average game for the average player. I think you have to be a special kind of masochist...although the beginning scenes are interesting and fun, as the game progresses they become much more difficult, and I spent several hours on some of them. The solutions require careful planning and, for me, lots of thought. But then, the victory is so much sweeter! Yet, even though I managed to finish, I will come back to this many times in the future!! Thankfully you can replay a scene as much as needed to defeat it....and sometimes they are impossible to plan until you've watched how the bugs die first. Thoroughly enjoyable...could take weeks to play....I Loved it!
June 13, 2013
Great fun!
I didn't have high expectations when I began the demo, but quickly found myself having a wonderful time. If you enjoy games like "World of Goo" or "Lemmings," give this one a try. Your goal on each level is to draw lines that will lead the doodlebugs to a pot of honey, working around or incorporating doodles which already exist on the page. Placement is very important. Like lemmings, the bugs will continue in a given direction until they cannot progress or are rerouted. I found the artwork whimsical and appealing, and the music appropriate to the game play. This is not a deeply engrossing game, but, rather, an enjoyable and relaxing diversion.
May 12, 2012
Wonderful, challenging game!
I really enjoyed this game. It reminded me a lot of Lemmings combined with World of Goo (a game that you can find on this site, if you're curious). The goal is to get little bugs out of doodles, by drawing them little paths. The challenge arrives when you don't have enough ink in your pen to draw out an entire course for them, or you have to face one of the many hazards on the doodles. It was a great game and I'd really recommend it. Be warned, it can be challenging. You will have to think. You also might find yourself stuck at your computer trying to work out doodles for hours, like I did. :) Luckily you can and doodles at any time and come back to them later!
March 29, 2012
Fun and Challenging
this game was so cute and fun i loved it! the graphics while simple were very colorful and cute. the challenges were sometimes very tough but i like that! this game made me thing and use strategy to get to the end and was well worth the purchase. i played for several hours, some of the levels took me over an hour, luckily there is a save feature so you can come back later to the one you were working on. basically you have to get a group of bugs from point a. to point b. there's no real story to mess up with spoilers here so don't worry i'm not going to ruin anything for you XD you have a level which is a picture full of random doodles and your tool to move the bugs is a pen with a limited amount of ink. you move your bugs up down over and under the doodles (or sometimes using the doodles to contain your bugs) and try to get them to the honey pot. some of the boards have "poisoned" areas to avoid, one of the doodles has a timer that indicates when the doodle will be rotated causing all your bugs to fall to the other side. it is definitely a challenging game. i gave this game 5 stars because: -i was instantly hooked -cute fun graphics (thought the bugs were adorable!) -challenge level was great -save feature -free play make your own doodles feature (sandbox basically letting you create your own doodles for the bugs to climb on) -zoom feature that allows you to get up close for those tight squeeze areas -balance of fun and easy to challenging and hard levels -replayable (i will definitely be playing this one over again!) -fun for all ages (you may have to help younger children with some levels, but there are plenty of levels kids would love, my kids sat with me making suggestions and commenting on how cute everything was so i'll be letting them play as i think it helps encourage problem solving skills). hope you all give this one a try and enjoy it as much as i did. happy gaming!
March 21, 2012
Good for anyone who wants a challenge -no drawing skills required
At first this game seems childish, yet intimidating. The first 4 levels are actually a tutorial and make the game feel too easy and boring. It shows you exactly where to draw the lines. After that, you are on your own and the game becomes challenging. The game is similar to the "crazy machines" or the "professor fitwizzle" brain teaser games. The difference is that you do not place objects, you simply draw lines to move bugs from one location to another. The catch? you have a limited amount of ink to make lines. There is a timer but no time limits. The graphics are all hand drawn and silly, but the gameplay is quite challenging and addictive if you can make it past the tutorial levels. You really have to give it at least 30 minutes before you see what this game is really all about...anything less and you will have no idea what you are missing!
March 15, 2012
I love this game!
I love this game - it's surprisingly tricky if, like me, you're not good with logic. It's cute, ingenious, colourful and fun. Ok so it may be a BIT reminiscent of Lemmings, but who cares? It's a great thing to while away the time with a cup of coffee and draw your own doodles. And while you're waiting for the bugs to go along the lines to the honey, you can doodle all around the edge of the page! This could be my new favourite way to relax!
March 15, 2012
Different kind of game
this is a different kind of game. At first appearance couldn't be more simplistic. Graphics is a kind of sharpie color pen line art. Voice is could get a little annoying, but don't need it. The game it self has a very simple premise. Just draw lines. save bugs. sound boring, but the bugs have little minds of their own. and the 'puzzles' to get them to where they need to go gets more complicated. I see it as a 'solitaire' type game, It is attractive in a grade school graphics type of way, and found myself getting involved in just drawng lines to save bugs. I say give a whole hour, if not your cup of tea fine. Must install a microsoft app, but it plays very nicely. I would recommend if for a break and mind tease, and a laugh, and anything that makes me laugh is worth 6.99... Will buy with credit or on sale definitely.
March 15, 2012