Silent Nights: The Pianist Collector's Edition
Exclusive
Save your sister and uncover the secrets of an ancient organization in Silent Nights: The Pianist! You and your sister, Yvette, come from a long line of gifted musicians. When you arrive to accompany her at a vocal concert in your hometown, you discover she has been abducted by a mysterious group with plans to use her talent for a dire purpose. Explore hidden object scenes and get to the bottom of things before your sister's voice is silenced forever in Silent Nights: The Pianist!

This is a special Collector's Edition release full of exclusive extras you won't find in the standard version. As a bonus, Collector's Edition purchases count toward three stamps on your Monthly Game Club Punch Card!

The Collector's Edition includes:
Bonus gameplay
Integrated Strategy Guide
Wallpapers
Game System Requirements:
OS:

Windows XP/Vista/Win7/8

CPU:

2.0 GHz

RAM:

512 MB

DirectX:

9.0

Hard Drive:

485 MB
Game Manager System Requirements:
Browser:

Internet Explorer 7 or later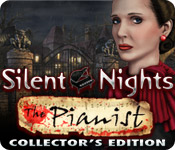 The Big Fish Guarantee:
Quality tested and virus free.
No ads, no adware, no spyware.

Reviews at a Glance

Silent Nights: The Pianist Collector's Edition
0
out of
5 (
0
Reviews
Review
)
Customer Reviews
Silent Nights: The Pianist Collector's Edition
110
110
Fair to middlin'
Just got done with the demo. I didn't wholeheartedly dislike the game. Would I buy it? In either version? No, just not for me - it didn't really grab me. I thought it might be too dark a game (meaning atmosphere not screen brightness), and it wasn't at all. Speaking of screen brightness - it was fine for me. And the graphics were very good, I thought. It's a murky story, a dark and stormy night, and the graphics portrayed that very well. They did pull you into the story enough to make where you were believeable. Also, there was a lag of 6 seconds on my computer (I timed it) between scenes/HOS. Sometimes not if you just left the scene and turned around and went right back, but that was spotty, not consistent. The HO scenes were not hard to negotiate. I found items easily, and didn't have any issues with the "special items" that needed an extra action to complete. There were multitudinous bugs running around. Good golly....WHY?? Didn't they have bug spray in the '40s?! They were very distracting in the HO scenes. Just ugh! (though I do agree with another poster about cute cats, yes, saw one of those). Mini-games were, indeed as others have reported, nothing new and fairly easy. Jump scares were and their music were somewhat cheesy. I'm not a fan of jump scares, but these weren't overly done and they annoyed me more than anything. Voiceovers were good. The uncle and the hooded man (men?) were well done. Music (what there was of it) was repetitive - and blessedly short lived. The sound effects were very well done, however. Played the whole 60 minutes, and made it through a good part of the game (based on other reviews). It does seem to be a shorter game. Overall, a just ok game to me. Do definitely try the demo and see for yourself, though. Reviews are so subjective. :o)
March 17, 2012
The Pianist Plays Detective?
The year is 1946. The location is post war France. The wide screen artwork is rife with the aftermath of war. You are a pianist, meeting your sister, a noted singer, to accompany her in concert. But, you arrive to find she is missing. You go searching for her and discover she has been kidnapped by villains with a sinister plan to ? well, I shan't ruin the story. The game play is presented in a 2 mode HOPA (expert has sparkles only for H0 scenes, slower hint recharge.) H0s are interactive. Puzzles have interest but are not difficult. IMHO too much direction is given to guide you through tasks to leave much challenge in the adventure. The story takes the game along, but one disturbing truth (?) is revealed but left unanswered. This in no way suggests a sequel, but I had hoped it would be clarified. The core story has a satisfactory conclusion. CE bonus content includes wall papers -- hardly bright and cheerful; nicely presented concept art; music featuring the piano, cannot be saved; the strategy guide -- well done, but does not follow your progress; and a bonus chapter. The bonus chapter follows your sister's experiences while you are looking for her. It is not essential to the core story. You revisit some areas including H0 scenes where you are asked to find many of the same objects. There are puzzles -- two are fairly interesting, There are two new areas to explore. It is as well done as the core game, but, to repeat, not essential to the main story. It is fairly short. I'm pokey, but I finished the main game in a full evening's time. I would say there is no more than 5 hours total for the average player. In total this is an okay game -- nothing extraordinary -- on par with so many "same old, same old" games we've seen. The setting is somber and realistic -- odd to play a game with such a back drop whether or not the story told could be real. At the same time, the setting does set it apart from all the games that are pure fantasy or horror. Certainly demo the game. If it appeals to you, the SE will provide substantial enough game play. 3.5 stars.
June 14, 2012
Great Idea, Mixed Execution
I'd rate this game higher if I had purchased the standard edition, but as a CE the bar needs to be raised in order for a great score. As it stands, the game experience itself is enjoyable enough and does have a few appreciated innovations, but the story falls apart and there's not enough to distinguish it from the rest. The story starts out in a very interesting way. You're trying to rescue your sister from a sinister group, and the baddies keep setting up roadblocks to prevent it. I liked the art very much. Both HO and regular scenes look great, and I also appreciated using appropriate objects in a lot of those scenes (finding musical items, for example). Music is above average and voice acting is also quite good. As to the music element, I wish it had been fleshed out more. Some of the puzzles have a musical theme, but there's not a whole lot of distinction from other games out there. I'd have expected more when you put "Pianist" in the title. I liked the way the HO scenes were handled. There were just enough of them and the extra work you had to do to get some items made it more interesting to me. The rest of the game is decent. Not as much backtracking as other games and enough inventory to keep you moving. I thought the game was paced well until the end, which felt forced and anti-climactic. I also didn't like the bonus game, which did give you an alternate viewpoint but kept you bottled up in previously explored areas and was far too short. If you're shelling out the cash for a collector's edition, you should be getting a better experience. I think the creators needed a bit more time to truly flesh out their ideas. All in all, this game has an interesting plot and does a lot of things right. I'm sure the standard edition would score higher for me. While I appreciate the little touches and overall pace of the game, the devil is in the details and they weren't entirely successful here.
May 15, 2012
ok well...ok
this game is your typical "run around solving little things, get what u need and move on"..ok so its kinda-sorta boringish cuz its sooooo easy, but i still liked it...(i like when "surprises" jump out at ya :) fun fun lol go play, its cool :)
March 16, 2012
Somewhat lacking ... will wait for standard version
The game started out ok with the creepiest piano version of Silent Night we have ever heard! There is a choice of casual or challenge modes of play. You can change the volume for music & sound effects. You can choose full screen, wide screen correction, customer cursor & extra brightness. In clicking the extras tab, there will be extra game play, music, wallpapers and concept art. The strategy guide views through 3 chapters in the demo, but doesn't state how many chapters there actually are in the full version. In the beginning cut scene, there are no voice overs and minimal reading. In the hour demo, there were a couple times when there were voice overs. They were ok. The sound effects, however, are awesome. There was no journal or map. The inventory and find list were at the top of the screen. That's fine, but takes a while to get used to, since most are at the bottom (better it seems) The hidden object scenes were interactive and pretty cluttered. We did use the hint quite often and found it filled quickly on casual mode. Even with the extra brightness option, the scenes were a bit too dark. There were a few scenes that made us jump! I am glad to know that the slowness and black screen between scenes was not our computer. That was very annoying and has a lot to do with not putting this on our Collector edition purchase list. Our recommendation is to try before you buy.
March 16, 2012
You will probably want to wait for the standard edition
I REALLY wanted to like this game, but the more I played it, the more I wondered "Why is this a CE game?" had it been a regular edition, I would have bought it, as it is, I'll wait. It will be a fun game for $6.99 or use a free game credit if you have them, but In My Humble Opinion #and I play these games a lot# this is NOT CE quality. Since everyone has their own opinions, I suggest that you check out the demo. This may be the game of your dreams, and please don't get me wrong, it's not "Bad" in fact it can be fun at parts, but a CE game at a CE price it is NOT. I do recommend the game, but not till it is a standard edition. When that happens, I will definately buy it. Hope this helps
March 20, 2012
Nice scenes but an easy challenge
This game has nice graphics - not to the standard of other recent games - and is very easy to play. The storyline is like many others. Although there are some different ways of finding objects, there is not a lot to distinguish it from other HOGs. Another in the 'dark' genre. The things that happen in a scene like rain falling and other movements do make it interesting and add more to the scenes. The puzzles really present little challenge and for those expecting more, it may leave them a little disappointed. It was not a long game and I wonder at the value for money as a CE.
March 16, 2012
It's just OK
I don't write reviews very often but I decided I needed to let players know that this game, while good, it's not worth buying the collectors edition. I have loads of CEs but this will not be one of them. The challange was just not there. I never used the built in strategy guide once and only the hint button maybe 3 times. Save your credits for the standard addition.
March 15, 2012
SILENT NIGHTS: THE PIANIST COLLECTOR'S EDITION
Not worth the Collector's Edition charge. The character's moved too slow. It was ok.
March 18, 2012
Silent Nights: The Pianist Collector's Edition
between scenes it was very long, it was not instant, so I thought that we were missing some signs. But i dit liked it but not as much as the others.
March 20, 2012
The Apple logo is a trademark of Apple Computer, Inc.