Depths of Betrayal
Stop a mechanical monster before it destroys an entire town in Depths of Betrayal! Uncover the truth and stop the terrifying machine in this incredible Hidden Object Puzzle Adventure game. Protect the people of the town and figure out why the machine turned its back on its creator and went berserk. Search amazing locations and find important clues to solve the mystery and save the town in Depths of Betrayal!
Protect an entire town
Solve the mystery
For a more in depth experience, check out the Collector's Edition
Game System Requirements:
OS:

Windows XP/Vista/Win7/8

CPU:

1.6 GHz

RAM:

1024 MB

DirectX:

9.0

Hard Drive:

410 MB
Game Manager System Requirements:
Browser:

Internet Explorer 7 or later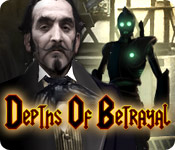 NEW299
The Big Fish Guarantee:
Quality tested and virus free.
No ads, no adware, no spyware.

Reviews at a Glance

Depths of Betrayal
0
out of
5 (
0
Reviews
Review
)
Customer Reviews
Difficult game
This game is well produced and designed IF you like FROGs and being frustrated. Its almost a constant set of FROGs with objects needed spread out over many scenes, not just the one where the "wheel" appears. Many of the objects require other actions, like using an inventory item, and its easy to forget what you are looking for. I couldn't even stand to finish the demo. Try before you buy.
September 14, 2012
Not exactly intriguing...
I could only take about a half an hour of the demo. Circle hunts are not exactly my favorite, especially when you have to find and/or create ridiculous items just to create a relevant item. There are no traditional HOS. Plus you will definitely wear out your sneakers. There is way too much back and forth all over, it seems chaotic, confusing, mindless, and a mess. The storyline drags as a result. The graphics are ok, but the music is annoying. Would not even purchase as a DD.
March 26, 2012
Let's find all the Items
You have 2 choices, one is casual and the other is difficult. The hints refill quickly. You click several places and this opens up a picture of the things you need to find. For those of you who like this type of game, I'm sure it is enjoyable. I don't like this kind, but won't give it a bad review.
March 16, 2012
Doesn't make much sense
I bought this game because I purchased another one and was able to get this at a discount if I bought it at the same time. I should have known better as the last time I did the same thing I got a game that wasn't so great. As other reviewers have said, it is the kind of HOG with the circle that comes up and you need to find 3-5 objects in order to get one item that you need. In most cases one of the objects is something that needs some assembly before you can take it - ie: a hat needs a feather. I usually find this kind of HOG fun except when it means running back and forth thru several different screens just to get one part of the missing item. That became very tedious after a short time. A little eyeball (ladybug?) pops up around screen on certain items, and it sometimes shows you a place to look, but more often than not, it doesn't. It just brings a popup of some random thought like, "Isn't the scenery nice." This becomes very annoying very quickly, especially if you're stuck on finding the next item. It would have been nice if they had used a different icon for those things. (They used little gears for things that need more parts/work etc.) I ended up using the hint button a lot about 1/2 way through the game just so I could get around, because with all of the running back and forth it was hard to remember where anything was. Despite all of the running around, it still only takes maybe 2 hours of casual play to finish it. The mini games were okay, nothing too overly challenging. The graphics and music were good. I found the voice overs to be pretty bad - male voices were too high pitched to be a grown man, the main character's voice changed several times. The storyline wasn't all that exciting or new. Like a lot of similar games, there's often notes and things found that are supposed to relate to the story, but they really don't have much to do with game play. Overall, I wouldn't recommend this game. It wasn't worth the price, even at the discount.
January 28, 2013
Wonderful
I definitely enjoyed this game especially because it has a plot line that has not been overdone. I also liked the fact it was more adventure than hidden object. It was find the silhouette type of game with the circles which I normally don't care much for but for some reason it worked with this game and I loved every bit of it. The music fit the scenes as did the voiceovers. I LOVE how when you exit this game and come back in that it not only replays the beginning of the story but replays the intro to where you left off so it triggers your mind about what you were doing before and so on and brings you back into the story. Talk about involved. The ending was kind of abrupt but according to other reviewers, the bonus chapter wasn't the ending, just a bonus so I guess the developers just ran out of steam or didn't know how to completely cut it. I would have liked to know what happened to Morgan or how it all tied in together but it just kind of ended. The abrupt ending is why I give this game 4 stars instead of 5. This game took me a couple days to play and I probably put about 4 hours into it. I will replay and I do recommend. More like this please.
August 7, 2012
Interestingly Different
This is a game that, while not overly impressive in some ways, makes up for it in gameplay. The plot, firstly, is a little off-puttingly convoluted at times. Character names (like Dr Fake) seemed uninspired and yet it is necessary to keep them all in mind because we're taken through several different turns trying to figure out who the bad guy is, and several names which are presented as key turn out to be mostly superfluous. However, the twists and turns, if you can keep all those involved straight, will make you curious to play through to the end. The graphics are much the same as usual except in how they relate to playstyle. The track is fairly unubtrusive, though your character's speech is very quiet compared to both the music and the in-game voice overs. Playstyle ... this is where I was grabbed. Rather than the traditional come-across-a-HO that these games normally playby, in this game every scene IS your HO. In terms of graphics this can get a little wearisome as everything is, therefore, a junkpile. On the other hand, it's refreshing enough to be worth it. Each scene that you come across contains several objects to be 'unlocked' as it were, and to do so you must find usually four items within the scene. Some, with a red ring around their image, must be interacted with, with objects rewarded from other HO scenes or simply found lying around elsewhere. So, yes, there's a lot of traipsing back and forth through scenes, but the game is set up to make this easy. It is split into areas, each one conisisting of four or five scenes and at the completion of these scenes the plot brings you to the next area. If you play for plot, this is not bad, though not terribly new. If you play for graphics and vistas, then this probably isn't for you. But if you're playing for a new experience, a variant take on the same-old same-old, then this one is definitely at least a try. Do yourself a favour and play the demo, because if you like it, you'll be sorely sorry to have missed out.
May 17, 2012
Bring Your Running Shoes
This game started off well but became a broken record the further you proceeded into it. It's basically the same type of puzzles and HOGs that leave you constantly running back and forth to find "such and such" object to complete a given scene. The plot seemed to have promise but failed miserably to deliver. There were just way too many holes to make sense of the storyline as well as an abrupt ending leaving more questions than answers. Great idea for a game just poorly executed. I would pass on this game and find another to play. I'm confused as to why it got so many 4 & 5 stars?
August 17, 2012
Enjoyable Game
I enjoyed this game, nice to have circles instead of lists of things to find. Clever storyline. very helpful hints. Great graphics. Read the words at top of screen or you will end up like someone else who didn't "quite get it". Well done Devs & thankyou BF.
March 27, 2012
A Good Time for all
The game was well done. The hint button was well done with hints of where to go next and filled quickly. There was a lot of help with the sparkles and hand as what to pick up (maybe a little too much help) in the casual mode. The art was well done and the music was just right. It was easy to follow and the storyline was not boring as long as you kept the goal in mind. The choosing of what you wanted to say next was a little on the slow side and the finding of objects made a bit of going back and forth distracting. But overall I would buy this game and recommend it.
March 25, 2012
enjoyed this one...
the dialogue was nicely done...graphics were great...game was enjoyable to me, but not challenging. mini-games were unique..some were easy and some were tricky...overall, the game is short and seemed like the ending was a bit rushed. not the best game out there, but if you enjoy the mechanically oriented games, this one will entertain you. length of game and level of challenge kept me from giving it more stars.
March 18, 2012
The Apple logo is a trademark of Apple Computer, Inc.