Depths of Betrayal
Stop a mechanical monster before it destroys an entire town in Depths of Betrayal! Uncover the truth and stop the terrifying machine in this incredible Hidden Object Puzzle Adventure game. Protect the people of the town and figure out why the machine turned its back on its creator and went berserk. Search amazing locations and find important clues to solve the mystery and save the town in Depths of Betrayal!
Protect an entire town
Solve the mystery
For a more in depth experience, check out the Collector's Edition
Game System Requirements:
OS:

Windows XP/Vista/Win7/8

CPU:

1.6 GHz

RAM:

1024 MB

DirectX:

9.0

Hard Drive:

410 MB
Game Manager System Requirements:
Browser:

Internet Explorer 7 or later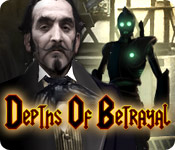 NEW299
The Big Fish Guarantee:
Quality tested and virus free.
No ads, no adware, no spyware.

Reviews at a Glance

Depths of Betrayal
0
out of
5 (
0
Reviews
Review
)
Customer Reviews
Confusing but good HOG
Depths of Betrayal was an interesting game. I would categorize it as a Sci Fi fantasy with a plot that was, at least, interesting to follow. That makes the game play much better. The HOS involve finding an object which then opens 3 to 5 silhouettes of additional items which need to be found there or in another area. Completing that allows you to have the item originally found. That style is different and different in a good way as it prevents boredom with games being too much alike. I found myself relying on the Guide far more than I like to because I was often confused about what to do next. Fortunately, the CE has a very good guide. It disrupted my enjoyment of the game somewhat to have to refer to it so often, however. I dislike puzzles, but in this game I played almost all of them. At least many of them required one to think; I like games that are intellectual.
April 10, 2012
enjoyable
I liked this game. I really enjoyed that it lasted more than like 3 hours and it had multiple things to do. A little off the beaten path. I would recommend this game. I definitely think it is worth the $6.99!
March 22, 2012
Fun and entertaining
As adventure fan that enjoys a great Adventure based HOG, I enjoyed this spin on a traditional Hidden Object. While the level of challenge was just OK. The game was genuinely fun and thoroughly enjoyable.
March 20, 2012
Fun hidden object game
Love the game ,good one to play
March 16, 2012
Excellent Choice As A Standard Edition
I'm a little late to the party on this one. I bought it quite some time ago and just got around to playing it. What a surprising gem of a game. I liked the game mechanics; finding objects in the environment to piece together an inventory object. It's a nice break from HO scenes. Quite a bit of back and forth; however, the developers made this tolerable by creating smaller specific areas in which to move around in until an objective is completed so that the back-tracking isn't excessive. Others have already mentioned the great graphics. I was happy that there is a wide-screen correction option; that should be standard with any game released these days. The best part of this game, hands down, is the story. It's unique, it's original and obviously, it focuses on betrayal. The setting is quite Steampunk which is a fun change of environment. All around I had a great time and finished it in one sitting because it held my interest. It is not a short game by any means; I have been playing these games for over 4 years now so I consider myself an expert and I spent a good 4-5 hours on this one, granted I did not skip any puzzles and I did take time to read all of the journal entries. While this is a fantastic SE, I personally would not recommend it as a CE. Some may want to go that route but I feel that this game really should have been sold as a SE from the get-go as it does not include enough of a "wow" factor to constitute a CE; therefore, some players may be disappointed. Had I paid the CE price, my star rating would have been lower. Just my advice; do with it what you will. Overall, I recommend adding this to your gaming library. Interactive, creative, unique, beautiful graphics, choice of difficulty and an all around solid game. Cheers and happy gaming!
August 13, 2013
Surprisingly Good!
To be honest, I have never enjoyed playing games when those circles appear and I have to find the items to fit in them. I would not have even tried the demo if this game had not been a DD. I'm happy I tried the demo and I'm happy I purchased the game and I'm especially happy that I played the game and completed it. This is not a difficult game. The Hint Button refills very quickly and when one is prompted to go to another area it does not count as a Hint. Hints are good; not just "there is nothing to be done here" - a practice some other devs seem to rely on. Items found for the circles sometimes show up in that area and fit right in and other times interact with an item in a different area or show up in a different area. So it is often interactive and I like that. One thing that impresses me is that it is so easy to place items in those circles. In some other games I have struggled to get them in in just the right way so they will be accepted. Not so in this game; they go right in with an audible "click." Picking up items is also easy; there is no "I've got to put the cursor on exactly the right spot or it won't be picked up." Game play is smooth. The town in trouble is a fascinating place; not a normal town. I won't give away anything more than that except that thinking outside of the box is a good skill to have in this game. There is also humor. I especially liked interacting with the guards. There is a journal which is quite helpful. A map would have helped simply because most of the areas started to look the same to me #probably because this is not a normal town# and I started getting confused about how to get back to an area I had just left a few minutes ago. That's just me; I don't know if others have that problem. The Hint Button led me back and so I did tend to rely on it more than I wanted. I used the WT only once and then could have smacked myself. It was so OBVIOUS!! Graphics are quite nice, clear and well-drawn. Somebody is very creative! As for length, I would have liked it to be longer simply because I enjoyed it so much. If I had known it would be this good I would have considered the CE and I recommend checking the reviews for the CE and playing that demo. Puzzles can be skipped and the wait is not too long although longer than the Hint Button refilling. I had to skip a couple of puzzles because I have problems with them due to some brain damage. Playing them helps even if I cannot complete them. I know I can go back and play the game again, concentrating on the puzzles. That is exactly what I am doing now. So: Good Hint system, Hint Button refills quickly, Puzzles can be skipped, Journal, Interactive items to fill circles, Smooth game play, Engaging storyline, Walkthrough is available. Overall - it is fun. And what is more important than that? I certainly got my money's worth for this game. :)
March 22, 2013
Enjoyed it
I really enjoyed the game, it didn't take me long to finish it, but I did enjoy it, the 'monsters' reminded me of 'The Siber Men' in Dr Who, j6janet
March 18, 2013
Mixed Feelings About This One
I'm not a big fan of the type game that opens circles and then find the items. It's a good break from typical HO's but this one just about made me trash it before the first chapter was done. Once I got past that it was an okay game. -graphics are very well done -story is different and enjoyable -hint system is pretty good, and I had to use it a lot. I did not buy the CE. -there is a journal, but I found it not essential -mini games are normal and I completed most of them If you can hang in and get past the first 10 or 15 minutes of the game you will probably like this game.
March 22, 2012
Not bad......
Once again we are offered a standard HOG with a simplistic adventure side and a couple of minigames there and then. The story is very much in the style of Dr Frankenstein: a man creates a creature (here, a sort of robot) from scratch and gives it life; the creature then turns into a bloodthirsty monster who kills his creator. Objective: find the monster at large and destroy it. Not much originality either in the HO Scenes save that instead of getting shopping lists you are given the silhouettes of the objects to find, most of which are, once more, perfectly useless and irrelevant to the story, and then place them in the little popping up round boxes Luckily they are easy to recognize and not difficult to spot. The graphics are neat, colorful, pleasant to the eye. The music is dramatic and somewhat disturbing. The minigames are simple, so are the task. The overall level of challenge is low. The goals are clearly stated in the journal, you have 2 play modes and a widescreen option. The voice acting is quite good and you can dialogue with the characters you meet. A fair game for beginners, with decent playlength, but which might not fully satisfy seasoned HO hunters and die-hard adventurers. Recommended with restrictions
March 16, 2012
mechanical monsters running amok
in this hidden object puzzle adventure, your scientist friend has appealed to you for help with a mechanical creature he created. unfortunately, this creature has become a monster that is seeking to destroy everything in its path, including an entire town. but you did promise to help your friend, so to save the town, you must first learn what triggered this mechanical creature?s career of murder and mayhem. will you unravel the source of this "monster's" behaviour before it's too late? can you save the town from your friend's rampaging creation? graphics: detailed and above average, but sometimes not detailed enough to see what you are seeking! hidden objects are scattered throughout the game, not located in specific scenes. clicking on an object opens up a mini-game where you have to first find 2-5 random objects somewhere in the game to complete that mini-game before you obtain the original object you are trying to get. music and sound effects: music is strangely upbeat for such a dark game. storyline: it takes the same old plot and reformulates it slightly -- for example, instead of starting with a car crash, this story starts with a train crash. this is a functional but well-worn storyline, and neither the plot nor the characters are anything special. gameplay: no click penalty and hints are incredibly UNhelpful. honestly, the developers shouldn't have offered any hints at all since they were so useless. i was also peeved to discover that inspecting a particular item half a dozen times was meaingless: it could have something that wasn?t there before that is vitally important to the game progress the NEXT time you looked at it -- irritating! weather report: the weather in this game is surprisingly bright and sunny for such a dark game. although this game is passably functional, i did not like it at all and would not accept it even if it was given to me, so i gave it 3 stars. in my opinion, if you like the mechanical-monsters-running-amok theme, you'll probably enjoy either "puppet town: lost town" or "fantastic creations: house of brass" much more than this game!
June 18, 2012
The Apple logo is a trademark of Apple Computer, Inc.