Depths of Betrayal
Stop a mechanical monster before it destroys an entire town in Depths of Betrayal! Uncover the truth and stop the terrifying machine in this incredible Hidden Object Puzzle Adventure game. Protect the people of the town and figure out why the machine turned its back on its creator and went berserk. Search amazing locations and find important clues to solve the mystery and save the town in Depths of Betrayal!
Protect an entire town
Solve the mystery
For a more in depth experience, check out the Collector's Edition
Game System Requirements:
OS:

Windows XP/Vista/Win7/8

CPU:

1.6 GHz

RAM:

1024 MB

DirectX:

9.0

Hard Drive:

410 MB
Game Manager System Requirements:
Browser:

Internet Explorer 7 or later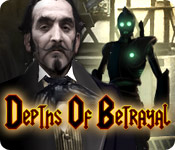 NEW299
The Big Fish Guarantee:
Quality tested and virus free.
No ads, no adware, no spyware.

Reviews at a Glance

Depths of Betrayal
0
out of
5 (
0
Reviews
Review
)
Customer Reviews
mechanical monsters running amok
in this hidden object puzzle adventure, your scientist friend has appealed to you for help with a mechanical creature he created. unfortunately, this creature has become a monster that is seeking to destroy everything in its path, including an entire town. but you did promise to help your friend, so to save the town, you must first learn what triggered this mechanical creature?s career of murder and mayhem. will you unravel the source of this "monster's" behaviour before it's too late? can you save the town from your friend's rampaging creation? graphics: detailed and above average, but sometimes not detailed enough to see what you are seeking! hidden objects are scattered throughout the game, not located in specific scenes. clicking on an object opens up a mini-game where you have to first find 2-5 random objects somewhere in the game to complete that mini-game before you obtain the original object you are trying to get. music and sound effects: music is strangely upbeat for such a dark game. storyline: it takes the same old plot and reformulates it slightly -- for example, instead of starting with a car crash, this story starts with a train crash. this is a functional but well-worn storyline, and neither the plot nor the characters are anything special. gameplay: no click penalty and hints are incredibly UNhelpful. honestly, the developers shouldn't have offered any hints at all since they were so useless. i was also peeved to discover that inspecting a particular item half a dozen times was meaingless: it could have something that wasn?t there before that is vitally important to the game progress the NEXT time you looked at it -- irritating! weather report: the weather in this game is surprisingly bright and sunny for such a dark game. although this game is passably functional, i did not like it at all and would not accept it even if it was given to me, so i gave it 3 stars. in my opinion, if you like the mechanical-monsters-running-amok theme, you'll probably enjoy either "puppet town: lost town" or "fantastic creations: house of brass" much more than this game!
June 18, 2012
Let's find all the Items
You have 2 choices, one is casual and the other is difficult. The hints refill quickly. You click several places and this opens up a picture of the things you need to find. For those of you who like this type of game, I'm sure it is enjoyable. I don't like this kind, but won't give it a bad review.
March 16, 2012
enjoyed this one...
the dialogue was nicely done...graphics were great...game was enjoyable to me, but not challenging. mini-games were unique..some were easy and some were tricky...overall, the game is short and seemed like the ending was a bit rushed. not the best game out there, but if you enjoy the mechanically oriented games, this one will entertain you. length of game and level of challenge kept me from giving it more stars.
March 18, 2012
Neither fish, nor fowl, or good red herring!
The graphics and sound quality are good, but everything else is just OK.The story does nothing for me you just chase the monster around-Ho Hum There is a great deal of finding this object in this scene to finish that object in that scene, without the story or anything being advanced. Lots of busy work without much logic. I am very glad I did not buy the extended edition.
March 18, 2012
Tiresome
not impressed at all, hated the pop up circles to find things, i bought "treasure seekers" editions, with this kind of search and find, and i rarely play them.
October 24, 2012
Monotonous Tedium
This game has so much potential, but eventually becomes unsatisfying. The pop-up HOGs are a nice touch but should have been mixed in with traditional HOG scenes. Doing JUST THOSE the whole game wasn't fun. Instead of finding everything in one HOG then moving on you'll be going back and forth all over the place throughout the entire game. It became rather confusing half way through. Twice, on a hot air balloon and a gondola, I went to a "new" location in the game, but was still able to access the original scenes. More confusion. The graphics, sound and music are the strong points of the game. The story is deep and creative, but gives so much information that too becomes confusing. Eventually I just wanted these Depths of Confusion to end....
August 7, 2013
Fairly Easy HOG/Puzzle/Adventure
Based on the demo. This game has wonderful graphics and sound. The HOS and puzzles are mostly easy, but a few are moderately challenging. The story has a familiar tone, with a few twists here and there. Evil scientist (Morgan) creates monster robot, which escapes and goes on a rampage. The adventure goes on around you, but you have to concentrate on HOS and puzzles that have little or no connection to the game, in order to receive items you need. Even so, by the time the demo ended, I was hooked. Now I'm left with questions, such as: did the robot kill Morgan, or is Morgan the robot, or is Morgan hiding...? I hate to pay full price for a short game, but I would like to know how this one ends.
May 9, 2012
Not exactly intriguing...
I could only take about a half an hour of the demo. Circle hunts are not exactly my favorite, especially when you have to find and/or create ridiculous items just to create a relevant item. There are no traditional HOS. Plus you will definitely wear out your sneakers. There is way too much back and forth all over, it seems chaotic, confusing, mindless, and a mess. The storyline drags as a result. The graphics are ok, but the music is annoying. Would not even purchase as a DD.
March 26, 2012
Doesn't make much sense
I bought this game because I purchased another one and was able to get this at a discount if I bought it at the same time. I should have known better as the last time I did the same thing I got a game that wasn't so great. As other reviewers have said, it is the kind of HOG with the circle that comes up and you need to find 3-5 objects in order to get one item that you need. In most cases one of the objects is something that needs some assembly before you can take it - ie: a hat needs a feather. I usually find this kind of HOG fun except when it means running back and forth thru several different screens just to get one part of the missing item. That became very tedious after a short time. A little eyeball (ladybug?) pops up around screen on certain items, and it sometimes shows you a place to look, but more often than not, it doesn't. It just brings a popup of some random thought like, "Isn't the scenery nice." This becomes very annoying very quickly, especially if you're stuck on finding the next item. It would have been nice if they had used a different icon for those things. (They used little gears for things that need more parts/work etc.) I ended up using the hint button a lot about 1/2 way through the game just so I could get around, because with all of the running back and forth it was hard to remember where anything was. Despite all of the running around, it still only takes maybe 2 hours of casual play to finish it. The mini games were okay, nothing too overly challenging. The graphics and music were good. I found the voice overs to be pretty bad - male voices were too high pitched to be a grown man, the main character's voice changed several times. The storyline wasn't all that exciting or new. Like a lot of similar games, there's often notes and things found that are supposed to relate to the story, but they really don't have much to do with game play. Overall, I wouldn't recommend this game. It wasn't worth the price, even at the discount.
January 28, 2013
Bring Your Running Shoes
This game started off well but became a broken record the further you proceeded into it. It's basically the same type of puzzles and HOGs that leave you constantly running back and forth to find "such and such" object to complete a given scene. The plot seemed to have promise but failed miserably to deliver. There were just way too many holes to make sense of the storyline as well as an abrupt ending leaving more questions than answers. Great idea for a game just poorly executed. I would pass on this game and find another to play. I'm confused as to why it got so many 4 & 5 stars?
August 17, 2012
The Apple logo is a trademark of Apple Computer, Inc.