Nancy Drew: Secret of Shadow Ranch
Exclusive
A phantom horse visits Shadow Ranch, leaving a trail of frightening "accidents." Local legend says the horse has come to avenge the hanging of its master, and that misfortune will befall whoever sets eyes on it. The ghostly horse tramples all hope of a restful ranch vacation for you, as Nancy Drew. You must discover the truth from the ghost stories quickly - you might be next on the list for unearthly revenge!
Incredible storyline
Expansive outdoor environments!
Rein in a ghostly secret!
Game System Requirements:
OS:

Windows XP/Vista/Win7/8

CPU:

600 Mhz

RAM:

128 MB

DirectX:

6.0

Hard Drive:

571 MB
Game Manager System Requirements:
Browser:

Internet Explorer 7 or later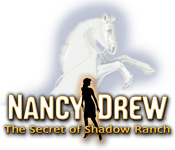 NEW299
The Big Fish Guarantee:
Quality tested and virus free.
No ads, no adware, no spyware.

Reviews at a Glance

Nancy Drew: Secret of Shadow Ranch
0
out of
5 (
0
Reviews
Review
)
Customer Reviews
Nancy Drew: Secret of Shadow Ranch
62
62
An Oldie but a Goodie
I played this game years ago when it was released by the developer. I no longer have the cd the game came on so may just be tempted to buy it again here. I love all of the large file Nancy Drew Games. This one does not disappoint. If you haven't played this one yet, I suggest that you do!
March 19, 2012
If it's Nancy Drew, it's all good!
This is #10 in the N.D. series, one of the older games, which I much more prefer, as it seems like the newer the Nancy game, the darker the stories became. The story is set in an "old west" atmosphere where it seems a phantom horse is showing up on the ranch scaring everyone there. Nan has to uncover certain info from the past in order to discover why this is happening. On the way she encounters several colorful characters and several different locations in which to find clues, including an old ghost town. One of my favorite parts is when sitting around the campfire the ole cowpokes try a hand at singing, quite funny. One of my least favorite parts is collecting the vegetables! Fortunately, the game has a 2nd chance button if you get kicked off the ranch for whatever reason. The sounds and color are very good, make sure you save your game so you can pick up where you left off. You never know what kind of ending the N.D. games will have, they are all different and you are responsible for doing whatever needs to be done to win the game. There is a check off list that tells you what still needs to be accomplished as you go through the game, this comes in very handy. If you are still unsure, call Nans friends, and they will gladly give you a hint or 2 to help you on your way. This game is good for all ages, lots of fun times! My other favorites in the N.D. series are; #3 Message in a Haunted Mansion, #4 Treasure in the Royal Tower, #5 The Final Scene, #13 Last Train to Blue Moon Canyon (extra fun ending!).. Also, if these games are a little too hard, there are 2 Nancy Drew Dossier games which are easier, but just as much fun as the regular series. I hope they make more of those! I highly recommend this and the other N.D. games. Have fun!!
March 18, 2012
Nancy's 10th Mystery
I actually played this game for the first time several years ago, but I still love it. I love the old west theme. The one problem I had with this, after playing the previous nine, was the massive layout change. But that's why they have the tutorial, I guess: To help players learn to play the game (or to help those players who've been long-time series players get used to changes).
March 18, 2012
I love all things Nancy Drew
Another great ND game. I play them as soon as Herinteractive releases them. This one doesn't disappoint. A couple of daily chores get to be annoying, overall, FUN FUN FUN!
March 18, 2012
Yeee Haw! This Is The Whole Kit & Caboodle
Nancy finds herself on a ranch in Arizona to solve another mystery. I love bigfile/adventure games and liked the level of challenge in this one. The game has some fun and perplexing puzzles, mazes and coded messages to solve. You will have fun riding horses, roping and lots sleuthing to figure out what is causing the accidents at the ranch. There is a great map feature for easy navigation. Nice music, western theme, some sea ditties that will recede slowly after awhile. No loops droning on. Graphics are fairly average but good as this game has been out for some time. Lots of suspects to question and as expected Nancy's buddies from River Heights are ready and able to offer information to help you throughout the game. Bottom line this is a good solid story.
March 18, 2012
One of my favorites!~!
This was really one of my last favorites of Nancy Drew. I love the new games but there is just something about the first 11 that make them so much fun to play. This one had a great story lots of adventure & a little love although Nancy's heart will always belong to Ned. The story line is great & the cast of characters is awesome. Make sure to do your chores & if you are really a smarty pants & a keen observer then I suggest doing Senior detective. Have fun & happy trails to you!~!
March 18, 2012
I have all N.D. games and this one is great also, challenging,mystery,graphics are great and alot of puzzle/sleuthing to figure out also.
TRY ALL N.D. GAMES YOU WILL LOVE
March 18, 2012
Old but ageless......
Being a fan of of the ND series that BFG has offered; I always look forward to a new edition to the series; a recent favorite of mine being Message in a Haunted Mansion. If you are new to the large file games or to the Nancy Drew series, I would recommend you try Secret of Shadow Ranch. Although it is a very old game that was first released in 2004 ( unfortuantely the graphics and annimation show it), I found that the puzzles and minigames are easier to play compared to some of the more complex ND games. The story takes place in Southwest on a horse ranch plagued by a mysterious phantom horse and as always, you have a mystery to solve. Menu Options include two game modes and brightness of screen as well as auto movement. Game mechanics are the same and supported by a Tool Bag where you collect and keep your inventory items, the use of a phone where you can call your friends for hints (the Hardy boys included), and note book along with a task list. I found the voice-over a tad on the corney side and as always you have alot of dialogue to go through as well as alot of reading material as well. If you are a fan of horses, this game will definitely please you. I enjoyed the one hour trial and realised that there are alot of puzzles to go through. I do recommend this game, especially for players who would like to try their hand at pure adventure games. This would be a great way to learn the ropes. Be sure to save your game each time you exit and remember, you always get a second chance if you get yourself into trouble. BFG will be releasing a walkthrough which will be tremendous help if you are just beginning. I really do recommend this game, if anything, it is a classic just like the books.
March 18, 2012
Yet another good Nancy Drew game
*** Warning: the text contains some spoilers!! The game follows the classic ND cliche: four characters, all of them possible culprits for various reasons; some unexplainable facts; a mysterious story; the usual help from Bess and George over the telephone... and one background theme, horses this time. If you have the patience to "read" all the books you will find here and there, you will learn a lot of thing about those noble animals. The game is not too difficult, I checked the walkthrough only twice, and mainly for a linguistic reasons #I'm not native English#. IMHO this is not the best ND game. I think it's an average title, but it still has some good elements: I really appreciated two of the characters, and liked the overall "far west" ambiance. Also the final maze was not bad at all. If you are a ND aficionado, this is a title you can't miss. Recommended.
April 3, 2012
time consuming, but fun
there was lots of fun things to do in the game, but i have lots of "dislikes" about it. i really do like the game though. cons: *you walk around too much not knowing what to do *its easy to die *you have to read a stupid book on horses. which i did not do. pros: *i loved riding the horse around. its fun to train it too. *the minigames are lots of fun, and not too challenging. *the story line was great, and i would have never known it was who it was. i guess it was easier for me, since i watched my sister play these games when i was but a wee one. i memorized all of the things in the games and didnt realize this until i had come back to playing nancy drew and i found i had remembered much from watching my sister play. this is a fun, but long game.
January 1, 2013